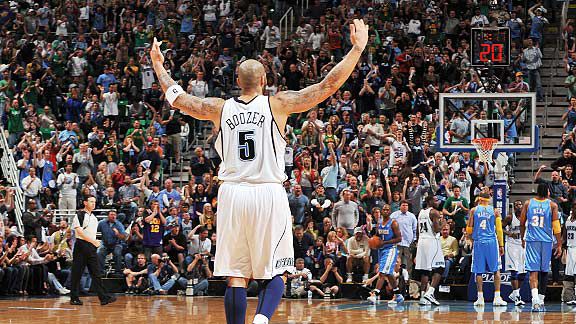 Garrett Ellwood/NBAE/Getty Images
Utah's mood: It's up ... and it's good.
SALT LAKE CITY -- "Fun" is not exactly a high usage word in Jazz head coach Jerry Sloan's vocabulary, but on Sunday prior to Game 4 between the Jazz and the Nuggets, the plain-spoken Sloan was unusually sunny about his team's resiliency in this series.
"It's fun to watch what they're trying to accomplish," Sloan said. "If we can run our offense and execute it, and set screens to help each other, I think we can score every time -- if we can make the shot."
On Sunday night, the Jazz didn't make every shot, but they finished the night 53.2 percent from the floor, en route to a 117-106 win over the Nuggets to take a 3-1 series lead back to Denver.
"We execute," Jazz forward Carlos Boozer said. "We're doing a good job of spacing. We've got shooters at a couple of different positions."
Not unlike Game 3, a hyped-up Jazz squad needed some throat-clearing in the opening minutes. But once they settled in, the Jazz smoothly ran Sloan's offense against a disjointed Denver team that has yet to come up with answers on the defensive end of the floor. The Jazz turned an early seven-point deficit into a double-digit lead in a flash, and did it by playing with unparalleled energy and poise, and by assembling a full sampler of their greatest offensive hits.
Take the textbook fast break Deron Williams orchestrated to pull the Jazz even toward the end of the first quarter. With Wesley Matthews running up the right sideline C.J. Miles sprinting a length or two behind on the left side, Williams steamrolled down the middle of the floor against two converging Nugget defenders. Just as Miles caught up to the play and appeared in Williams' peripheral vision, the Jazz' superstar point guard dished the ball off to Miles in perfect flow -- a layup and one.
"You run harder when you know a guy can get you the ball," Miles said. "Deron has confidence in us that we will finish that break. It's great watching him run. The stuff he does is amazing -- sometimes you even get caught off-balanced. It's fun playing with a guy like that."
If Williams wasn't igniting the Jazz in transition, then Boozer was owning the Nuggets' big men inside off the pick-and-roll or with his face-up slingshot at the foul line. Boozer led the Jazz with 31 points and 13 rebounds, his best game of the series. If Boozer didn't have a path to the rim or an open jumper, then Utah's athletic wings were cutting along to the basket the baseline for easy layups, or spotting up for clean looks along the perimeter. Miles had 21 points on a steady diet of open shots coming off flex screens and diving along the baseline toward the hoop.
What do all these opportunities have in common? They're products of Denver defender who can't protect the paint, and find themselves a step behind their Jazz counterparts who are in perpetual motion.
"We preach about it all the time, not to give up layups that come off curls." Nuggets acting head coach Adrian Dantley said. "We just have to do a better job. We'll keep watching film. We show them every game."
However the Jazz scored the ball, there was one constant to their offensive exhibition: Deron Williams. Though he didn't have his best shooting night of the series -- 24 points, 6-for-14 from the field -- he once again controlled the action. He notched 13 assists, now giving him 48 for the series.
"Tonight was a night my teammates were helping out," Williams said. "I'm at a point where I don't have to score every game for this team to be successful. We have enough guys who can score. We rely on our system to get us good shots."
Utah's proficiency with the ball is no secret. They entered action today as the postseason's most efficient offensive team. But a Jazz team that hemorrhaged points to the Nuggets in Denver has buckled down defensively in Salt Lake City, even without their strongest perimeter and weak side defender, Andrei Kirilenko. Only one Nugget shot over 50 percent from the field -- Nene, who had two field goals on a meager three shot attempts (though he went 6-for-12 from the stripe).
Earlier in the day, Boozer claimed that his team's stated intention was to make the Nuggets see bodies. Until Denver's rally in the fourth quarter, that's precisely what the Nuggets confronted. Utah's guards were quick to recover on ball screens while the base defense held its ground along the perimeter. When the Nuggets went into Anthony in isolation at the right elbow, the help -- usually a Jazz big man -- was prompt, with the remaining three defenders doing a good job locking down the rest of the floor.
"I thought our big guys did a a much better job trying to help us inside and not let them get on top of the basket all the time," Sloan said. "It seems like we've made a commitment to be a better defensive team. That's individual effort and when everybody does it and tries to stay on the same page, you have a chance."
Anthony finished the night with 39 points and 11 rebounds, but he was harassed throughout the game. With nine turnovers, Anthony came precariously close to a dubious triple-double. Meanwhile, the Nuggets' guards were virtual no-shows until the fourth quarter, and Denver didn't record its 10th assist until there was 5:50 remaining in the game.
Only a week ago, the Jazz were regarded as a troop of wounded warriors -- noble in their pursuit, but on a terminal course to defeat against a healthier, more powerful opponent. Despite the injuries and adversity, Utah now travels back to Denver with a chance to close out the Nuggets. That fatalism has now been replaced by a steely resolve.
"You can either do two things," Boozer said. "You can crumble when you have a couple of stars on your team out or you can come together and fight."