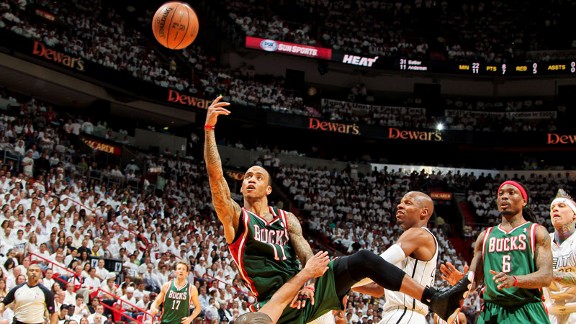 Issac Baldizon/NBAE/Getty Images
The efficiency-minded Mavs have struck a deal with one of the NBA's most notorious gunners.
What wins in the NBA has always been tough to pin down. Big guys, scorers, teamwork, superstars, defense, veterans, athleticism -- all those things and more, in varying combinations, have gotten the job done.
But by and large, one thing has become clear, thanks to analytics, over the last decade or so: Possessions are precious, so misses and turnovers hurt. Stat geeks don't agree on how much they hurt. But certainly the thinking has evolved such that Allen Iverson's ball-hoggy performance, which won him an MVP in 2001, would earn him no such award in 2013. Now we know those points cost the Philadelphia 76ers a ton of possessions -- the league's points per game leaderboard is no longer the same as its MVP contenders. Today we tend to see the best players as those who score, with a nod to things like team offensive efficiency and defense.
The Iverson of today's NBA, meanwhile, is Monta Ellis. He's heroic, he's creative, he scores over and around far bigger players and shoots from everywhere. His points per game have always been sky-high. But Ellis has long been such a high-volume, low-efficiency (46 percent shooting) gunner over his eight seasons that when stat-minded owner Joe Lacob bought the Warriors you could set your watch; it was only a matter of time before Ellis was shipped out of town. And he was, to the Bucks, where, not surprisingly, he failed to lead the team to a marvelous renaissance.
Now, though, the Ellis tale takes a funny turn. Mark Cuban's team famously placed pioneering quantitative analyst Roland Beech on the bench with the coaches, and Cuban later credited the move as contributing to the 2011 NBA title. And now comes word that the Mavericks, of all teams, haven't just signed Ellis, but have committed to, according to Marc Stein's sources, at least three years and $25 million.
What's up with that? Some attempts to make sense of it:
1. It's different with Dirk
Mavericks coach Rick Carlisle creates some of the league's finest offensive schemes, and he has a short time left to create great sets around aging superstar Dirk Nowitzki. Ellis just might be able to help.
As an incredibly tall super-shooter who can score efficiently from anywhere the instant he touches the ball, Nowitzki is the kind of player who can inspire some high-grade freakouts by opposing defenses.
While that's happening, the Mavericks have a track record of getting easy buckets for Nowitzki's teammates. Remember in the Mavericks' title run two years ago, when the nation swooned for Jose Juan Barea? I've had more than a few coaches laugh at the idea that Barea was the genius who created those buckets. The story is that the defense was tilted entirely toward Dirk, giving Barea uncommon space with which to work. He was good enough to shoulder the Mavericks' scoring on some key runs. But the rest of Barea's career, before and after, affirms the notion that the story of those runs was great Mavericks' spacing. Certainly those kinds of scoring binges are not normal for Barea.
One thought is if Carlisle can move the chess pieces in such a way to get Barea buckets in bunches, imagine what he can do with Ellis, who certainly has a bigger bag of tricks.
2. Creating shots has some value
In basketball stat-geekery, the ability to create a decent look has long been one of the hottest topics.
Old-school NBA coaches will tell you someone like Ellis has tough-to-measure value, because without him on the floor, many possessions would end with no good looks at all.
The implication is without a super-scorer on the court, the Mavericks would have had a spike in 24-second violations and other turnovers and bricks as uncreative offensive players struggle to create the space necessary to get off a good shot. By and large, that's hard to believe in the NBA, where the vast majority of possessions end in at least halfway decent shots, and almost everybody on the court led teams in scoring at lower levels.
However, did you happen to catch the injury-ravaged Chicago Bulls in these playoffs? (I know the Nets remember!) The Bulls are thick with great defenders like Joakim Noah, Taj Gibson and Jimmy Butler, but on offense those guys were missing the hell out of Derrick Rose, who has the ability to create scoring opportunities for himself and others. In Rose's injury absence, as both teams struggled to score, coach Tom Thibodeau turned a ton of possessions over to two guys who had histories as Ellis-esque (high-volume, low-efficiency scorers): Nate Robinson and Marco Belinelli. Often they barely even called plays, just doing whatever they could, generally solo, to get something done with the ball.
And what they did was win the series.
The stat geek rule is that efficient decision-making is best most of the time. But there are those other times when it can be nice to have some gunners around.
Not to mention Ellis might be on the poster of players who were overrated by old box score stats. But that's not the same as saying he's awful by new stats. His plus/minus numbers have never been among the league leaders, but they have often been respectable. For instance, last season when Ellis was in the game, the Bucks' offense was 5.8 points better per 100 possessions than when he was out.
3. Cuban is no 24/7 geek
Cuban is closely identified with basketball's stat geek movement -- he's a staple at Daryl Morey's MIT Sloan Sports Analytics Conference, for instance. And he has been early and aggressive in using many stats-inspired approaches, from Wayne Winston to Beech.
However, Cuban has dabbled in many different philosophies, with a rotating cast of old-school and new-school advisers in his ear through the years. This is a team that celebrates both cold-hearted analytics and hot-blooded passion, as embodied by Cuban leaping (regularly) from his seat near the bench to yell and shout about things good and bad.
In other words, one factor could be that Cuban, just like anyone who loves basketball, likes to see people score exciting buckets. At that, Ellis has always been a superstar.