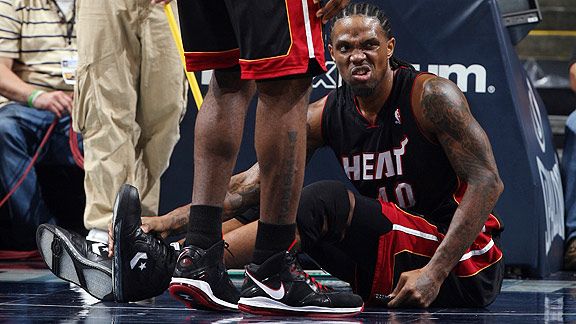 Joe Murphy/NBAE/Getty Images
An extended absence from Udonis Haslem would exacerbate Miami's problems down low.
MEMPHIS, Tenn. -- The mixed look of shock and pain on Udonis Haslem's face said it all.
His teammates' faces as they stood over Haslem and their mood following a zapping 97-95 loss to the Grizzlies on Saturday night summed up the situation.
Haslem suffered what appeared to be a significant left foot injury late in the third quarter after he fell while guarding Zach Randolph in the post. Within seconds, Haslem was looking toward the nearby Heat bench, signaling he was severely injured.
When LeBron James, who was the first teammate to his side, arrived Haslem said he thought he'd broken the foot. A few moments later he was carried off the court.
It wasn't broken, as X-rays showed, and the Heat have termed it a sprained foot pending tests Sunday in Miami. But the belief in the Heat locker room was that Haslem will be out for a while.
"What I've heard is, I mean I haven't heard from any docs, but he dislocated his second toe and he tore a few ligaments in his foot somewhere," James said. "I don't know how long he'll be out but anytime one of your teammates go out it hurts."
Several of James' teammates are already out of action. Mike Miller hopes to return by Christmas from a broken thumb that required surgery in the preseason. Dwyane Wade missed the game against Memphis with a sprained left wrist that he hurt in a nasty fall Friday night against the Bobcats.
X-rays on Wade's wrist didn't show a break, but he might have more tests Sunday. The team is calling him day-to-day, making his status for Monday's game against Indiana and Wednesday's rematch with the Magic uncertain.
But Haslem's loss might be the most costly of all because it hits the Heat in a weak spot. James Jones and Eddie House, who had 20 points Saturday, are filling in well for Miller. Wade is obviously a huge loss, but James and Chris Bosh, who combined for 49 points against the Grizzlies, can pick up the production.
Without Haslem, the Heat are down their top rebounder and their most rugged interior defender. His absence showed in a big way down the stretch in Saturday night's loss.
During a Haslem-less fourth quarter, the Grizzlies decimated the Heat on the boards and on the inside. Memphis piled up eight offensive rebounds, 13 second-chance points and 20 points in the paint in the final 12 minutes.
Randolph, the man Haslem likely would have been guarding, repeatedly bumped Bosh out of position beneath the glass and ended up with five offensive rebounds and 13 points in the fourth. Overall, the Grizzlies got 15 of final 19 rebounds.
Bosh played the entire fourth quarter and had just one rebound. Zydrunas Ilgauskas, who was beaten by Marc Gasol for two offensive rebounds, had none in seven minutes.
Miami isn't going to face an expert rebounder like Randolph every night but there is reason for concern -- and the Heat know it.
"He didn't even get up and especially when a guy is carried off, I think we know what that means," Bosh said. "We have played enough games to know that is not a good sign. Unfortunately, the game goes on."