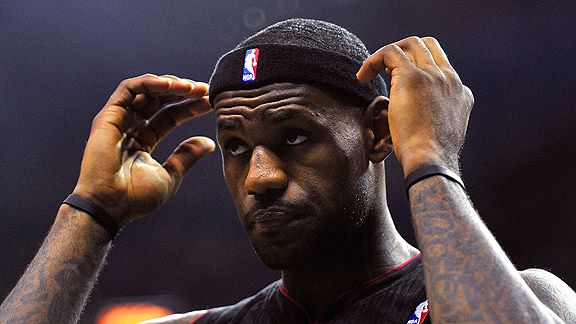 Grant Halverson/Getty Image Sports
LeBron James and the Heat can focus only on the future. July is a distant memory.
MEMPHIS, Tenn. -- The Heat are now 13 games into their high-profile season, and things aren't going as they'd hoped. But they are not pressing two tempting buttons: panic or easy.
Their deflating 97-95 loss on Rudy Gay's buzzer-beater Saturday night dropped them to 8-5, tied for the fourth-best record in the Eastern Conference. LeBron James blanketed Gay, who had made just 4 of 12 shots to that point, and the Heat had the play defended quite well.
But Gay made the fading floater over James' arm, then barked at the Heat bench as the crowd exploded around him.
The Heat are clearly getting the best shot from most of the teams they play. At home, that means Miami is often having trouble putting games away. On the road, it means facing a high-energy crowd and an opponent looking to make a point. Admittedly, the Heat haven't been as ready for those challenges as they wanted to be.
Then there is the injury bug, which by late Saturday had robbed the Heat of three of their top seven players. All of them have uncertain timetables for return, but it appears Udonis Haslem (foot) will be on the shelf with Mike Miller (thumb) for some time.
Still, the Heat are not sulking about it. Frankly, it appears they're trying to do the opposite.
"You don't want anything easy, especially as a professional athlete; nothing is easy," said James, who had 29 points and 11 assists.
"This wasn't something I thought was easy ... I would rather it not be easy because you have to go through growing pains to be great at the end when you face those challenges you had early in the year. The easy button is not for us."
At the start of the season the Heat seemed to be interested, at least to some extent, in silencing their haters. They weren't afraid to outwardly show it. They were happy to invest themselves in one another and their late-arriving but highly supportive fans in Miami -- and even happier when they could make doubters start to reconsider their words.
They talked all along about "the process" and still do every day after both wins and losses. But now there is a different vibe. They seem to realize the depth of the assignment they're facing, which is way deeper than the cosmetic issues of responding to trash talk from peers and opinions from the national media.
It is not just about fundamental basketball issues such as their problem with rebounding and defending opposing big men. They are turning more inward.
In short, there are so many challenges facing them right now that there doesn't seem to be much time for the other clutter.
"To be put right in adverse situations right off the bat, I think we're doing pretty well," Chris Bosh said. "We just have to continue to build on it and learn every lesson."
The lesson that rang true Saturday is the type of intensity the Heat are going to have to start bringing on the road. It isn't a surprise that opponents are gearing up for every Miami arrival and doing so across the board.
A sellout crowd came to FedEx Forum, only the second in seven home games, replete with a live band and Quick Change, one of the league's top halftime acts. It was a big night in Memphis for the Heat's only visit of the season.
Then there were the Grizzlies themselves, who took the floor with lots of energy and jumped out to a 12-point lead at the start. And Gay's finish -- well, that spoke for itself.
The Heat's previous road game, which was two weeks ago, featured the same type of experience. A buzzing Hornets team and crowd stunned them early, then hung on to win a tight game late.
The Heat will continue to encounter these environments. Count on the next road game, which is Wednesday in Orlando, to be the same.
"You have to come out of the gates swinging, because they are," Bosh said.
"Teams are going to come out pumped up. They have a packed crowd. Everybody is excited. The players are excited, and you can tell. Guys are going to be more focused.
"Sometimes for us it is one of 82, but for other teams, they circle it on the calendar. That is the point of it. We all wanted this coming in, so we're just going to have to deal with it and overcome it."
Dealing with it is exactly where the Heat are right now. Just how much they can conquer it is yet to be seen.
The 13 games have been turbulent, and the Heat have more losses than they expected. But those setbacks have served a purpose.
The Heat's heads are no longer in that July rally with the fireworks and hydraulic lifts. They're on the ground and staring at one another in the trenches.
Which is why they walked out of Memphis knowing just how hard this is going to be and feeling that they actually are getting somewhere.
"Recordwise, you want to be better; there's some games we could've won, and we didn't come out and play well," James said. "My expectation is to get better every day. Even though we lost this game tonight, I feel we got better."