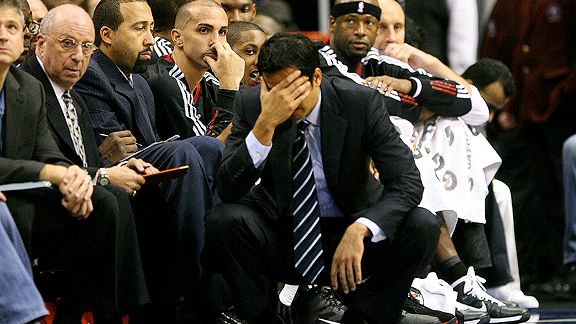 Issac Baldizon/NBAE/Getty Images
Sometimes it's hard for Erik Spoelstra to watch his Heat team stumble.
DALLAS -- By now, you've see the bump. Two men. Two huge egos in the moment. Neither one willing to back down. Both intent on standing their ground and remaining on stride to drive home a message.
Miami Heat coach Erik Spoelstra, livid after yet another defensive breakdown, stormed off the bench after a timeout in the third quarter, lowered his head and walked toward the paint. LeBron James, equally frustrated and just as oblivious to his surroundings, walked off the court and toward the bench.
Perhaps Spoelstra, desperately trying to light a spark under this sputtering collection of star talent, didn't see James coming. And it's possible James, the prized offseason addition at the head of this underperforming Heat bunch, didn't see Spoelstra headed right into his path. The truth is both men could have avoided what happened next.
Boom.
Emotional coach and frustrated star player rammed into one another with so much force that Spoelstra's suit jacket nearly came off his shoulder.
Spoelstra never blinked. LeBron never budged. Had Spoelstra bumped a referee that way, he would have been fined or suspended by the league. If James had run into another player like that, there's a chance he could have been ejected. Instantly, video footage of the bump was uploaded to YouTube. Immediately after that, fans surfed the Internet to find a similar run-in between James and former Cleveland Cavaliers coach Mike Brown during an animated timeout three years ago in New York.
The incident would have been easy to dismiss during the Heat's 106-95 loss to the Dallas Mavericks on Saturday at the American Airlines Center had the circumstances been different. But they weren't. Things were falling apart at the start of the second half for the Heat, who dropped to 9-8 on the season after losing for the third time in four games.
Miami had been been on the short end of a 13-0 run that led to the bump. Spoelstra was so fed up with the repeated miscues at one point that he was at a loss for words for his players. Then moments later, the exchanges between players and coaches during those timeouts were about as civil as those too-hot-for-TV episodes of the old "Jerry Springer Show."
Forget about the Heat being on some championship collision course with the Los Angeles Lakers. Right now, this Miami team just can't seem to get out of its own way. At times, the Heat put up more fight during those timeouts than they did when the ball was in play and the opponent was obvious.
"That's the way it should be," Spoelstra said after the game when asked about the testy moments that left his team on the brink of boiling over. "Good. Yeah. I think we all were [frustrated] in the timeouts, and that's the way it should be. This shouldn't be fun out here, and it was painful to go through a third quarter like that. If guys feel that pain, good. Again … I don't have a problem with that."
And after the game, players certainly didn't have a problem shutting themselves into the locker room and airing their grievances with one another as Spoelstra's staff paced the hallways. The Heat were holed up for more than 40 minutes before James and Dwyane Wade met with the media.
What was said behind closed doors was mostly kept that way. But the message was precise.
"As players, we're accountable," Wade said of the assortment of chemistry problems, trust issues, lapses in execution and whatever else is derailing the Heat. "I'll never put anything on the coach, win, lose or draw, because they can give us a game plan. But they're not the ones on the court playing. It's time to take ownership of this. It's our team."
Wade and James insisted they wouldn't divulge what was said during the players-only meeting. But each of the 12 men who traveled to Dallas had a chance to speak his mind. Feelings, evidently, weren't spared. Wade let part of his message to the team slip when he spoke to reporters.
He talked about how the Heat's 2006 championship team handled the adversity it faced early in that season. He pointed out how that Miami team started off 10-10. He recounted how a blowout loss in Dallas later in that season was the breaking point that sparked a 10-game winning streak, one that launched Miami into the postseason for the thrill ride that ended on this same court four years ago with a Game 6 victory that put away Dallas in the NBA Finals.
But what Wade conveniently left out was what happened after that Heat team hit 11-10. That was when Pat Riley returned to the bench and Stan Van Gundy returned to the car pool rotation for his kids' school. Someone had to be sacrificed and held accountable for the poor start in 2005-06. That might ultimately be the case again should things continue like this for the Heat.
"I don't worry about changes," Wade said. "I can't control them."
Sure he can. Just like Spoelstra and James could have controlled the direction of their paths as they headed on that collision course. The Heat genuinely sounded like a team that was shaken up by some of those stirring moments before and after the game. Even Bosh showed his displeasure when James was beaten by Caron Butler for the basket that put Dallas ahead 100-92 and quashed the Heat's rally.
After that play in the final minutes, Bosh slammed the ball into the ground as the Heat called another timeout in the fourth quarter. He could have been hit with a technical foul. But by that time, even the refs showed a bit of mercy on the Heat. It probably provided more fodder for the postgame fallout.
"It was a well-needed meeting, where everybody got an opportunity to get off what they had on their chests, what they had in their heads," James said. "Right now, we're a 9-8 team, and we have to own up to that. Does our record speak of what team we can become? No. I don't think so. But we are 9-8 because we're playing like that. We have to figure this thing out, which we will."
What the Heat figured out Saturday was that no one is above being called out. What Spoelstra might have figured out is that the best way to get through to James is to not be afraid to confront him. Spoelstra could have moved out of the way. That much was obvious. But he didn't. James could have gone around Spoelstra and avoided the contact. But he refused.
"Until we feel that pain and accept it enough to make a change," Spoelstra said, "these will be the results."
It's about time this team got feisty. That's the first step. After falling to 2-7 against teams with .500 or better records, it's time the Heat aim some of that fire on their better opponents.