MIAMI -- After watching a 17-point lead dwindle to two during the fourth quarter against the Atlanta Hawks, Miami Heat head coach Erik Spoelstra scrapped his strategy and made an intriguing adjustment to help rescue his team.
How did the Heat spell relief Saturday night? C-H-R-I-S. B-O-S-H.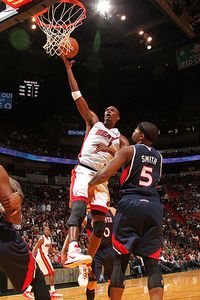 Victor Baldizon/NBAE/Getty
Chris Bosh: Banana No. 3 was Banana No. 1 on Saturday.
"We, on purpose, ran the offense through him down the stretch," Spoelstra said after the escape. "Chris gave us some relief opportunities."
As a result, the Heat survived. Don't let those 235 pounds spread over that lanky 6-foot-11 inch frame fool you. This time, it was Bosh who did the bulk of the heavy lifting in an 89-77 victory that extended the Heat's winning streak to four games -- all by double-digit margins.
When Bosh is the third-best player on your roster, and he plays like he did to lead the Heat past the Hawks, there's a reason to believe there is more to this Heat resurgence than a convenient schedule that offered Washington, Detroit, Cleveland and Atlanta without Joe Johnson as therapeutic fodder.
Instead, there's legitimate evidence that this recently dysfunctional-but-still-dynamic trio in Miami just might deliver on its promise. This time a week ago, Bosh was shouting down Heat teammates during that debacle in Dallas.
He was shouting again Saturday against the Hawks. Only this time Bosh's emotions were aimed toward the fans to get them fired up late in the fourth quarter, as the Heat were close to putting away the Hawks after nearly squandering what should have been a comfortable lead.
Bosh scored more points in a Nov. 17 victory over Phoenix than his game-high 27 on Saturday. He grabbed more rebounds against Charlotte on Nov. 19 than the 10 he hauled in against the Hawks. But this was arguably his most complete game of the season. And it couldn't have come at a better time for the Heat, who are still trying to distance themselves from that disastrous stretch during which they lost four of five, and stood just a game above .500 only a few days ago.
"I didn't think the world was coming to an end," Bosh said of emerging from a turbulent week. "I think we were standing in our own way."
Bosh shot 12-of-22 from the field and had 10 rebounds in 40 minutes. This was closer to the version of Bosh who produced his best season, statistically, during the final year of his contact in Toronto. This was the Bosh the Heat were giddy about penciling in as the third-best player on the roster behind LeBron James and Dwyane Wade. Or Dwyane Wade and LeBron James, depending on your ratings preference.
But beyond all of that, this was the Bosh Heat fans would never consider trading the way they did the version of Bosh who sputtered through a disappointing start to the season. During the Heat's four-game winning streak, Bosh has shot 50 percent from the field and averaged 19.5 points and 7.3 rebounds, numbers that are slightly higher than his season averages.
But Bosh's recent impact goes beyond the modest bump in statistics. More than anything, his comfort and confidence levels have been soaring lately. It started with a round of open and honest communication about his role with the Heat and his relationship with his new teammates.
"When you open the conversation and you're open to communication with your teammates and figuring out what's working and what's not working, good things can come from that," Bosh said. "We're all professionals and we all know that we want to do better. Just taking a step back and really talking about things, and where we're comfortable, is important."
Teammates and coaches have seen emotional changes and physical adjustments in Bosh's approach the past few days. James said Bosh is more aggressive and decisive when he gets the ball. It helped when Wade and James decided to carve out a bigger piece of the routine action for Bosh. As a result, Bosh's 22 field goal attempts were his most of the season and his 12 made field goals tied his season high.
"I just think he stopped thinking about misses," James said. "He just stopped trying to figure out 'Well, is it my time, or is it his time?' He's just been going out and playing. You know he has a lot on his mind trying to figure this out instead of just going out and playing. Now, we're just playing, and it's shown in the point differential when we're all out on the court together."
The numbers show the Heat are clearly a far more dominant team when Bosh is on the court than when he's not. After Saturday's game, the Heat's plus-minus rating is plus-114 when Bosh is on the court with James and Wade. That rating dips to minus-45 when James and Wade are on the court without Bosh.
"It's not easy with this kind of talent together," Wade said of incorporating Bosh and James into the system. "All three of us are starting to feel more comfortable with our roles and with each other."
James has said that Bosh, as a post player, should have an easier adjustment, and is perhaps a unique talent on the Heat's roster. James and Wade are similar as dominant scorers who need to have the ball in their hands to be effective. But Bosh is a different kind of player, from his approach to the game to the methodical way he breaks down situations in the midst of all the action.
He's not a baller. He's a businessman who plays basketball.
While most Heat players spend time before games eating, joking around or listening to music, Bosh sat in his locker the other day in Cleveland surfing the Internet on his iPad. He analyzes questions before he gives answers, sometimes dissecting every word. In postgame interview sessions, he's dressed more often like he's headed to Wall Street than to South Beach.
Simply put: He's a different animal. On Saturday night, he was a beast. After he was fouled midway through the fourth quarter following a crafty up-and-under move straight out of Kevin McHale's old arsenal, Bosh shouted to the crowd. Fans shouted back and gave him a rousing ovation for his effort.
We hadn't seen Bosh that animated since July 9, when he cocked his head back and roared after he was lifted onto the stage alongside James and Wade during the signing-day rock concert/news conference.
Bosh was a beast and a boost for the Heat on Saturday. If it can get that kind of spark consistently from its third-best player, Miami just might start to put some real heat on the league.