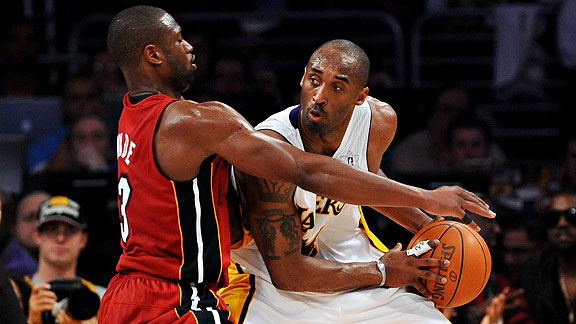 Lisa Blumenfeld/Getty Images Sport
Dwyane Wade used his tenacity and the help of his teammates to contain Kobe Bryant.
LOS ANGELES -- There's a particularly telling sequence early in the fourth quarter of Miami's 96-80 win over the Lakers on Saturday night. Heat coach Erik Spolestra stands arms akimbo on the sideline, frustrated by an ugly Miami defensive possession. His gritty Heat team has put on a defensive clinic for most of the afternoon, an effort that's forced the Lakers to break off from their triangle offense in the second half. But Spoelstra has just witnessed a glitch.
The Lakers have run a basic ball screen for Kobe Bryant out on the left wing with Andrew Bynum as the pick man. The Heat trap Bryant off that screen, and as he turns the corner, he sees a wide, wide open Steve Blake in the short right corner. Mario Chalmers had watched Blake clear to the far side, but the Heat's point guard had hung back to roam in the paint. Bryant slings a jump pass to Blake. James Jones, who has been monitoring Shannon Brown up top, tries to erase Chalmers' carelessness with a last-ditch close-out. James arrives at Blake about the same time that Chalmers scampers back. This, of course, leaves Brown wide-open. Blake moves the ball over to Brown, who drains a 3-pointer to bring the Lakers to within single digits with 10:32 to play.
It's a testimony to the Heat's defense that the mere appearance of a wide-open shooter in the weakside corner is like seeing a red panda on the court. Spoelstra stares down his point guard, then conferences with Heat assistant coach Ron Rothstein on the sideline, presumably to diagnose the breakdown. Meanwhile, Chalmers makes amends on the other end, attacking off a screen into open space to launch a successful, uncontested jumper.
As the Heat trot down the court for the next defensive possession, Spoelstra yells something from the sideline.
"Trust each other!"
Over the next 11 defensive possessions, that's exactly what Miami does. The Lakers score one point -- a Bryant free throw -- in 6:50 of action. The champs go back to that identical angle pick-and-roll with Bryant and Bynum at the exact same spot for their next five play calls, but each time the Heat snuff it out. When the Heat grab two steals on the last two instances, both resulting in scores, the Lakers finally cry mercy and send Bryant back into the post in a corner sideline set.
"Our identity to do this consistently, to defend and not go into games, because of perceived talent, and try to win games offensively," Spoelstra said after the game. "Our mindset and our preparation, all of that has to be first with the defensive side of the floor. It is tough. There are challenges every single night. It does take a great deal of effort and sweat to commit to that side of the floor. But the guys have seen how important that is. Usually that opens up the court for us to get out in transition."
From the outside looking in, this isn't what most identified at the start of the season as the Heat's best formula for success. You bring in three of the four most efficient offensive players in the NBA, and it's supposed to a pyrotechnics show and an endless highlight factory! You balance the floor with LeBron James, Dwyane Wade and Chris Bosh, put them into multiple pick-and-rolls and force a defense into making the least awful of two or three bad choices. You unleash them into transition, where no human being can stop their open-court attack, at least not legally.
But after 32 games, it's becoming increasingly clear that the Heat, at their very core, are one of those nasty, grind-you-into-submission defensive squads, something much more akin to the championship Spurs, Pistons and Celtics teams of recent history. Sure, James and Wade will light up "SportsCenter" with their theatrics on the fast break when they feast on defenses like Golden State and Sacramento. That's not how they're going to win big games like Saturday night's romp over the Lakers, though. Few of these fights will be decided in the triple digits, and most of them will be basketball's equivalent of gum surgery.
The Heat not only accept this reality, they embrace it emphatically.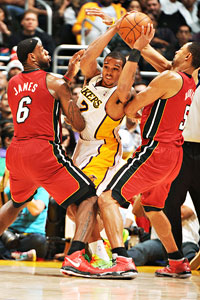 Andrew D. Bernstein/NBAE/Getty Images
Miami's firepower is impressive, but defense is its calling card.
"We understand that, offensively, we have enough pieces," James said. "We have three guys who can go out and actually self-will a win, if need be. But, at the end of the day, what was going to be our identity? And I think we figured it out. We knew defensive, the five guys who are on the court have to be on the string, have to get stops in order for us to win basketball games."
Let's go back to those 11 fruitless Lakers possessions down the stretch. The Lakers are in that corner, set with the ball in Lamar Odom's hands. Bosh harasses him out on the perimeter, denying Odom a simple entry pass to Bryant that the Lakers have made 5,000 times. And if that's not enough, Wade fiercely fronts Bryant in the post, making that connection even more difficult. Wade forces Bryant to make the catch much farther out than is optimal for what the Lakers want to do. Bryant looks for a flashing Bynum -- normally the Lakers' next move in this sequence -- but Bosh is right there, denying the pass, while Erick Dampier has picked up Odom on Bosh's behalf. This is the "trust," Spoelstra preaches from the sideline. Denied the interior pass he's looking for, Bryant slings a skip pass to Brown on the weak side. Chalmers closes, and Brown's shot is way off.
As Bryant's primary defender, Wade was speaking in general terms after the game about the Heat's defensive strategy, but he might as well have been telestrating the above possession.
"The best thing we did was we had trust," Wade said. "So I know if I'm guarding Kobe at the wing, I know I have help at the elbow or at the block. It enables me to get up on him and pressure him."
The Heat's defensive numbers, especially during their 14 wins in 15 games, have been impressive. They're allowing opponents only 94.6 points per 100 possessions. As a frame of reference, Boston and Miami lead the league with respective season-long marks of 96.7 and 96.9. Although skeptics point out that the Heat lack the size to protect the basket area, the Heat rank third in the league in percentage of shots surrendered at the rim.
If the much-maligned center rotation of Zydrunas Ilgauskas, Dampier and Joel Anthony is so ill-equipped, how is this even possible? The answer is multifold. First, having perimeter players like James and Wade -- and Jones and Chalmers for that matter -- makes it exceedingly difficult for opponents to get the ball into the paint. Second, that big-man troika is more effective than we realize. As strong as the Heat have been defensively as a team, they're three points better per 100 possessions when Anthony or Dampier is on the floor. And Ilgauskas, while aging and less mobile than in years past, is still a tough guy to shoot over if you're a post scorer, something Pau Gasol experienced on Saturday trying to work out of the midpost area.
Finally, there's a fundamental, almost religious, devotion by the entire team to the principles laid out by Spoelstra. Bosh came from a terrible defensive lineage in Toronto, where there was no coherent defensive program. As a result, he arrived in Miami with a reputation similar to the one Ray Allen carried into Boston and Gasol into Los Angeles -- talented scorers who wouldn't be able to hold their own defensively.
Bosh rarely spoke in terms of defensive philosophy while in Toronto. Now, he's not only leading the Big Three in defensive rating (points surrendered per 100 possessions while a player is on the floor), but he also sounds like a man who has undergone severe re-education.
Here's Bosh talking about the team's tactical strategy defending Gasol on Saturday:
"We didn't want [Gasol] to be comfortable," Bosh said. "We wanted to fight him off the post a little bit. Then when he did get it, we wanted to give him a bunch of different looks. We really didn't double too much, but we just wanted to make him pick it up, make him think about. Any time a guy that talented goes right into his moves, there's not much you can do. But if you kind of jab at the ball, reach a little bit, then get back to the shooters, make him pick it up, make him do something else, that helps us out a little bit. We just tried to keep him off balance the whole game."
In the parlance of coaching, Bosh has bought in. For all of Spoelstra's successes during the past month, his ability to sell his team on the dogma of defense might be his most impressive achievement. He's used the carrot-and-stick method, telling his team it can have all the transition it can eat if it secures long rebounds and steals on the defensive end. But Spoelstra's salesmanship has been far more profound than that gimmick. He's done more than just bribe his players with run-out opportunities. He's instilled a gospel.
"The guys are starting to speak our philosophy," Spolestra said. "That's more powerful than anything coming from us -- when they take ownership. What is our identity? And they start to believe in defending and rebounding and getting out in the open court. So that's what they're doing. They're seeing success with that."
On Christmas Day, the Miami Heat got religion.