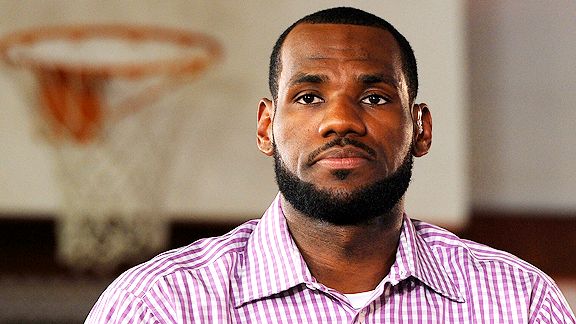 Larry Busacca/Getty Images Sport
"The Decision" was just one of dozens of notable dates on LeBron James' calendar in 2010.
It has been, to say the least, a strange year in the life of LeBron James. As the Heat get ready to enter the new year after losing one game in the month of December, let's take a look back at the most event-filled and controversial calendar year of LeBron James' life.
Jan. 3: The Charlotte Bobcats snap the Cavaliers' seven-game winning streak, which included decisive wins over Houston, Phoenix and Atlanta and a Christmas Day beatdown of the defending champion Los Angeles Lakers. LeBron scored 26 or more points in all but one of the wins.
Jan. 23: James blocks Kevin Durant's game-tying shot attempt with two seconds remaining in the game to seal a Cleveland victory over Oklahoma City.
Jan. 25: With the Cavaliers trailing the Heat by one point in Miami and 26 seconds left to play, James steals a Dwyane Wade pass, takes it coast-to-coast and makes both free throws after Wade fouls him to prevent a dunk. On the next possession, LeBron forces Wade into a tough jumper and allows the Cavaliers to hold onto a 92-91 win. That game came in the middle of a 13-game Cavaliers winning streak that included wins against the Lakers, the Magic, the Thunder and the Heat.
Feb. 7: LeBron and Dwight Howard appear in a McDonald's Super Bowl ad that re-imagines the classic Michael Jordan/Larry Bird H-O-R-S-E ad and shows a dunk contest between James and Howard.
Feb. 14: LeBron scores 25 points and records six assists in the All-Star Game, which the East won by a final score of 141-139. Wade is named the game's MVP with 28 points and 11 assists, and Chris Bosh hits the game-winning free throws with five seconds left in the game.
Feb. 18: The Cavaliers complete a three-team trade that sends Antawn Jamison to the Cavaliers in exchange for Zydrunas Ilgauskas and a first-round pick. Ilgauskas' contract is later bought out and he re-signs with the Cavaliers. Adrian Wojnarowski reports that the Cavaliers traded for Jamison after the Suns turned down their offer of Ilgauskas, Danny Green, J.J. Hickson and a first-round pick for Amare Stoudemire. Marc Stein reports that the Cavaliers preferred the Jamison trade over the Stoudemire trade in part because the Cavaliers' front office did not want to part with Hickson. That night, the Nuggets snap Cleveland's winning streak in an overtime game, and the Cavs lose their next two contests.
March 1: LeBron files the paperwork to change his number from 23 to 6 if he does play for the Cavaliers during the 2010-11 season. In November 2009, LeBron explained that he was changing his number because he believed Jordan's number should be retired throughout the league. Because of the different impacts Jordan and Jackie Robinson had on their respective sports, and that Bill Russell and Julius Erving both wore No. 6, many fans and media members took umbrage at LeBron's quest to retire Jordan's number.
April 4: The Cavaliers lose a 113-117 game against the Celtics in Boston. LeBron finishes with 42 points but has to take 31 field goal attempts to get them and misses a potential go-ahead 3-point shot with four seconds left.
April 8: With the Cavs having clinched the league's best record, LeBron decides to shut it down for the season and sit out the Cavs' final four games, all of which they lose. FanHouse's Tim Potvak calls the decision "arrogance at the NBA's worst," says that LeBron owes the fans a refund for the games he missed and explains that he will not give his MVP vote to James because he sat the final four games.
April 21: LeBron is named the 2nd most influential athlete in the world by Forbes Magazine. Lance Armstrong finishes ahead of LeBron despite having a lower likability rating.
April 27: LeBron averages 31.8 points, 9.2 rebounds and 8.2 assists on 56.7 percent shooting from the field and 54.2 percent from beyond the arc as the Cavaliers dismantle the Chicago Bulls in five games. With seven seconds left and the Cavs up by four points in Game 5, LeBron takes a free throw with his left hand. When asked after the game why he did it, James explains that his elbow was bothering him and had been bothering him for some time. In the next few days, Chuck Yarborough of the Cleveland Plain Dealer worries "The Elbow" will live in Cleveland infamy the way that "The Drive" and "The Shot" have, and LeBron's Elbow sets up its own Twitter feed.
May 2: LeBron is officially given his 2nd consecutive MVP award. He gets 116 of a possible 123 first-place votes and gets the second most "points" in the history of MVP voting, trailing only Shaquille O'Neal in 2000. For the second consecutive year, LeBron's official ceremony takes place in Akron.
May 7: After splitting the first two games of the Eastern Conference Semifinals, the Cavaliers blow out the Celtics in Boston as LeBron scores 38 points on 14-of-22 shooting from the field.
May 9: The Celtics even the series at two and manage to hold LeBron to 7-18 shooting while forcing him to commit seven turnovers.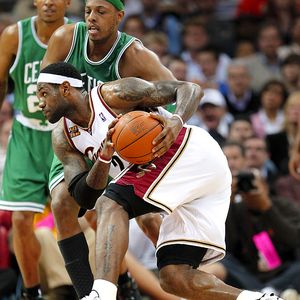 Gregory Shamus/Getty Images
May 11: The fateful Game 5 loss.
May 11: LeBron plays one of the worst games of his career, as the Celtics take home-court advantage back from the Cavaliers and grab a 3-2 series lead. LeBron finished with 15 points, 6 rebounds and 7 assists, but shot 3 of 14 from the field and stood in the corner looking disengaged and demoralized for much of the 120-88 blowout.
May 13: LeBron records a 27-point, 19-rebound, 10-assist triple-double in his last game with the Cavaliers but still can't find his rhythm against the Boston defense, which forces him to commit nine turnovers and miss 13 of his 21 shot attempts. For the second consecutive year, the Cavaliers fail to make the NBA finals despite finishing with the league's best regular-season record.
May 24: The Cavaliers fire Head Coach Mike Brown, supposedly as an attempt to please James and his management team.
June 4: LeBron appears on "Larry King Live" to discuss his impending free agency, although he gives few real hints about where he's going. Cavs general manager Danny Ferry resigns and is replaced by Chris Grant.
June 15: Tom Izzo tells the board of Michigan State University that he will remain the coach of the MSU basketball team. He reportedly asked LeBron to confirm that he would return to Cleveland for the 2010-11 season and refused the job when LeBron refused to do that.
June 28: Stephen A. Smith tweets that LeBron plans to join Wade in Miami and bring Bosh with him.
July 1: LeBron officially files for free agency.
Early July: LeBron, having canceled his "free-agency tour," holds meetings in Cleveland with teams with significant cap space, including the Clippers, Knicks, Heat, Nets and Bulls. The Cavaliers also make a presentation to James, which includes a specially-made video that features LeBron drawn as a "Family Guy" character.
July 8: During a one-hour televised special, LeBron tells Jim Gray that he plans to sign with the Miami Heat. Nearly 10 million people watch the special.
July 8: Cavaliers owner Dan Gilbert writes an open letter to "Cleveland fans" that is extremely critical of James and his "decision." Gilbert personally guarantees that the Cavaliers will win a championship before LeBron does. Later, Gilbert reprices the "Fatheads" of James that his company sells to $17.41, the year Benedict Arnold was born.
July 8: Cleveland fans burn LeBron jerseys in effigy.
July 9: Cleveland officially completes a sign-and-trade deal with Miami for LeBron. James, Wade and Bosh have a welcome party thrown for them at the American Airlines Arena.
July 10: The giant "We Are All Witnesses" banner in Cleveland is taken down.
July 11: Reverend Jesse Jackson defends LeBron and says Gilbert's letter reveals a "slave-owner mentality."
July 14: LeBron tells GQ that he would not have made his "decision" any differently. In the same interview, he made a clear distinction between his loyalty to Akron and his loyalty to Cleveland and was critical of Gilbert.
July 19: Jordan says he would have never "called up Magic Johnson and Larry Bird" and asked to play on the same team with him.
Aug. 10: James tweets that he's spent the summer "taking mental notes" of his critics.
Sept. 28: Miami Heat training camp begins for the 2010-11 NBA season.
Sept. 29: CNN's Soledad O'Brian asks LeBron if race "played a role" in the backlash to his decision. LeBron says that it did. Chaos ensues.
Oct. 26: On the opening day of the NBA schedule, Nike releases "Rise," LeBron's stylized rebuttal to the firestorm of criticism in the wake of "The Decision." The ad begins with James posing the questions, "What should I do? Should I admit that I've made mistakes? Should I remind you that I've done this before?"
Oct. 26: Miami drops James' first regular-season game as a member of the Heat in a 88-80 loss to Boston. James scores 31 points and commits eight turnovers. James gets off to an uneasy start with the Heat, averaging 6.3 turnovers in his first four games and having his only good offensive performance come in a loss. People question if LeBron and Wade will be able to develop offensive chemistry.
Nov. 9: James records his first Heat triple-double in a bizarre 116-114 overtime loss to the Utah Jazz in Miami.
Nov. 21: LeBron is named one of the 25 finalists for TIME's "Person of the Year" award but does not make the "short list." LeBron finishes 22nd on the "user poll," ahead of only Jonathan Franzen, Tony Hayward and Hamid Karzai. He ultimately "loses" the award to Mark Zuckerberg, the only person younger than James to be on the list of 25.
Nov. 22: The Pacers dominate the Heat in Miami, 93-77. After James' uneven 25-point, 5-rebound performance, he tells the media the Heat are "not having fun right now."
Nov. 27: The Heat lose 106-95 to Dallas, dropping to 9-8 on the season. After a timeout is called during the third quarter, James collides with Heat head coach Erik Spoelstra. Observers speculate that "the Bump" is an intentional expression of James' frustration with his coach. In the subsequent days, rumors fly that Pat Riley will soon step in as coach, and other rumors indicate that LeBron's camp started those rumors because of their dissatisfaction with Spoelestra.
Dec. 2: The Heat come to Cleveland. As Cavaliers fans chanted "Ak-ron Hates You," "Scott-ie Pip-pen" and "De-lon-te" at him, LeBron scored 38 points in a Miami blowout. Since that game, the Heat have only lost once and the Cavaliers have only won once.
Dec. 17: James embraces the role of villain in the Heat's 113-91 victory over the Knicks in front of a raucous crowd at Madison Square Garden. It's Miami's 11th consecutive win.
Dec. 24: LeBron seemingly suggests that contraction would improve the NBA. He later denies that he ever supported contraction.
Dec. 25: The Heat beat the Lakers convincingly on Christmas Day, 96-80. James records a triple-double with 27 points, 11 rebounds and 10 assists, including five 3-pointers. He and Kobe Bryant jaw at one another on the floor. When asked about the incident after the game, Bryant tells the media, "Just asked [James] what he got for Christmas."
Dec. 29: The Heat defeat Houston 125-119 to wrap up the most successful month in the franchise's history. The Heat finish December 2010 15-1 and become the first team in NBA history to win 10 consecutive road games in a calendar month.
At the end of 2009, LeBron was a polarizing basketball player. Do you prefer LeBron's overwhelming physical gifts and court vision or the more subtle and refined skills of Durant or Bryant? Do you believe that LeBron is as dominant as his numbers say he is, or do you prefer to believe in the power of intangibles? Those were the kind of questions we asked about LeBron in the first half of 2010.
Today, LeBron is a polarizing human being. After an ugly playoff exit and his behavior throughout the free-agency process and his decision to join Wade and Bosh in Miami, LeBron isn't just a basketball player anymore. He's someone who makes the front page every time he speaks extemporaneously and someone who has come to symbolize the changing landscape of the sports world. If the Heat get a championship before 2012 comes around, he'll likely be something completely different by this time next year.
We'll just have to wait and see what 2011 has in store for the player that seemingly everybody loves to hate -- and loves to watch even more.