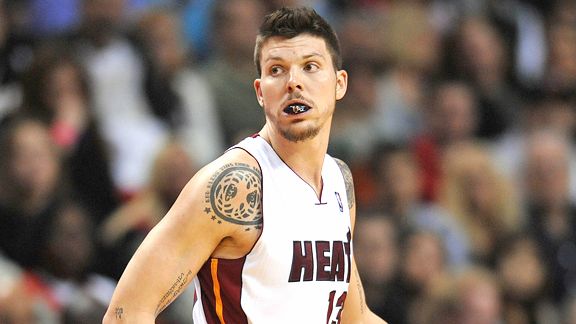 Steve Mitchell/US Presswire
With Dwyane Wade and Chris Bosh sidelined, Mike Miller picked a good time to break out.
MIAMI – Conventional wisdom has always suggested it was only a matter of time before Mike Miller became, well, Mike Miller for the Miami Heat.
He's proved to be too good of a shooter over his 10 NBA seasons.
He's worked too hard to establish a solid reputation as a versatile playmaker.
At some point in his return from that October thumb surgery that delayed and derailed his impact early his first season with the Heat, Miami would eventually grasp what Miller Time is all about.
"We've been going to Mike Miller since he got back," teammate LeBron James said before Saturday's 120-103 victory against the Toronto Raptors. "We'd love for Mike to be aggressive. We need him to look for his shots. We can't afford for Mike not to be aggressive."
Miller obliged.
When it comes to Miller's shot, a season of struggles gave way to a Saturday night stroke of genius. The Heat signed Miller on July 16, 2010 to be the perfect stretch-the-floor complement to James, Dwyane Wade and Chris Bosh, who were locked up a week earlier in free agency. But in many ways, Miller didn't arrive in true form as expected until Saturday night.
Miller made his first basket of the season in AmericanAirlines arena six minutes into the game. Then, he made another. And another. By the time he was done, Miller scored a season-high 32 points, set a franchise record for second quarter scoring with 22 points, shot 6-for-11 on 3-pointers, grabbed 10 boards and helped the shorthanded Heat (31-13) end a season-long, four-game losing streak.
Along the way, Miller shot down concerns as to when he'd regain his stroke, erased doubts that he lacked confidence and offered the strongest evidence yet that he could be a reliable fourth option on a team that has struggled to find any consistent production beyond James, Wade and Bosh.
He had no choice Saturday, with Wade staying home to treat his latest battle with migraines and Bosh sitting out his second consecutive game with a sprained left ankle. For Miller, it was essentially either step up in this time of need or shut up about needing a real opportunity to get extended minutes.
"I made some shots," Miller said after converting on 12 of his 20 attempts Saturday, having entered the game with only 15 points the entire season. "Next game, if I get the opportunity to be aggressive, hopefully I'll make some more. It's not like I forgot how (to shoot) or anything like that. It was a matter of getting out there and doing it. It was a matter of time. It was a blessing to help."
Miller did more than provide help. He offered hope. Hope that the five-year, $30 million contract he signed with the Heat last summer wouldn't be the most second-guessed contract in franchise history.
His breakout game upstaged James' shift to power forward, where LeBron started in place of Bosh and channeled his inner Karl Malone on the way to 38 points, 11 rebounds and six assists in 38 minutes.
Miller's emergence also overshadowed coach Erik Spoelstra's point guard drama, with Mario Chalmers replacing Carlos Arroyo in a switcharoo that had nothing to do with the recent rash of injuries. Miller's surge even overshadowed the absence of Wade, whose sensitivity to light the past few days forced him to stay away from the arena and in the darkness of his home during the game.
But for the first time this season, Miller is seeing the light. And he's got the green light.
"I've told him repeatedly that if he wants to gain the confidence of his head coach, he has to be aggressive," Spoelstra said of Miller, who had taken only 28 shots in his previous 10 games. "When the ball hits his hands, he's got to be ready to catch and shoot without any thought. I don't care as a head coach whether the ball goes in or not. It's the right play, and I don't want him to over think it."
This was as timely a therapeutic session as Miller could have been granted. The opponent was the reeling Raptors, who had only nine healthy players and were coming off a 40-point loss the previous night in Orlando. The absence of Wade and Bosh meant the Heat would be starving for offensive help beyond the herculean effort of James. And then there was the obvious: Miller was due.
"I've been in Mike's ear," James said after the game. "We have Mike here for a reason. We all know why he was brought to this team, and that was to spread the floor. He's got one of the best jump shots, one of the best releases, one of the best forms we have in this game. Every time he shoots it, the crowd feels it, we feel it, it feels like it's going in. I told him, 'Welcome back, and it's good that you're now relevant once again.' When we go to New York (Thursday), they'll have Mike Miller on the scouting report."
Miller will simply settle for a regular role in the rotation when Wade and Bosh are back.
Before Saturday's game, he talked about feasting on the opportunity for extended playing time the way he used to grub down on meals at a crowded dinner table while growing up in South Dakota.
"When food's on the table, you've got to fight for food that's on the table," Miller said after Saturday morning's shootaround. "Let's hope supper is served tonight."
Miller must maintain that appetite when the Heat go big game hunting down the stretch against Boston, Orlando, Chicago and Atlanta in the East.
We know James, Wade and Bosh are capable of setting the table. What we don't yet know is whether their supporting cast, anchored by Miller, will consistently avoid some of the anemic efforts that have been far too frequent this season against quality opponents.
For now, Miller can enjoy this meal. He hasn't eaten this well in a while.