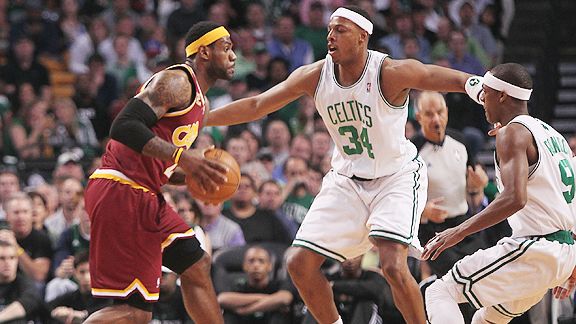 Jim Rogash/Getty Images Sport
Double-teaming LeBron James will present more complications than it used to.
WALTHAM, Mass. – They're trying to sell it, and are even making a good sound case. But nobody is buying it, especially the coach.
As they finished up their preparations for Tuesday's mega-season opener with the Heat, many Celtics were quick to shrug off all hype regarding the start of the season. A veteran-laden team with a stockpile of championship rings, the Celtics are used to the eight-month grind. And they're presenting a compelling case that they're unaffected by the attention.
It's just the first Tuesday of the regular season, they say.
"It means more to the media and the fans than to us," Paul Pierce said.
"The media has done a good job with the marketing," Shaquille O'Neal said. "There's talk of losing money. Not on Tuesday night. We ain't losing money, so thanks for that."
So it's just media, marketing and some overexuberant fans who are manufacturing the hysteria?
"Let's just be honest," Celtics coach Doc Rivers said. "Everybody is excited about it. Our guys try to downplay it until you walk through the locker room and you can hear them talking about it. And the film is on all day watching Miami."
That's what we thought. Say what they will, the Celtics are quite interested in getting the first crack at Team John Dillinger, as LeBron James branded his new squad over the summer. So is the rest of the NBA, which likely won't just be watching from a fan perspective but also trying to get an early scouting report on how to handle the new Heat.
No team in the league has been more impressive defensively over the past three years than the Celtics. For that matter, no team has done a more thorough job of keeping James and Dwyane Wade relatively in check.
Wade and James have put up some huge numbers -- even in the playoffs -- against the Celtics. James had a 45-point Game 7 in 2008. Last season, Wade had a high-scoring playoff series against the Celtics, tallying 46 points in Game 4.
But Boston has routinely bested them, employing an array of effective game plans. Sometimes the Celtics have allowed the scorers to get their points only to lock them down in the half court during crunch time. Other times they've forced Wade and James to their weak spots on the floor and invited them to take low-percentage shots under pressure.
A few daggers aside, the Celtics' blueprint has worked nearly flawlessly in recent years. Boston beat both Miami and Cleveland last season in the playoffs. In fact, no team has beaten James more in the past three seasons than the Celtics, effectively neutralizing his greatness twice in the playoffs.
So if any team can find a formula to do it to both James and Wade at the same time, it just might be the Celtics. And so it is quite appropriate they get the first shot at the Heat. Coaches and players across the NBA will be taking notes.
"It doesn't matter what they score, I don't care," Rivers said. "I would like them to score under 10, that would be terrific. But if they both score over 30 and we win, I'm going to feel very good about that game.
"We're going to trust our principles; that is who we are. We've been asked over the last few years if we have this 'Dwyane Wade defense' or this 'LeBron defense' and we laughed. We never changed our defense. We play our defense. We try to get people off their spot. We try to get them to take the shots we want. If they make those shots, we're fine with it."
That is a confident response from a systematic defensive team. But can that system withstand what O'Neal is already calling a "legendary backcourt" of James and Wade, while at the same time also accounting for Chris Bosh?
The Heat plans for the answer to be no. That was the motivation behind creating a superteam that was unguardable even by the best in the business.
The Celtics – and other quality high-end defensive teams like the Lakers and Magic – hope the answer will be yes. After all, there is only one ball. By using sound defensive techniques and communication, defenses can put those strategies to work against five All-Stars at once. "Good pitching beats good hitting" and similar metaphors have often prevailed in playoff basketball.
Pierce tried to explain this concept. By tilting the defense to where the ball is -- "loading," as Boston calls it -- and getting help from active and intelligent teammates, defending the Heat should be like guarding any other team with a star or two. But the more Pierce talked, the more you could tell he knows this challenge is different.
"It is hard to defend LeBron one-on-one so it is always important for five guys to be aware of where he is," Pierce said, returning to a standard tactic.
But then he had to elaborate.
"The bad thing about it is they have Dwyane Wade on the other side now. We all have to keep our antennae up."
Then Pierce kept going.
"Along with Chris Bosh. We have to be very aware of where these guys are on the court at all times. It's going to be a challenge."
That's even more true Tuesday because the Celtics, like the rest of the league, have roughly three minutes of video to consult of Wade, James and Bosh playing together. James and his teammates have often pointed out that they're behind because of injuries -- but opponents are behind trying to prepare for them, as well.
All of which adds even more spice and intrigue to the opener.
"I would have liked to have seen them a couple times," Rivers said.
"We all, especially coaches, are a creature of film. That three-minute flip clip is not very good to break down. You've got to guess in a lot of ways. This is where we think Wade would be, but he could be on the other side of the floor."
Nothing is settled in October -- or in November, when the teams meet again in Miami two weeks from now. While the Heat will hardly have their systems running on full speed, the Celtics will not be whole. Delonte West, a defensive specialist signed over the summer because of his rugged style and knowledge of James, will not play in either game because of a league suspension. And Kendrick Perkins, the Celtics center, continues to rehab his right knee and isn't expected back in action for at least three months.
So both teams are quick to point out that few conclusions will be reached Tuesday. But don't be fooled -- they both care a lot about what happens on day one.
"Once LeBron took his talents to South Beach, I think everyone got excited," Rivers said. "They've formed a superteam. I've said it a hundred times, I'd rather kindle the fire than start one."