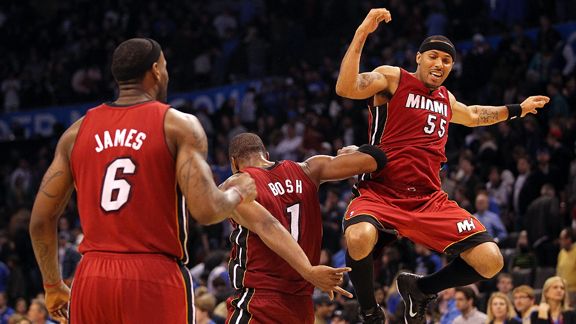 Ronald Martinez/NBAE/Getty Images
Trusted with the final shot, Eddie House rose to the occasion and led the Heat to victory -- again.
OKLAHOMA CITY -- Eddie House, Heat closer.
To borrow a baseball term, House has unexpectedly stepped into the role of Miami's closer in the end of tight games. In back-to-back contests, the star-studded Heat squad has entrusted House to register the go-ahead points with the game on the line.
On Friday night against the Pistons, the Heat were down one point with 15 seconds remaining, when LeBron James passed it to House, who earned a game-winning trip to the free throw line on the final possession.
And on Sunday against Oklahoma City, in one of the Heat's most theatrical games of the season, the Heat received an encore performance. Miami down one, less than a half a minute remaining -- James to House for the win.
Both times, House delivered.
Although the Heat reserve is an unlikely candidate for closing duties, the veteran would have it no other way.
"I'm just ready," House said about Sunday's game-clinching play. "If [James] passes it or he doesn't, we both had looks. He just made a pass for an easier look. He could have taken a shot, but at the same time, that shows trust in his teammates."
Trust may be an intangible quality, but in basketball, it is possible to see it manifest itself on the hardwood. Just cue up the play that lead up to House's shot and you'll see it.
After Mike Miller collected the offensive rebound off a missed Dwyane Wade jumper, Miller immediately kicked it out to James, who was open on the perimeter. James stepped into the pass ready to deploy the potential game-winning 3-pointer.
But James had another idea -- a better idea.
He instead played the role of late-game decoy, pretending for a moment that he was going to fire up that potential game-winning 3-pointer. It was just enough time to pull Thunder guard Daequan Cook away from House, who was standing seven feet to James' right. Once Cook fully committed to James, House was completely freed up along the perimeter. All James needed to do was trust his teammate and make the pass.
He did, and the Heat came away with one of their biggest wins of the season.
You'll probably hear someone interpret the final play differently. That James' decision to pass the ball to House was a cowardly deferral, that he sidestepped the burden of responsibility.
But it wasn't. This was a selfless act, one that increased the chances the Heat would win the game. In the purest sense, it was a career 33 percent 3-point shooter handing the keys to a 39 percent 3-point shooter. It was a basketball winning play.
House was in the game for a specific reason: to knock down the big shot should the opportunity present itself. Heat coach Erik Spoelstra saw him do it on Friday night and he wanted him there again on Sunday.
"We've seen it enough now on the other end where he hit so many big shots for Boston," Spoelstra said after Sunday's win. "He's a unique player because he's ready and ignitable without rhythm minutes. There are not many players in this league you can do that with."
Rewind back to early January. With the return of Miller, who had been rehabbing from thumb surgery, House was squeezed out of the Heat's rotation. He hadn't played in nearly four weeks. Not a single minute.
And then the Denver Nuggets blowout happened on Jan. 13. House got his first action in a game since mid-December and the 10-year veteran responded by scoring 15 points in 17 minutes off the bench. Since that night, House has averaged 20.8 minutes over the Heat's past six games.
Despite riding pine for 11 consecutive games, House kept his head up and never let DNP-CDs get him down.
"It's just being professional," House said. "What good is being negative? We were doing well at the time. We had a [heck] of a December. I was still part of the team. I still put on a Miami Heat jersey."
To endure a layoff of that length is one thing, but it's another to get off the bench and perform in the Heat's most crucial moments before breaking a sweat. When the clock runs down, rust isn't an option. House has kept himself ready.
"He always keeps himself engaged and involved in every single huddle so he knows what's going on," Spoelstra said. "And you throw him in, he hasn't played, he has been sitting for awhile, he feels like he's hot. He feels like he just made three or four in a row and that's unique. That's a special player with that type of dynamic."
Sometimes a scorer's confidence of that magnitude isn't necessary. But sometimes -- for instance, the last possession in each of the past two games -- it is necessary. That's why the game of basketball demands role playing. House has found his niche on the Heat, one that he's carved out on virtually every team he's played for: the fearless shooter.
"Eddie House isn't afraid of the big moments," James said after the game. "He's been in the Finals, he's won a ring with the Celtics so he has a lot of confidence in his ability."
Knowing House would never shy away from the chance to shoot, James trusted his teammate with the game-winning opportunity and trusting one another has been the Heat's mantra as of late.
"That's one thing we've been talking about in the locker room," House said. "Coach has been stressing that. To give yourself up for your teammate to have a better look, that's just how basketball goes."
And rest assured, there are times when that fearlessness comes back to bite House. He is shooting a scorching 50 percent from downtown since he fell out of the rotation and he'll cool off eventually. He did in November, when he missed all 12 of his 3-point attempts over the course of three games.
When House isn't hitting those shots, it becomes very hard to justify his playing time. He can't sufficiently guard opposing point guards and he doesn't have many bankable skills outside of playing perimeter sniper.
But if House wasn't there for James on the final possession, James could have taken that final shot. And considering he misses about two-thirds of his 3-pointers, the odds are that he wouldn't have made it.
But House was there, and James sacrificed his own glory for the extra pass. And the good of the team.
"There was significant progress in the last two games of executing our offense with poise, under duress to find the best available shot," Spoelstra said. "And I found it most fitting that we ended up with a trust play for an Eddie House 3 at the end. It was a good win and we can build on this."