OKLAHOMA CITY –- When Sunday began, the Heat and Thunder weren't rivals and the current groupings of players had virtually no history together.
By the time the heated contest was over, stars were firing unexpected trash talk, the Heat were considering whether their 108-103 victory was the best of the season and the two teams had staged an instant classic replete with the type of clutch play and physicality that is typically reserved for the playoffs.
The emotions of it all poured out from an unlikely source, Kevin Durant, the low-key and usually reserved Thunder star who walked off the court barking at the newly returned Chris Bosh and added spice to what was a remarkably hard-fought game.
Durant and Bosh got into a brief exchange of words in the first quarter when both received technical fouls. What followed was an intense, 48-minute struggle that included 16 lead changes and nine ties. The Heat's top three players combined for 75 points, while the Thunder's had 77.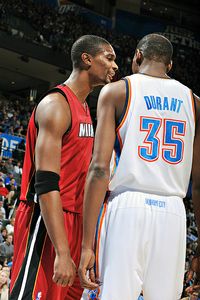 Garrett Ellwood/NBAE/Getty
Chris Bosh and Kevin Durant exchanged pleasantries in the first half.
"I am a quiet guy, laid-back guy, but I'm not going to let nobody talk trash to me," Durant said. "[Bosh's] on a good team now so he thinks he can talk a little bit. There are a lot of fake tough guys in this league and he's one of them."
If those are surprising words from Durant, they seemed to catch Bosh off guard, as well.
"We just kind of went back and forth," Bosh said. "I don't think it was anything to get a tech over. It was just talking. He stood his ground. I respect that."
It isn't so much a feud as it was an indication of what this game meant. The Thunder, who had won six consecutive home games, are trying to establish themselves as one of the league's elite.
A popular underdog pick to challenge in the Western Conference, the Thunder have compiled a nice record at 30-17. But they have struggled a bit on defense and in putting away opponents, often relying on last-minute heroics by Durant or Russell Westbrook.
It has worked quite often, as Oklahoma City came into the game 15-4 in games decided by five points or fewer. So when the game was close in the fourth quarter, the Thunder looked to have the Heat right where they wanted them.
Miami was just 2-8 in games decided by five points or fewer, a larger reality that couldn't be explained away by injuries.
On Sunday, Miami was whole again for the first time in eight games, getting Bosh back from an ankle sprain and Dwyane Wade back from a wrist injury. With LeBron James moving from the less comfortable power forward role to point guard in the stretch run, it was the first significant test of the Heat's mettle in a while.
James, Bosh and Wade combined for 75 points and found themselves in an arms race with Durant, Westbrook and Jeff Green, who collectively tallied 77 points. Durant and James guarded each other for most of the game -- shoving, grabbing and pushing much of the way. Wade and Westbrook squared off as well, each landing blows on one another in the form of picked pockets, fierce rebounds and pure contests of strength and speed.
The Thunder were executing out of timeouts under pressure, twice perfectly orchestrating inbounds plays drawn up by coach Scott Brooks in the game's decisive moments. But their defensive intensity was questionable at times -- the Heat shot 52 percent. They also had difficulty finding the basket against Miami's set defense, shooting just 37 percent in half-court offense situations against the Heat.
The Heat were playing strong team defense on Durant, who had 33 points but shot just 7-of-20 and missed a potential game-tying hoop in the closing seconds. In addition to Durant's troublesome shooting, Westbrook was just 7-of-22 from the field.
Meanwhile, the Heat showed some late-game execution they have been lacking, especially under pressure.
In the crucial moment, James passed up an open attempt from beyond the arc to give Eddie House an even better look, and House converted the game-winning 3-pointer. Last week in New York, James had passed off to teammates James Jones and Mario Chalmers for 3-pointers in the stretch run of a close game, only to watch those shots miss.
"It was good to see us out there together again," said James, who had 23 points and 13 assists. "It was great to see us come through under a lot of pressure."
Neither team could claim the game was anything more than what it was, a taut and entertaining affair in front of a national television audience.
But it was also a window into where each team is right now and the Heat, recently mired in a slump, came out feeling chippy and better about themselves.
"It was encouraging to see that level of trust on both ends," Heat coach Erik Spoelstra said. "Defending this team requires an unbelievable amount of trust. We executed our offense with poise and under duress. It was a good win and we can build on this."