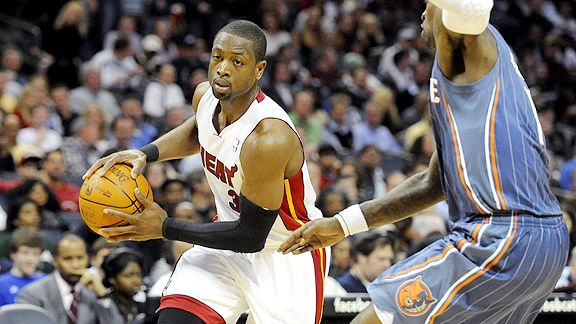 Sam Sharpe/US Presswire
Dwyane Wade recorded a triple-double in one of the Heat's most well-rounded efforts of the season.
CHARLOTTE -- Perhaps this was the "there" Erik Spoelstra had been searching for all season with the Miami Heat.
Maybe this was evidence of the balanced offense and late-game defensive toughness that have been the nightly goal since the Heat broke training camp full of confidence but void of accomplishments.
For months, the Heat coach has been promising "there is another level or two this team can reach," just to get LeBron James, Dwyane Wade, Chris Bosh and their supporting cast to scratch the surface of what they could become.
Over the course of the season, the Heat have had fast starts, turned games around with explosive quarters, rallied for huge finishes, turned in great individual performances from their stars and delivered breakthrough moments from key reserves.
But all of those things had never occurred in the same game, on the same night.
Until Friday.
"We're starting to enter a new horizon," Spoelstra said of the Heat's offense after Miami ran away with a 109-97 win Friday against the Charlotte Bobcats. "That was probably our best execution going down the stretch in the fourth quarter, where we were executing second and third options in our offense and trusting each other to make the game easier for each other. The guys are coming. We can build on this."
For most teams in the NBA, this would be a destination performance. For the Heat, it's a launching point. Wade notched his first triple-double since Miami's championship season in 2006, with 22 points, 12 rebounds and 10 assists. But look beyond Wade and you'd find nearly a matching triple-double from James, who had 19 points, nine assists and eight rebounds.
Miami got a huge boost from its reserves. Eddie House and Mike Miller are turning one of the league's least productive benches into a lethal source of energy, streak shooting and stability.
At one point Friday, Miller and House had combined to make their first eight shots, and finished 10-of-12 from the field, including 7-of-8 from 3-point range. The victory had all of the "next level" ingredients that make the Heat (36-14) a potentially disastrous recipe for opponents.
For at least a night, Miami offered a glimpse of its potential when the star power of James and Wade is supported by a spark from the bench and a suffocating defense that limited Charlotte to just one field goal over a seven-minute stretch late in the fourth to pull away.
"To feel whole, finally, is good for our team," said James, who continued his hot shooting from Thursday's 51-point effort against Orlando by making his first five shots against Charlotte. "Everyone is confident, no matter who's getting in, who's getting the playing time, who's out on the court, no matter what quarter it is, everyone is feeling confident they can make a contribution to our team."
That sets up as the perfect Forrest Gump, box-of-chocolates scenario. On any given night, opponents don't know what to expect or who will land the knockout blow. It's been a week of exploring all the possibilities as the Heat ran its winning streak to five games.
The streak started with House nailing two clutch free throws in a victory over Detroit. He then delivered the 3-pointer that lifted the Heat past Oklahoma City. It's been a move from Doghouse to Daggerville for House.
Then came Wade's turn when he torched the Cleveland Cavaliers for 34 points after he hung 32 on the Oklahoma City Thunder. That was followed by LeBron dropping 51 on the Orlando Magic. And on Friday -- a night James was awarded his second straight Eastern Conference Player of the Month honor that was also his record-setting 17th overall -- it all came together for the Heat in a collaboration that has been like no other for them this season. And it arrived on the second night of a back-to-back road set, no less. Miami improved to 10-3 in that situation this season.
Wade described the Heat's recent surge as a feeling of offensive emancipation.
"Coach is getting more into a comfort zone with us, and we're all on the same page offensively," Wade said. "His only argument to us is to make sure that we continue to do it defensively. If we do that, he'll let us do anything on the offensive end, and for us, that's a confidence builder."
The Heat were able to combine that offensive flow and freedom to shoot 55.1 percent from the field and 47.4 from 3-point range. They had 24 assists against only 12 turnovers. Because Spoelstra has high defensive demands, there were some opportunities to nitpick, particularly in the first half, when the Heat gave up 55 points, hacked their way to 15 fouls and were outrebounded.
But defensively, lapses gave way to dominance. Miami held Charlotte to 42 points on 39.5 percent shooting, stood its ground during physical and verbal jousting and scored 31 points off 16 turnovers by the Bobcats.
"I'm glad we responded," said the defensively-hard-to-please Spoelstra. "It shows we're starting to build some toughness and trust. It still wasn't the type of sustained consistency that I look for. But we got it when we needed to."
The Heat have put together runs through peaks and valleys over their first 50 games. The turbulent 9-8 start gave way to a 21-1 stretch, which was followed by an injury-riddled, season-long, four-game losing streak. Now, the Heat are on the upswing again.
"As long as we keep working and stay together, keep depending on each other, I think we can be one of the greatest teams of all time," Bosh said. "Right now, we have pieces of the puzzle just everywhere. We've played some great fourth quarters. We've had a phenomenal month. We've had good first quarters. We just have to put it all together and stay consistent. But that goal is in everybody's mind right now. We're starting to see what it can look like."
The Heat might not have arrived just yet to that place Spoelstra refers to only as "there."
But performances like the one they delivered Friday show they're in the vicinity.