BOSTON -- LeBron James was at the foul line with the Heat down two points and 12.5 seconds to go. Believe it or not, there was no player in the league who was better to have in that spot.
Heading into that moment, James was 20-for-20 on free throws during the final minute when the score was within five points this season. According to ESPN Stats and Information Department, that mark was the best in the league. The only player close was the Mavericks' Jason Terry, who was 16-of-16.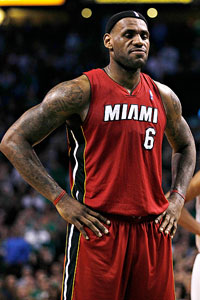 Jim Rogash/Getty
LeBron James missed a rare crunch time free throw on Sunday.
But James didn't make the first free throw. He missed it, the ball hitting the back of the rim, ricocheting back to him. He kicked it away in disgust.
It turned out to be a crucial play in the Heat's 85-82 loss to the Celtics on Sunday.
"I shot the first one and the second one the same way," James said. "If I'd have shot it short, I'd be highly upset with myself. Some of those go in and some don't."
The miss put the Heat at a disadvantage for the final seconds. James made the second free throw but the Heat were forced to foul twice, killing six seconds off the clock. Instead of getting a chance to defend and force overtime, they had to hope to make a 3-pointer to get there.
It didn't happen, as Mike Miller missed a potential game-tying 3-pointer at the buzzer.
In short, James' miss at the stripe was a big one. And for James, who is a career 74 percent free throw shooter overall, a rare one in the clutch.
"I definitely want to be up there and come through for my team," James said. "I've been in the same position a few times this year and made both."