With less than two minutes remaining in Tuesday night's game, Chris Bosh contested a driving layup from Baron Davis. But the Miami Heat power forward was too late in rotating over and fell flat on the floor after losing his balance in the air. Davis' shot put the Cleveland Cavaliers up 97-85 and Heat coach Erik Spoelstra called timeout as Bosh lifted himself off the hardwood in front of an electric Cleveland crowd.
Bosh face-planted not just then, but for the entire game.
After recording seven double-doubles in his previous eight games, Bosh finished with 10 points and four rebounds while being completely outplayed by his opponent, whether it was J.J. Hickson or Ryan Hollins.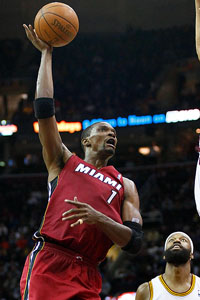 Jared Wickerham/Getty
Chris Bosh had his worst performance of the season on Tuesday.
Sometimes a single plus-minus stat can lie. But the minus-24 next to Bosh's name in Tuesday night's box score says it all. When Bosh was on the court, the Heat were outscored by 24 points. Conversely, in the 15 minutes that he sat on the bench, the Heat pummeled the Cavaliers by 12 points.
Bosh was timid, choosing to lay the ball up underneath when he could have dunked it. Bosh was jittery, repeatedly fumbling the ball when routine passes were sent his way.
But worst of all, Bosh was outhustled.
That fact was no more evident than during a critical juncture with just five and a half minutes to play in the see-saw battle.
Trailing 85-83, the Heat needed a bucket to tie up the game. So they feed Bosh on the left block, setting up a one-on-one matchup with Hollins. After failing to get Hollins to bite on his pump-fake, Bosh put his head down, drove across the lane and flipped a flimsy hook shot with his off-hand. Hollins promptly swatted Bosh's attempt into the hands of Anthony Parker and the Cleveland center galloped down the floor past the jogging Bosh. And once again, Bosh's effort was too little, too late as the All-Star power forward could only watch when Hollins threw down a wide-open two-handed jam on the other end of the court.
The slam sparked a 10-0 run for the Cavaliers and the home team never looked back. Bosh could have sprinted back on defense and at least cut off the pass to Hollins, but he wasn't close enough to Hollins to even try to intercept it.
The responsibility of that pivotal four-point swing falls squarely on Bosh and his lack of effort.
Bad games happen. But Bosh's night wasn't a product of hard luck. He was blocked four times, once by the 6-foot-2 Daniel Gibson, once by J.J. Hickson, and twice by Hollins.
Bosh missed his only two free-throw attempts of the game, but the fact that his two attempts didn't arrive until late in the fourth quarter should be more concerning for the Heat.
Bosh had apparently turned over a new leaf after the Portland loss when he vented to the media about his submissive play. Bosh owned up on his promise and recorded double-digit free throws in six of his next seven games. He exhibited renewed aggressiveness with the ball, initiating contact and drawing whistles.
But on Tuesday, there was none of that.
The Cavaliers aren't known for their suffocating interior defense. Hoopdata.com informs us that opponents shoot 64.7 percent against Cleveland, the fourth highest rate among Eastern Conference teams. But the Cavs looked dominant against Bosh. According to tracking by ESPN Stats & Information, Bosh received nine touches when guarded by Hollins but missed all four shot of attempts against him. Bosh went 3-for-8 when guarded by J.J. Hickson and 2-for-2 against all other Cleveland defenders.
Spoelstra has maintained all season that Bosh is the most critical piece of the Heat's big three, pointing to Bosh's facilitation at the elbow and production in the paint. And Spoelstra may be right in his assessment. As was painfully obvious on Tuesday night, if the Heat don't receive any production from Bosh, the other big men certainly aren't capable of rescue. Aside from Bosh, the Heat's big men combined for 40 minutes and four points.
The most notable digit on Bosh's box score line?
One -- the number of defensive rebounds he collected.
Bosh was consistently out of position and outhustled on the block. Stunningly, it's the third time this season that Bosh failed to pull down more than one defensive rebound. Last season in Toronto, that only occurred once -- when he was forced to leave the court two minutes into a game after an errant elbow broke a bone in his face in, coincidentally, Cleveland.
Considering his torrid stretch heading into Tuesday, we can probably write this game off as a fluke performance. In a few hours, we'll find out if that's the case as the Heat tip off against the Washington Wizards on Wednesday.