WASHINGTON -- The question posed to LeBron James was simple and straightforward.
What's kept you from ending up in a fight during a game, particularly after you take a hard blow from an opponent who's intentionally trying to stop you from getting to the basket?
"I want to save my money," James said after the Heat held off the Wizards 123-107 on Wednesday in game where tempers flared and hard fouls came in flurries. "I don't really flip out. I don't flop like some other guys do. I just get up and play my game. But that doesn't mean what's happening is fair."
When you're 6-foot-8, 260 pounds and built as solid as a fire hydrant, it can be difficult to get the benefit of the doubt from referees when there's contact in the lane. Someone that size doesn't get a lot of sympathy when he complains about excessive contact that doesn't get called.
But James had one of those rare moments when he reached a bit of a breaking point Wednesday as the Heat were pulling away from the Wizards in the fourth quarter. With 4:12 left in a hard-fought game -- literally --Wizards guard Mo Evans chased down James as he was streaking to the basket in transition and grabbed him around the shoulder and neck to prevent him from dunking.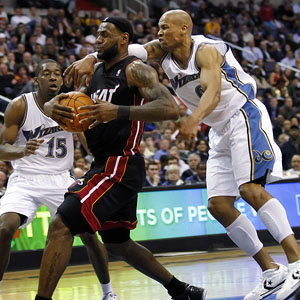 Geoff Burke/US Presswire
LeBron James feels hard hits like this one by Mo Evans go unpunished too often.
James maintained his balance without stumbling and Evans was called for a routine foul. James thought the contact was a bit too rough and aggressively approached a referee to complain about the non-call. He was assessed a technical foul.
James went on to miss his two free throws, but he made his point after the game.
"I don't know if Mo Evans' intentions were to be dirty," James said. "But I watch a lot of basketball and I see a lot of basketball every day. Any time someone gets grabbed around the neck, it's an automatic Flagrant 1 [penalty]. If I'm wrong, tell me I'm wrong. But it seems that every time I get hit with a hard foul, all I get is two shots and [the opposing team] takes the ball out."
James stopped short of flat-out saying he's the victim of a double-standard when it comes to how he's officiated in games. But he did wonder aloud whether his size is sometimes a detriment on foul calls.
"It seems like everybody else, when it's a hard foul, it's two shots and [they] get the ball," James said of how flagrant fouls are assessed. "I think, sometimes, it's unfair because of how strong I am. I can take the punishment, of course. But at the same time, I feel like it's unfair sometimes."
The Heat found themselves in one of the more physical and brutal games they've played this season. There were a combined 48 fouls called in the game, including 30 against the Wizards. There were also five technical fouls and two flagrant fouls that resulted in the ejections of Wizards rookie John Wall and Heat center Zydrunas Ilgauskas.
Ilgauskas appeared to have hit Wall with his elbow when swinging the ball high in the second quarter, and Wall responded by throwing a punch at the center's midsection. Heat forward Juwan Howard had to be separated from Wizards center JaVale McGee in the aftermath of the initial incident and was also ejected.
The Heat were sluggish for much of the game until they pulled away late.
James, Dwyane Wade and Chris Bosh combined for 94 points for the second time in three games to help the Heat avenge Tuesday's embarrassing 102-90 loss in Cleveland to split the first two games on a four-game trip against some of the worst teams in the league. Miami wraps up the trip with games against Minnesota on Friday and New Jersey on Sunday.
If the first two games were any indication, the Heat can continue to expect a fight on their hands.
"It's going to be one of the toughest road trips of the year," Wade said Wednesday, a night after being involved with his own face-off in Cleveland with Ryan Hollins. "We're playing teams that are playing free. They have nothing to worry about. It's sort of different when you're playing for something and when you're not."
The Heat are playing to improve their playoff seeding in the East, where they are tied with Boston and two-and-a-half games behind Chicago for first place in the standings. Few question the talent at the top of the Heat's roster. But their level of toughness will continued to be tested entering the playoffs.
"Good," coach Erik Spoelstra said. "We're not backing away from physical games or contact. You have to be able to play like that when you need to during the spring. It's physical. That's fine. We're not running away from that. When all the dust settles, it becomes about a basketball game."
Few players in the league attack the basket as relentless and aggressively as James and Wade. Sometimes, it comes with a painful price.
"He absorbs a lot more contact than people realize," Spoelstra said of James. "He's big and tough enough that he shrugs it off. But you go in there and see him in the locker room, and he's got ice on pretty much every part of his body."
Spoelstra said James has an internal toughness that has allowed him to deal with hard fouls his entire career.
"If teams don't feel like they can stop him before he gets to the launching pad, there will be contact," Spoelstra said. "He's a former football player. So in some ways, he enjoys it. But we also have to make sure that our players are protected when they go to the basket and they're getting hit (with) extra shots."
Wade said there's a delicate line between maintaining composure after a hard foul and standing up for yourself when play gets rough. Backing down at this point in the season isn't an option.
"You understand and accept you're going to get fouled," Wade said. "But sometimes, it's a little much. If we react a certain way, we'll get a technical foul. If we react too much, we won't be playing. That's tough. But we have to do that. It's part of our game. And that's why you have guys like Juwan Howard and Udonis Haslem, guys like that. They take up the slack for what you can't do."