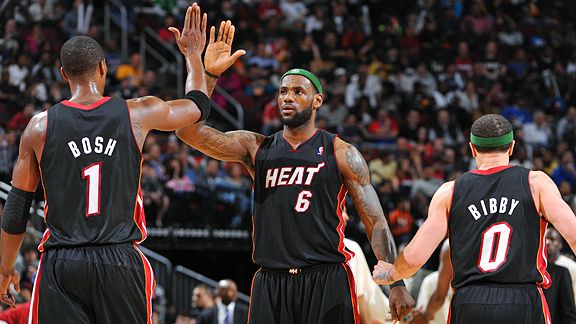 Jesse D. Garrabrant/NBAE/Getty Images
The Heat's most challenging adversary over the next 10 days isn't Boston, but boredom.
NEWARK, N.J. -- The final five games of the Miami Heat's schedule suggest the biggest obstacle between now and the start of the playoffs is Sunday's showdown against the Boston Celtics.
LeBron James disagrees.
To him, it's not Boston the Heat are most concerned about over the season's stretch run.
It's boredom.
"Being complacent," James said Sunday as the Heat sleepwalked their way, at times, through a 108-94 victory over the lottery-bound New Jersey Nets. "As long as we don't get complacent, we're good going into the postseason in two weeks. It's all about not being complacent. We're trying to get better, no matter who we're playing -- whether it's New Jersey, Boston, Orlando or Toronto."
On Sunday, it was the Nets.
And no matter how many nifty crossovers and nice passes Deron Williams made on his way to 12 assists and 18 points, or how many times his team flirted with making a game out of what was a decisive mismatch from the moment Sasha Vujacic lined up to guard LeBron, the Nets had a difficult time keeping the Heat interested and motivated.
Even in wrapping up its eighth division title with Sunday's victory, Miami is far from a fine-tuned machine going into the playoffs. But when a season reaches this stage, specifically when New Jersey is the final stop on a four-game trip to face teams that were a combined 154 games below .500 on Sunday, it could be difficult to focus on the finish line.
Case in point: The Heat sprinted out to a 21-point lead in the first half on Sunday and should have put the Nets away. Instead, James, Dwyane Wade and Chris Bosh spent the rest of the game battling boredom and stretches of complacency.
The Nets rallied to trail 83-77 midway through the fourth quarter, making Sunday's game a lot harder for the Heat than it probably should have been. But that was a microcosm of the Heat's week. That same level of complacency combined with inconsistent energy and focus came back to haunt Miami in Tuesday's 12-point loss in Cleveland, which owns the league's worst record in addition to victories this season over the Heat, Lakers and Celtics.
Those occasional bouts with boredom on Wednesday gave the Southeast Division-worst Washington Wizards an opening to trade blows with the Heat -- literally -- before Miami made a late run in the fourth quarter to pull away in the same fashion it would on Sunday.
That same "slippage" coach Erik Spoelstra has warned his team about the past two weeks also surfaced briefly on Friday in Minnesota, where the Timberwolves led at halftime before the Heat used a 25-1 blitz to start the second half and ignite the rout.
"It feels like we've been on the road for three weeks, and really, it was a short trip," Spoelstra said Sunday. "In perspective, we started off with a stumble, but we were able to finish off with three wins. However you get them, you have to find a way."
Finding a way to overcome adversity -- and apathy -- remains a challenge for the Heat. But they did enough Sunday to fight to the finish line through a number of hurdles.
Injuries continue to leave Spoelstra's rotation spinning like a revolving door. Point guard Mario Chalmers returned against the Nets after missing six games with a knee injury. Small forward Mike Miller also was back after sitting out three games with a knee injury.
But just when Chalmers and Miller were entering the game in the first quarter, Wade was on his way to the bench with a bruised thigh that stemmed from a collision with Nets forward Travis Outlaw. Wade left the game momentarily, was treated in the locker room, then came back to finish off the Nets.
Wade said he wasn't certain if he will play in Wednesday's home game against Milwaukee.
"I just wanted to gut it out," said Wade, who had 18 points in 27 minutes. "It didn't get better at any point. These next couple of days, I'm going to really need [rest]. It's a really deep thigh bruise. So we'll see how it feels [Wednesday]. I just wanted to play. I couldn't hurt it any more unless I got kneed again. It was just about getting a win. I just wanted to play basketball. One leg or not, I just wanted to play."
James helped the Heat regain -- and maintain -- their balance, with 31 points, 11 rebounds and 7 assists to lead six players in double figures. That included 10 points and 14 rebounds from veteran center Erick Dampier, who had his first double-double since Dec. 26, 2009 while with Dallas.
The Heat also experienced another rarity: Two reserves -- Chalmers and Zydrunas Ilgauskas -- from the one of the league's least productive benches scored in double figures.
"It was a good attack mentality game, and we made enough defensive plays to win," said Spoelstra, who essentially shrugged when asked for his reaction to winning his first division title as coach. "We don't want to be jaded. We'll take whatever we can get right now. That's the first step. It's not our ultimate goal, but we'll gobble up as many of those things as possible."
After facing some of the league's worst teams this week, the Heat now shift their focus to a couple of squads that will certainly grab their attention. Miami's next two opponents -- Milwaukee and Charlotte -- are fighting for the eighth and final playoff seed in the East.
Next Sunday's game against Boston, which is 3-0 against Miami this season, could decide the No. 2 seed in the East and home-court advantage through the second round of the playoffs.
"You can go out there with talent and win games," James said of Miami's approach over the previous four games. "But at the same time, you can't go out there and disrespect the game by going out there and playing the wrong way. You have to continue to play the right way, continue to build off that."
With so many expectations awaiting in the playoffs, it's a tough task to get through the final handful of regular-season games. But the Heat won't have a problem staying motivated this week.
"It's a big mental challenge," Wade said. "You look forward to games like Sunday against Boston and Monday in Atlanta. You go down to the end of the year, it's a slugfest unless you're chasing. But still, it's still hard. So we just have to keep focused. We let one go in Cleveland, so that was our slipup."