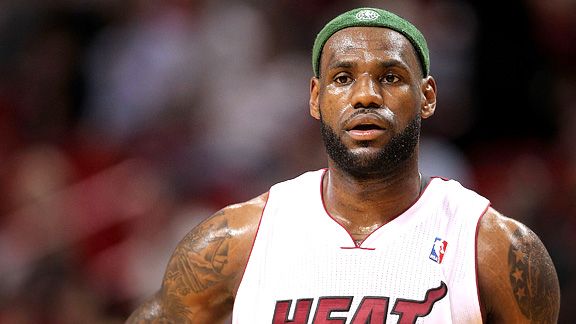 Mike Ehrmann/Getty Images
LeBron James will trade his Yankees cap for Red Sox gear, as he enters into a partnership with Boston's ownership group.
MIAMI -- Nearly six years ago, LeBron James and some of his closest friends created what they called an "innovative" marketing company. It has been an experiment with successes and failures but it certainly has lived up to the innovation part.
This week James' primary business partner and lifelong friend Maverick Carter, who holds the title of CEO of James' LRMR Marketing firm, closed a deal to swap part of James' marketing rights to the group that owns the Boston Red Sox. But instead of just cashing it out, James and Carter each secured from the Red Sox ownership team a sliver of the English Soccer Club, Liverpool FC.
In an interview with ESPN.com, Carter said that an ownership piece of the Red Sox was not offered, and that LRMR will continue to operate as normal and be based in Cleveland in the same offices where James held his high-profile free agent meetings last July.
If this arrangement sounds odd, it is. It is also groundbreaking. In the most basic sense, Carter and James have monetized the right to do business with James by trading it out for equity in a major international brand in Liverpool. To put it in more plain terms, James has sold what amounts to a PSL to work for him.
According to Forbes, Liverpool is the sixth-most valuable soccer team in the world and worth $822 million. So even a very small stake, as James and Carter received, would probably have real value, even though Red Sox owners John Henry and Tom Werner had to bail out the debt-ridden team from its bankrupt owners for $488 million last October. So it will take a while to figure out if James' deal turns into a good move, though owning any part of Liverpool seems like a smart long-term play.
It is not an admission that James' personal marketing experiment didn't work or that James is giving up control of his marketing.
But things are changing with how James does his off court business as the Fenway Sports Group, the Red Sox's marketing arm, will now try to get endorsement deals for James. This is the first individual athlete Fenway has taken on, but they have been successful with teams and big companies like Dunkin' Donuts and JetBlue.
"They're not taking over LRMR, they're not taking over LeBron, it is partnership," James said. "It is not like they take over and I sit back and they tell me what to do and I do it. I never do deals like that."
What does it mean for most of James' casual fans or even that swelling group that have become anti-fans in the wake of last summer? Well, nothing really. James is very wealthy and this will probably make him more money.
The most interesting tidbit for the average fan was that James had to admit he might have to give up wearing Yankees hats, always a talking point after he wore one to a Yankees-Indians playoff game in 2007 and ignited a firestorm in Ohio.
As part of the promotional material for the deal, photos were released of James wearing high-end Red Sox headphones -- which is ironic because up until recently, James regularly wore pinstriped Yankees headphones of the same brand.
More interesting to the sports business world, though, is what this means for James' efforts to become a player and the owner of a sports agency at the same time. Since the creation of LRMR, Carter has re-signed James to deals with Nike, Coca-Cola and Upper Deck, in addition to adding endorsement deals with State Farm and McDonald's. It's a wealthy and accomplished portfolio and Carter has proved he can manage James and make him money.
But over the last several years, rival stars like Dwight Howard and Kobe Bryant have outstripped James in adding new endorsement business even as James has become the two-time Most Valuable Player and one of the most well-recognized athletes in the world.
Now, the Red Sox will be part of the process and James will be learning about the Liverpool-Manchester United rivalry and the Premiership. If nothing else, it is indeed innovative.
"It's a real boost to us," Carter said. "Everything that Fenway Sports Group touches benefits us, and having them as partners will help us build."