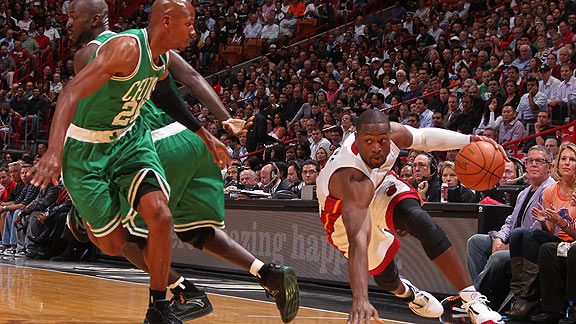 Victor Baldizon/NBAE/Getty Images
Ray Allen and the Celtics have grounded Dwyane Wade three times this season.
MIAMI -- The Miami Heat are winless against the Boston Celtics this season. Three tries, three losses. Is it because the Heat have an insurmountable mental block? Is it because they don't have the chemistry that the Celtics do, a team that has built its cohesion for years? Is it because Rajon Rondo has gotten under the Heat's skin?
Well, it could be any of those. But the more likely truth?
Dwyane Wade hasn't been his normal self against Boston. And really, that's putting it lightly.
How bad has Wade been? Statistically speaking, three of Wade's four least productive games of the season have all come against Boston. He's averaged 12.3 points on 26.7 percent shooting against the C's. To steal a golden term from Kevin Arnovitz, that's downright Arenasian.
What's the difference?
"Last year, the ball went in the basket. This year, it hasn't," Wade said dryly after the Heat's win over Charlotte on Friday night. "It's simple. It's a simple game."
Wade contends that his shots just aren't going down, and that it's not a matter of effort or iffy decision-making. But his poor play isn't just limited to shooting. It's true that he's missed 33 of his 45 shots, but he has also registered more personal fouls (11) than rebounds (10) in those three games against Boston. Moreover, Wade has recorded more turnovers (18) than field goals (12).
So how do we explain it?
We probably can chalk up the first dud to rust. Wade returned to the Heat in the season opener against Boston after missing most of preseason nursing a hamstring injury. In the Heat's loss, Wade shot 4-for-16 from the floor and turned the ball over six times. He looked lost against Boston's smothering defense and struggled the entire night trying to get in sync with his teammates. That happens, especially trying to instantaneously establish a rhythm with teammates you've never played with before.
Wade got a chance to redeem himself two weeks later, this time playing against Boston in front of his home crowd, and the struggles continued. He missed 10 of his 12 field goal attempts and again turned the ball over six times. When Wade's shot isn't falling, he usually taps into his rare versatility and impacts the game in other areas. But instead of picking up the slack elsewhere, he collected just one rebound in that game while surrendering 35 points to Ray Allen on the other side of the floor.
Wade's third game against the Celtics on Feb. 13 wasn't much better.
A popular rationale for Wade's struggles is that Allen, who weaves around a barrage of staggered screens like an Olympic slalom skier, wears Wade out on the defensive end. When asked about this theory, Wade didn't necessarily disagree.
"Ray Allen is a tough cover," Wade said. "He's one of the greatest shooting guards of all time, no question about it. He's in unbelievable shape."
After Wade was finished handing out accolades to Allen, the Heat guard was quick to point out that the responsibility doesn't entirely rest on his shoulders.
"The biggest thing is, when you have a guy running through two or three screens, it's about the team defensive concepts," Wade said. "I'm not out there all by myself. I'm just chasing him. Hopefully, our defense stands up to the challenge."
Wade continued his scouting report on Allen.
"But where he kills you is in transition," Wade said. "A lot of times he goes out in transition, he gets to his spots and makes shots. So me being an attacker, he's able to run out in transition when I attack and I have to come guard him in transition. That's what makes him really tough."
What Wade is describing is that Allen tends to "leak out" when the ball goes up, flying down the court to his favorite spots on the perimeter in transition. Because Wade attacks the basket so often, he ends up being out of position underneath the basket, forcing him to make up about 40 feet of ground in a matter of seconds. Allen never offers Wade a break.
But this explanation feels insufficient. After all, Wade checked Allen in the playoffs last season while delivering one of the best postseason performances of his career, averaging 33.2 points on 56 percent shooting in the series' five games. Wade has raised his game against Boston before and we didn't hear much about how exhausting it is to cover Allen back then.
As we've learned over and over this season, the Heat need LeBron James, Chris Bosh and Wade to hit on all cylinders against the league's top teams. Against Boston, the missing piece has consistently been Wade.
A lot has changed since the last meeting between these teams. Carlos Arroyo has switched jerseys. Kendrick Perkins no longer anchors the Celtics' frontline. Mike Bibby starts at the point for the Heat.
But perhaps the most important change is that Wade has rediscovered his attack game. He has seemingly taken over the reins in the end of games and he's driving to the basket like he's in the midst of a personal vendetta with the rim.
Wade is certainly carrying momentum into Sunday's game, one that could determine who holds home-court advantage in a potential Celtics-Heat Eastern Conference semifinals. Wade maintains that the Celtics don't have his number and there's no difference between this season and last season's playoffs. On Sunday, Wade will likely again be the difference between the Heat winning and losing.