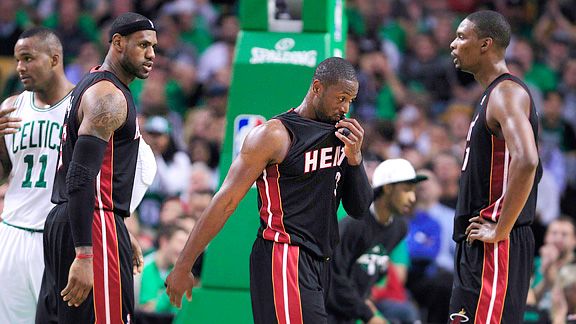 AP Photo/Charles Krupa
If the Celtics have a psychological edge over the Heat, what can Miami do to overcome it?
MIAMI -- In a bitter series defined by debates over who has the better Big Three, insults about being studio gangsters, Twitter wars, clutch plays and critical misses, the Miami Heat face the Boston Celtics on Sunday desperately looking for a breakthrough after so many beatdowns.
Having lost 14 of the past 15 games against the Celtics, including all three regular-season matchups this season, this hurdle for the Heat extends beyond the boundaries of a basketball court.
It's about mental toughness and intestinal fortitude.
It's about confidence and respect.
It's about demons and monsters.
"And we've got to slay that demon, so to speak," said Heat swingman Mike Miller, who missed a wide-open 3-pointer that could have sent the previous meeting with Boston into overtime at the Garden.
Instead, Miller's bad miss sent the Heat to yet another demoralizing setback against their biggest demons in the league.
"I don't want to put a tag on it and say they're the monster team," Heat forward Chris Bosh said. "We're the monster team. That's how we feel going into each and every game. So there is a clash there. We want what they've gotten before. It's real important to beat them. For one, for our confidence."
For all the talk about monsters and demons, the Heat are 0-3 against both the Celtics and the Eastern Conference-leading Chicago Bulls this season -- the two teams ahead of them in the standings.
But these 0-3s are not the same. One team has clearly haunted and hounded the Heat like no other. And it's the team that brings an identical 55-24 record into AmericanAirlines Arena on Sunday, but also a decided psychological advantage over the Heat as a result of recent history.
With the Bulls having locked up the best record in the East, at stake Sunday between the Heat and Celtics is the driver's seat for the No. 2 seed in the conference and home-court advantage through at least the first two rounds of the playoffs.
"We look forward to the challenge," Dwyane Wade said. "We're a different team than we were when we played them the first three times."
Boston has won once in Miami this season and was the team that knocked Wade and the Heat out of the first round of the playoffs last season in five games. During their run to the NBA Finals last season, the Celtics also included dispatched LeBron James and the Cleveland Cavaliers in six games.
So the Celtics have dominated and dispatched Wade and James not only individually, they've also done it collectively this season. Some call this a hurdle. Others refer to it as a hump. But what everyone in a Heat jersey agrees is that its time for Miami to get over it against their conference nemesis.
"They might think they've got a psychological advantage because they beat us," said guard Mario Chalmers, one of four players on the Heat's active roster who's struggles against Boston date to last season. "But we feel like we can beat them. We've got all the right ingredients. We just have to put it all together. We're getting closer and closer. We have to find that turning point and make it happen."
It didn't happen when Boston beat Miami twice in the first two weeks of the regular season because the Heat said they weren't quite ready, that Wade, James, Bosh and their new-look lineup hadn't had enough time to jell and overcome an established veteran championship team.
It could have happened when the teams met again in Boston on Feb. 13, but Wade again struggled, the Heat got almost nothing from the bench and their late rally to force overtime fell short when Miller's top-of-the-key 3-pointer clanked wide left.
So the Heat are still trying to put the pieces together.
"All of it right now is conjecture," coach Erik Spoelstra said of just how much the Heat needs a confidence-boosting victory against the Celtics heading into the playoffs, with the teams potentially meeting again in the second round. "I don't think it means anything to the other guys, that we were ousted by them last year and haven't had a lot of success against them since they put together their championship group. That's irrelevant to our team."
So what's relevant?
"The fact that they outplayed us three straight times -- and were the better team all three times," Spoelstra continued. "Again, we feel like we're a different team. But until we prove it on the court, all of it is just talk."
Miami and Boston are different teams than they were the three times they played before the All-Star break. The Heat have since added veteran Mike Bibby as the starting point guard, have developed more sets and rhythm between Wade and James on offense and have played with a smaller lineup at times that features a more aggressive Bosh at center.
"And we have a little bit more experience together," Bosh said. "We have more of an attack. We were shooting more jump shots back then. We didn't put as much pressure on the rim as we do now. It will be interesting to see what happens [Sunday]. We want to attack the rim and play our style."
Meanwhile, the Celtics have since traded rugged center Kendrick Perkins to Oklahoma City for versatile forward Jeff Green and now have guard Delonte West and center Jermaine O'Neal back from lengthy injuries. There are some who suggest the Celtics lost some swagger, toughness and defensive grit with Perkins no longer patrolling the middle.
The fact of the matter is that Perkins didn't play in the first two games against the Heat because he was recovering from knee surgery. He had 15 points, six rebounds and four turnovers in the third meeting.
Spoelstra refuses to buy into the notion that the Celtics might be more vulnerable against the Heat without Perkins. Instead, Spoelstra sees what Boston continues to have in All-Stars Rajon Rondo, Ray Allen, Paul Pierce and Kevin Garnett.
"We haven't seen them with their new group and new dynamic," Spoelstra said. "They're starting to get a little bit of a rhythm. But they still look the same to me when they have the Big Four out there."
And that Big Four has been formidable.
When asked what it might take to exorcise their Celtic demons, James told the story of how his Cavaliers teams used to feel the same way about the Detroit Pistons before Cleveland finally had a breakthrough in the 2007 playoffs and advanced to the NBA Finals.
"After that moment, we just started to dominate that team," James said. "I feel the same way for myself, and from watching D-Wade [against Boston] before I got here. We just have to keep going, keep grinding. There are games in the regular season that are more meaningful than others. There are statement games when you try to make statements. We look at the game Sunday as a big test for us."
And what do the Heat make of themselves if they don't pass Sunday? Would getting swept in the season series potentially have a crippling carryover effect going into the playoffs?
"We know more than likely, they're going to be a team we'll see again to get to the Finals," Chalmers said. "And you've got to get at least one win in the regular season, so we we know what we can do and can't do against them -- to get a little confidence."
Chalmers' teammates agreed.
"It's important for a couple of reasons," Miller said. "Obviously, we want to get that No. 2 seed. One of the biggest ways we can do that is win out. The bottom line is we need to go in there blazing. Play like it's a playoff game. And if we don't win, at least you've put everything out there. But we ain't focusing on not winning. Nah. So we've got to play."