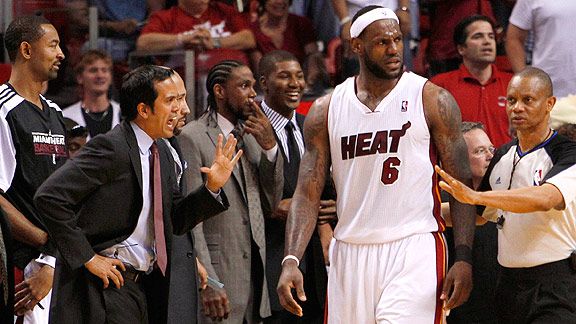 AP Photo/Alan Diaz
Erik Spoelstra and LeBron James delivered playoff-quality performances on Sunday against Boston.
What the win means
To no one's surprise, the Miami Heat downplayed any notion that Sunday's win over the Boston Celtics was a case of getting any monkey off their collective back. "It's just one game," Heat center Chris Bosh said. "It has some significance, just trying to get that 2-seed, so it was a game of importance. But it's no bigger than that."
In a sense, Bosh is correct -- beating Boston on a Sunday afternoon in early April doesn't necessarily portend anything for the postseason other than seeding. Yet it was an important win, not because the Celtics are the Heat's nemesis, but because it was important for the Heat to prove to themselves that they could operate their offense successfully against a top-flight defense. Prior to Sunday, the Heat were 0-6 against the NBA's top two defenses -- Boston and Chicago -- and took one on the chin against Milwaukee this past week, the league's No. 4 defense.
On Sunday, the Heat routinely got what they wanted offensively. They might not have always succeeded on their first option, but their fallbacks -- the Wade-Bosh screen and roll, the reversal to a shooter in the corner -- worked wonders. We didn't see that kind of patience earlier in the season against the Celtics and Bulls, and the Heat's ability to make smart decisions, not settle and ultimately find good looks were the important takeaways from this win.
Dwyane Wade swings game in Heat's favor
What happens when a shooting guard doesn't have his shot? If you're Dwyane Wade, you dominate in other areas. And nobody does it better than him. After three blunders against Boston this season, Dwyane Wade stepped up in a big way, even if the scoring column didn't reflect it. "It was a very subtle high-IQ game from him," Erik Spoelstra said after the win. "We knew going into this game that he probably wouldn't score a lot so he had to change his mentality and become a playmaker. He was terrific."
Also terrific: the chasedown block against Ray Allen in the fourth quarter. The swat has to rank as one of the most pivotal defensive plays of the season once the time and context is considered. The Celtics had a golden opportunity to close the deficit to seven with four minutes left after Allen leaked out off a LeBron James missed a 3-pointer. Rondo hit him with a one-handed 40-foot bounce pass down the court and Allen looked like he had an easy lay-in. Instead, Wade rose and blocked Allen's attempt, leading to Chris Bosh's and-1 on the other end. That's a five-point swing at a critical juncture.
Despite shooting just 4-for-12, Wade impacted every facet of the game. But he was especially effective keeping Allen in check, who finished with just 13 points on Sunday. He made a point to stay glued to him around the court and cut off transition opportunities. The Heat earned one of their best defensive rebounding performances of the season (grabbing 89.3 percent of available defensive boards) in no small part because of Wade's aggressiveness around the rim. "Tonight, it wasn't about me putting up points," Wade said. "It was about doing what I had to do to make sure the team got the victory."
LeBron James comes up big
Remember that early-season game against Orlando when James would double Dwight Howard in the post, then still manage to cover enough ground to close out on a perimeter shooter? James exhibited that level of energy on Sunday, covering large swaths of the half court on the defensive end. Statistically, James played Paul Pierce to a standstill, but LeBron turned in his feistiest, most engaged defensive performance since the Heat's win in Oklahoma City when he locked down Kevin Durant. He recorded four steals out of sheer instinct, was a determined helper as the Heat packed the paint and rarely allowed Pierce to draw the sorts of mismatches he feasts off.
We often classify James' performance into two categories -- facilitation and aggression. But his signature performances achieve a steady balance, something he accomplished against Boston. Rather than exclusively look for teammates or just look to manufacture opportunities for himself, LeBron simply created the best shot on the floor, whether it was a post-up against Pierce or a zippy pass to -- yes -- Joel Anthony beneath the rim.
James attempted 23 true shots from the floor (when you include those that resulted in a trip to the line) and you'd be hard pressed to find more than one or two instances when he truly settled for an ill-advised look. He attacked the Celtics from the top of the floor (mostly), draw the defense close, then either looked to thread the needle behind the Celtics' coverage, reverse the ball or burst ahead in search of contact against the Celtics' slower back line. It was a quarterback-like performance for a team that need field vision against a tough defense.
Where's Rondo?
A big question heading into the game was whether Spoelstra could hide Mike Bibby's defensive deficiencies against a penetrating point guard like Rajon Rondo. It didn't start off well for the Heat. The Boston floor general attacked right off the bat in the first possession of the game and got to the free throw line. But after that? We kept waiting … waiting … and waiting for Rondo to victimize Bibby off the dribble, but it never happened. Bibby gave him space and Rondo rarely put the necessary pressure on the laterally challenged defender.
After the game, Spoelstra was asked about how he contained Rondo, who tallied just five assists and turned the ball over three times on Sunday.
"I don't know," Spoelstra said shaking his head. "I think we were covering up a lot of our mistakes. I'd love to say it was because of our scheming and X-and-O-ing, but it's not. We were trying to do the same thing we did in the previous three games but with a little more conviction and a lot more effort."
Sunday's game demonstrated that the Heat can hide Bibby on the court so as long Rondo forgets his gifts as a penetrator. Can the Heat roll the dice again and hope Rondo doesn't snap out of it? Don't bet on it. The Celtics will pick apart the game film and there's no doubt that Rondo's passive dribbling around the perimeter will stick out. If anything Bibby was more of a liability on the offensive end, taking some ill-advised shots within the 3-point line.
The defensive combo that brings it
It's no secret that Mario Chalmers and Anthony at point guard and center, respectively, has been a reliable defensive combination for the Heat defensively this season. Lineups with those two guys in those spots are killing it, and we saw their value again against Boston. The Celtics scored on only eight of the 21 possessions in the second quarter with Chalmers and Anthony anchoring the front and rear of the Heat's defense.
"'Rio has long arms and is very in tune with the ball and gets his hands on a lot of passes," James said. "And Joel protects the rim and is very good at pick-and-roll defense. His arms are long, his feet are quick so he's able to get out and disrupt a lot of pick-and-rolls." Those attributes James mentioned allow Spoelstra to throw more varied defensive coverages at the opponent. With Anthony, the Heat can trap, hard show, corral, or just have him drop back and play goalie.
From the outset of the second quarter, Anthony's defensive versatility was on display. He blocked Jeff Green's layup attempt to on Boston's first possession of the period. The second Boston possession? Chalmers and Anthony teamed up to wreak havoc on a Delonte West-Glen Davis pick-and-roll that resulted in West airmailing a pass out of bounds. This kind of quickness bothers Boston. The lineup "allows us to cover more ground," Chalmers said.
With Anthony manning the paint and Chalmers patrolling the passing lanes, James and Wade can exert more pressure out on the wings, and buzz around the court disrupting the offense. Spoelstra will have a difficult decision to make come the postseason. He'll need spacing from Zydrunas Ilgauskas and Bibby (at one point on Sunday, he actually played Bibby and Chalmers together in the backcourt), but he also is aware that Chalmers and Anthony enable his team to accomplish what it wants to do defensively.