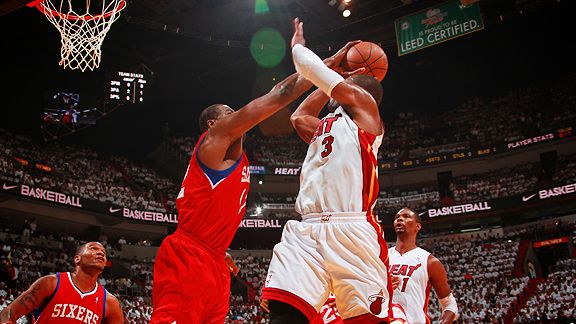 Victor Baldizon/NBAE/Getty Images
Doug Collins and the 76ers have decided to throw the kitchen sink at Dwyane Wade.
PHILADELPHIA -- At their heart, the Miami Heat are built on a "pick your poison" premise. Two games into their series the Philadelphia 76ers are indeed picking their poison -- version No. 3 -- and perhaps setting a precedent other teams will follow in the postseason.
Sixers coach Doug Collins has been refreshingly frank about his team's situation thus far in the postseason. He has conceded that when the Heat play well his squad is the lesser team. The Sixers have yet to win a game, down 2-0 to Miami as the series moves to Philly for Thursday's Game 3 and probably the Sixers' last chance to make it competitive.
But Collins' more significant declaration is that he believes Dwyane Wade is the Heat's most important offensive piece. His game plans have reflected it. The Sixers attempted to squeeze Wade in the first two games of the series. Regardless of the statistics or anything else, Collins thinks that cutting Wade off as much as possible gives his team, and perhaps any team, the best chance to win.
"We feel like Wade is going to be their primary scorer late in games and we've wanted our best defender on him," Collins said. "You're going to have to match up and that's what we've decided to do."
Not just late in games, either. The Sixers' strategy has clearly been to slow Wade and try to beat what is left, the guys named LeBron James and Chris Bosh. Collins has been using a two-pronged approach: double-teaming Wade for stretches during the game, then going with his top defender, Andre Iguodala, on Wade in crunch time.
In two games, Wade is averaging just 15.5 points and shooting just 41 percent because of that strategy. He may have been impacted by the effects of a migraine, but he mostly hasn't been able to score because he's had to give up the ball. Wade has done most of his damage in transition, when the Sixers can't align their defense to trap him.
Sitting on the sidelines for these games have been scouts from the Boston Celtics and New York Knicks, taking notes on the strategy. Rest assured that other potential opponents are watching as well, pondering it.
Wade took only 24 shots in the first two games, six fewer per game than his regular-season average, one of the major reasons his scoring is off by 10 points per game. Meanwhile, Bosh has taken 30 and James 33. It is impossible to eliminate Wade but if you reduce his time with the ball, his scoring is naturally going to drop. And Collins believes that is to the Sixers' advantage.
It hasn't meant victories for Philadelphia yet and it certainly appears that it isn't going to stop the Heat from advancing to the second round. This is mostly because Bosh has raised his game, averaging 23 points on 57 percent shooting. James has had one good game and one below-average outing, averaging 25 points, shooting 43 percent from the field and 21 of 24 at the foul line.
But is it really prudent to dare a scoring star like James or a capable scorer like Bosh to score by focusing so much on Wade? Maybe.
"We feel like we need to hold those three to less than 75 points to have a chance," Collins said. "That's our goal."
Collins didn't just make up that number. Of the Heat's 24 losses during the regular season, 22 of them came when the Big Three scored 75 points or less. Most of the time when the Heat lost, they combined for fewer than 70 points. This is more of a reflection of the bench than those three, who collectively average 72 points a game. The belief is that if you hold one of them down, your chances of winning go up because there isn't as much backup support as the
Heat had hoped for at the start of the season.
It's not ironclad. The Heat won plenty of games this season when the three scored under 75 points. But it does seem like a sound strategy to attempt, to bog down Wade and hope either Bosh or James isn't quite up to his normal game. There were plenty of times this season when Bosh became passive and settled for lower percentage shots in a pressure game.
Against the Sixers and their offensively challenged roster, it may not turn out to be an issue even if Collins' strategy holds water. Against a team like the Celtics or Bulls, should those matchups develop, the Heat may have less of a margin for error.
Gambling that the depleted supporting cast couldn't beat them, the Celtics edged the Knicks Tuesday night by aggressively double-teaming Carmelo Anthony down the stretch. With Wade as the Heat's designated finisher during their recent run of strong play, that could be seen again if Boston and Miami advance.
The Heat probably like their chances if there's less attention paid to a former scoring champ like James and a versatile scorer like Bosh. If Collins' peers see the same things, the Heat might get a chance to prove it under pressure. Or prove that Collins is ahead of the curve.