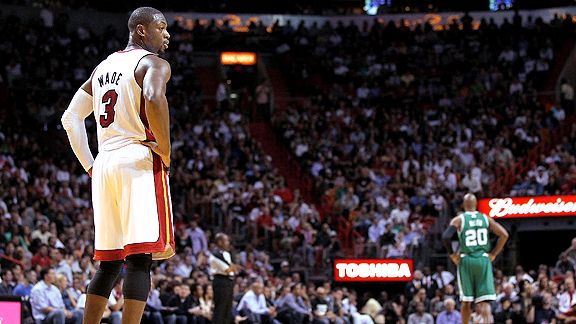 Mike Ehrmann/Getty Images
Dwyane Wade has been a different player against Boston and it has a lot to do with the guy in front of him.
MIAMI -- The numbers are astounding. Dwyane Wade's averages in four games against Boston this season: 12.8 points on 28 percent shooting along with 3.8 rebounds. Also, Wade has tallied more turnovers than assists.
We'll be hearing those statistics ad nauseum until Sunday's Game 1. But it's one thing to note Wade's poor play and another to explain it.
So the question is: Why has Wade played terribly against the Celtics this season?
You have to rewind to the first game of the season to witness the origin of a changed basketball player.
The score is 9-6, the Celtics are ahead on their home floor. Wade is doing what he does best -- attacking the basket. He receives the ball on the left block and backs Ray Allen down deep into the paint. Wade turns his right shoulder and flails at the basket trying to draw a foul on Allen. But the shot misses wildly and Wade falls to the ground.
Wade wants the foul call and protests to the referees on his back like a crab. Meanwhile, the Celtics are on the run. Rajon Rondo sprints up the court, and zips a pass to Allen, who lays it in underneath the basket.
Where was Wade?
Just crossing half court.
Fast-forward to the second quarter in the second meeting between these two teams. Wade is doing what he does best, driving and attacking the rim. This time, he puts the ball on the floor and takes it to the rim. Kevin Garnett and Allen contest the shot equally well and Wade misses badly. As Garnett rebounds the ball, Wade trots back on defense complaining to the ref on the sideline. Allen, meanwhile, sprints down the left side of the court. The shooting guard spots up, Rondo hits him with a pass and Allen nails a 3-pointer in transition.
Where was Wade?
Nowhere near Allen.
Let's pick up in the first couple of minutes in the second half of that game. Wade attacks the rim, Shaquille O'Neal blocks him handily and just like that, Allen is off to the races. With Rondo running out in transition, he finds Allen wide open in his hot spot, the left corner. Allen rises up and fires another 3-pointer in transition. He drains it.
Where was Wade?
Barely across half court. He had an issue with the officiating on the play.
See the trend? This happened four times in that early November game. Allen scored 10 of his 35 points in transition just by darting down the floor after Wade unsuccessfully attacked the rim on the other side of the floor.
Wade is one of the best basket attackers in the game. But when he misses his layup without a whistle, you can either find him on the ground or offering some choice words to the baseline referee -- and sometimes both. The Celtics are acutely aware of this, and have devised the perfect plan to exploit: send Allen flying up the court to beat Wade while he's down.
It's true that Allen is so difficult to guard because he weaves through an array of screens in the half court. That does a lot to fatigue Wade on the other end of the floor. Many people have said this is the reason Allen has had the upper hand.
But if you ask Wade, he will tell you differently. Heading into their fourth and final matchup of the regular season, Wade admitted, yes, it's difficult to chase Allen around everywhere, but then he dropped this little nugget:
"Where he kills you is in transition," Wade said. "A lot of times he goes out in transition, he gets to his spots and makes shots. So me being an attacker, he's able to run out in transition when I attack and I have to come guard him in transition. That's what makes him really tough."
Through Allen's transition game, the Celtics have managed to do what no team has done: neutralize Wade's best strength as a basketball player and turn it into a weakness. As a result, the Heat have told Wade to tone it down.
Wade is attacking the basket significantly less against Boston. According to Hoopdata.com, Wade has averaged 7.2 field goal attempts at the rim per game this season and 8.6 free throws. Against Boston, however, Wade has averaged just 5.5 attempts at the rim and 5.8 free throws.
Judging by Heat coach Erik Spoelstra's words after Friday's practice, they want Wade to be a different player. They want him to be a facilitator, rather than someone who attacks relentlessly.
"Dwyane showed a great maturity last game," Spoelstra said. "[The Celtics] have been committed to keeping him out of the paint, taking the ball out of his hands and so last game we made an adjustment to not press but to play with more poise and often times, create something for somebody else. We were able to exploit some other things while he's being aggressive but he's not trying to force it and try to score 25. And that's the balance we'll have to find in this series."
Wade has heard the message loud and clear. Standing in front of dozens of reporters after Friday's practice, Wade explained why he's not the same player who averaged 33.2 points per game against the same squad in the playoffs a season ago.
"My role is totally different," Wade said Friday. "I'm just trying to do the job that's best for me to do. I think I got into that more last game even though I didn't score a good amount. I was able to do other things on the floor. For me, it's all about playing the game of basketball, playing good defense, rebounding the ball, and doing other things."
These have to be frightening words for Heat fans. What makes Wade one of the best players in the NBA? He is a ruthless attacker, first and foremost.
Sure, he blocks shots, plays the passing lanes, and pulls down rebounds over trees, but when he drives into the lane, he has an uncanny ability to draw contact and still get an accurate shot off in traffic. That aggressiveness earns him trips to the charity stripe and forces defenses to be careful defending the paint. It's not pretty at times, but it's incredibly effective in winning basketball games.
And the Celtics have figured out a way to strip him of that skill. Against Boston, Wade has made a concerted effort to downshift in the half court and create for his teammates. That way, he can be in better position to stop the Rondo/Allen transition attack.
Is it the right call for the Heat? We'll find out in this upcoming series. But the reality is that Allen and the Celtics have not just cut Wade's scoring in half, but they've managed to change his mentality as an aggressor.
The Heat got to where they are largely because Wade was relentless in the paint this season. If he leaves that part of his game behind, the road may end where it all started -- in Boston.