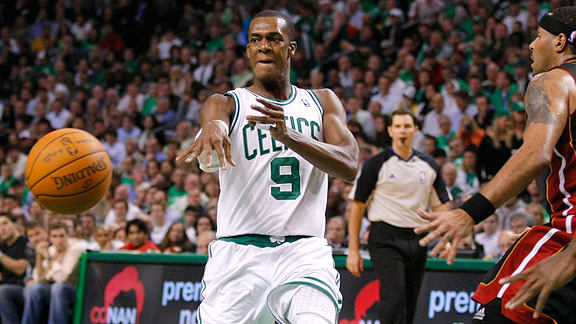 David Butler II/US Presswire
For the Heat, guarding Rajon Rondo is often nothing more than an exercise in damage control.
What makes Rajon Rondo so tough to guard is that he thrives on possibility. He has a unique capacity to guide the Celtics through multiple offensive options every trip down the floor.
This puts a tremendous amount of pressure on opposing defenses, and early in the season the Heat were unprepared for Rondo's special combination of pace, vision and intelligence. He carved up the Heat with 33 assists in their first two meetings, but Miami's defense evolved, and Rondo was significantly less effective when the teams met twice in the second half of the season.
Of course, Rondo's worst performance against the Heat came during a prolonged slump.
But the fourth-year point guard has his snarl back, after brilliantly dismantling the New York Knicks in the first round of the playoffs. While Rondo averaged only 8.8 points per game against the Heat this season, he was the catalyst of the Celtics' offense, accounting for 57 percent of Boston's assists.
In the Eastern Conference semifinals, Rondo will be Miami's top defensive priority. After breaking down the tape, here are some areas of concern for the Heat:
Fast Breaks
The Heat's wings attack the offense glass exceptionally well (the Heat posted the third-highest offensive rebound rate in the first round), but Erik Spoelstra will have to decide whether the Heat want to bully Boston, a poor rebounding team, on the boards, or protect against the Celtics' potent transition offense.
By design, Rondo collects a relatively high percentage of defensive rebounds in an effort to more quickly ignite the fast break. Once in the open court, Rondo's speed and creativity are worrisome, but even more dangerous is his knack for finding Ray Allen and Paul Pierce for spot-up 3s.
The best way to prevent Rondo from going off in transition situations is to make shots. When the Celtics take the ball out of the net they can't run nearly as well, and the Heat will have a better chance to avoid cross-matching or having to sort out who is covering whom along the 3-point line while also flooding the middle of the court to discourage Rondo from getting all the way to the rim.
When the Celtics have an opportunity to run, Dwyane Wade must do a much better job finding Allen early, while whoever is on Rondo will need support from one Heat big man. If Rondo is left one-on-one in the paint with any perimeter defender besides LeBron James, his speed, crafty footwork and length extending to the rim will be too much to handle.
If things get desperate, Spoelstra might consider designating a player, probably Mario Chalmers, to jam Rondo in the backcourt. Denying Rondo outlet catches and picking him up full court immediately after a change of possession would afford the other Heat players time to scramble back.
Against New York, Rondo regained his mojo by scoring at will in transition. An aggressive Rondo is a scary Rondo for the Heat, and limiting his transition opportunities will go a long way to minimizing his impact elsewhere.
Pick-and-Rolls
Watching film of Rondo's four games against Miami is an education in just how far the Heat, and Chris Bosh especially, have come defensively.
In early meetings, the Heat tried to force Rondo to refuse the screen, but Rondo responded by racing around the hedging big man and creating angles to find his roll man diving to the rim.
In their third and fourth contests, Miami was much more successful at corralling Rondo by letting him use the screen, then soft hedging (as opposed to flying out at him). Both Rondo's defender and the screener's defender would sink into the paint to cover the roll man, before Rondo's defender recovered back out to the ball.
Joel Anthony and Bosh showed dramatic improvement in this coverage scheme. They stymied Rondo with their quick feet and an obviously improved understanding of the point guard's preferred passing angles. The Heat's help defenders were also better prepared for what the Celtics were doing off the ball during pick-and-rolls, eliminating wide open rolls to the hoop and accounting for pick-and replace-action, in which a shooter fills the space vacated by the screener in the pick-and-roll.
While this method clogged passing angles, it's unclear if Rondo was simply sleepwalking through their final matchup, or if the Heat actually found a reliable way of defending him. He seemed to have no interest in attacking the rim in the half court against the Heat in April, but returned to his old dangerous ways against New York.
One complication here could be the presence of Shaquille O'Neal. Erick Dampier and Zydrunas Ilguaskas are slow pick-and-roll defenders, but Spoelstra may feel compelled to play them more if O'Neal can play for any significant amount of time.
Scrambles
Rondo runs the Celtics offense with precision, but his best quality is his mastery of the court when the game is in flux. He excels in unsettled situations like offensive rebounds, fast breaks, and off loose balls.
These scenarios illustrate how well-prepared the Celtics are as a team. When other teams fall into improvisation and chaos during these unscripted sequences, Boston actually has a predetermined plan to take advantage of the chaos.
Allen and Pierce do a great job of slinking away from their defender and finding open space on the 3-point line, and Rondo almost intuitively locates these shooters immediately after recovering possession. James and Wade are electric in the fast break, but leaking out before the ball is secured will leave them vulnerable to these kick-out triples.
As for loose balls, there's little anyone can do to stifle Rondo's mischievous instincts. He's bound to pull off a number of clever plays that are as unpredictable as they are effective. But amid the madness is a well-practiced method for finding cheap opportunities. Even if the Heat play great half-court defense, it will be for nought should they make a habit of relinquishing too many broken-play points.
Shooting
Despite his obvious discomfort, Rondo is a capable midrange shooter. But he's no Steve Nash, and the Heat won't risk a 48-point explosion by offering Rondo a steady diet of 16-foot pull-ups.
Ultimately I suspect everything that Spoelstra does to hinder Rondo will hinge on this principle. The Heat will go under screens and give Rondo a giant cushion all over the court. Because this tactic gives Rondo free rein to see the whole court and make crisp passes without the hassle of a defender in his face, it can lead to open looks for his teammates. Still, the Lakers have shown that with the correct emphasis on passing-lane pressure, it can be an effective strategy.
So, who's going to guard him?
Spoelstra will probably use four different defenders against Rondo on a given night, but in the end, who guards Rondo may be of less importance than how the other four defenders help on him while also handling the Celtics' off-ball actions. Toney Douglas is an above average defender, but Rondo made a windchime from his bones because the Knicks' help defense was nonexistent, particularly when Rondo was racing in the open floor.
Judging by how much better prepared the Heat were to defend the Celtics in the second half of the season -- they did a great job of denying actions that had produced Boston layups early in the year -- I doubt we'll see Miami try anything too out of the ordinary to defend Rondo.
No sweeping changes are necessary, the key will be attention to detail.