MIAMI -- For some reason, everyone is talking about Saturday's meeting between the Celtics and the Heat as Game 3 of their playoff series. Officially that may be true, but the reality is it's Game 4.
This fight truly started April 10 on a high-stakes afternoon in Miami. What happened that Sunday, a 23-point Heat blowout victory, didn't just determine on whose home court this current series would start, but also led to a transfer of momentum that has turned the Heat from underdogs to favorites against their more decorated rivals.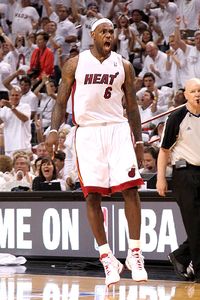 Mike Ehrmann/Getty
Confidence was a major hurdle for the Heat against Boston. That's all changed over the past month.
After the Heat lost their first three meetings against Boston this season, it was hard to even fathom they'd be where they are at the moment. That emotion became profound after a bitter defeat in February when the Heat were riding an eight-game win streak and were convinced they were ready to beat the Celtics.
Believing the Heat, who had been reduced to a shell of their potential in those first three games, would win even two games against the confident Celtics -- much less the first two games of this spotlight series -- was a hard sell.
That day, as he dealt with the 13th loss in his last 14th visits to TD Garden, LeBron James was mired in between frustration and misery.
"You can tell I'm upset," James snapped after that 85-82 loss as he headed to the showers. "I just want to win, we all want to win."
Across the room, Dwyane Wade was doing his best to make big brother metaphors, the implication being that someday the Heat would grow up and turn the tables. But that day, frankly, seemed at least a season away. Even if they knew there was a lot of time left in the season, which was their crutch at that moment, the Heat were coping with a huge letdown.
The next afternoon during a practice in Indianapolis on an off day, the team seemed to still be in a depressed state. The players had to be evaluating precisely where they were in their oft-discussed "process" -- not as far as they wanted to be, that was for certain.
Fast forward to the Heat's 100-77 win over the Celtics just more than three weeks ago. One out of 82 games, yes, but No.1 in determining their mental approach now. That game didn't just pull the Heat ahead in the race for home-court advantage, it was a badly needed injection of spirit.
At the time, both sides downplayed it, as all teams do when they know there are more battles ahead. But seeing the change in the Heat's collective confidence level as they prepared for the Celtics, there was no undervaluing it.
"It was good for us to beat those guys," Chris Bosh said. "That last game, just because it had something at stake, it gave us a little bit of confidence."
Boston probably didn't feel that way. With their veteran leadership and experience together, the Celtics did not seem to be as impacted by that late-season loss. Perhaps just to prove it, coach Doc Rivers benched his starters for the final two regular-season games to virtually wave the white flag on the home-court advantage race for this round even with it still in doubt.
The message was that the loss to the Heat didn't really matter to them and they were hardly nervous about playing an extra road game.
The Heat players chose not to subscribe to that rationale, but it was also secondary to the primary benefit of winning such a valuable late-season game. Celebrating a victory over the Celtics, any victory, at that point meant more than just what it did to the standings.
"We knew that game was important to Boston, they're veterans and they knew it and wanted to win it," Heat center Zydrunas Ilgauskas said. "If we'd have lost it wouldn't have been the end of the season or anything, but it's hard to go into a series thinking you can win when you were 0-4 against a team in the regular season."
The Heat have benefited, no doubt, by getting the last three games in Miami and will face a different challenge when the current hiatus ends and the series resumes for what technically is Game 3.
But while the Celtics remind themselves that the series is far from decided -- just because Miami won a few home games -- they also know they won't be seeing the same beleaguered team they drove out of Boston in February.
The last 12 quarters in this rivalry have been owned by the Heat. All of the games had meaning and in all of them the Heat have been dominant, beating Boston by a combined 43 points. Now it is the Celtics who are hoping to mimic the Heat and what they did in the last week of the regular season and recapture the momentum the Heat now guard.
"You never know what would've happened had we lost [April 10]," Bosh said. "We probably would've been opening this series in Boston and it could be the reverse right now."