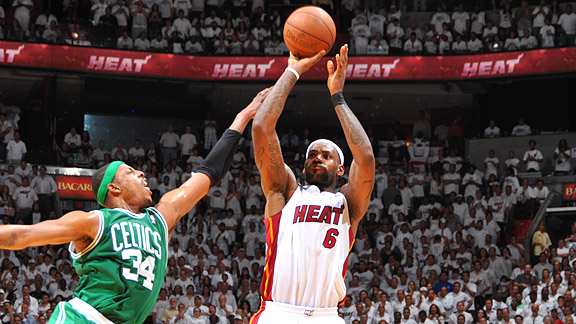 Jesse D. Garrabrant/NBAE/Getty Images
LeBron James torched the Celtics in crunch time yet again, challenging the myth of the clutch gene.
We just witnessed one of the best clutch performances in playoff history.
And it came from the hands of LeBron James.
With the game tied at 87 with just more than two minutes left, LeBron drained a contested 3-pointer from the left corner. Then on the next Heat possession, LeBron nailed another contested 3-pointer from the top of the key to make it a two-possession game with 40 seconds left. Then, he stole the ball from the Celtics and dunked it with a flourish.
But he wasn't done. With the game clock ticking down within 10 seconds, LeBron blew past Paul Pierce for a running 2-pointer off the glass.
Does it get any more clutch than that?
Well, perhaps if he did all that on the road, not in the comforts of the home crowd. But he already did that a few days ago in Boston.
With LeBron's recent clutch performances that drove the stake through the defending Eastern Conference champs, it's time to debunk the myth of the "clutch gene."
Such a genetic trait does not exist and, frankly, the notion it does is an insult to our rational basketball senses -- that players can be permanently handicapped or predisposed to perform in the clutch.
How many times do we have to witness a reputed non-clutch player make game-clinching plays before we acknowledge that this notion of a clutch chromosome is a farce?
How many times do we have to have the same tired discussion of which players have "it" and which players don't before we understand that "it" isn't a genetic trait?
How much contradictory evidence must we ignore before we let go of a forced narrative?
LeBron was supposedly not a clutch player, and then he was in Detroit in 2006-07 ... then he wasn't again last season in Boston and now he is against Boston. If LeBron was permanently handicapped to close games, then he would be rendered incapable of Wednesday's heroics. If it was genetic, then by definition, he couldn't flip the switch off and on. LeBron's clutch shortcomings were part of his fabric -- until it wasn't.
Is the mental hokey-pokey confusing your senses?
Here's an idea: let's do away with the clutch gene construct all together. A banishment is long overdue.
Time and time again, we're reminded that there are clutch performances, but not clutch players. LeBron has been clutch in his career and he has not been clutch in his career. Kobe Bryant has been clutch in his career and he has not been clutch in his career (he shot 25 percent in the last five minutes of the game within five points here in the playoffs). Michael Jordan has been clutch in his career and he has not been clutch in his career.
As human beings, we don't like randomness. And when it comes to the outcome of a critical basketball shot, randomness happens. So to fill in the gaps, we plug in artificial storylines and forced narrative. To make sense of it all, we have created a basketball mythology.
And that's all the idea of a clutch gene is.
A myth.