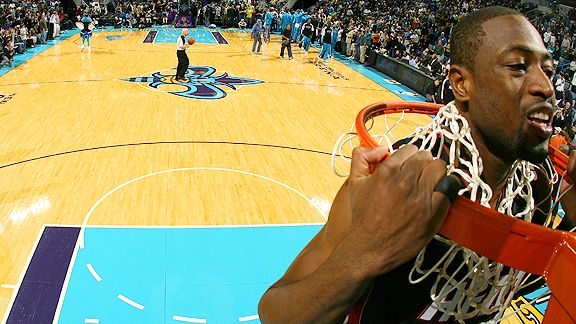 Chris Graythen/NBAE/Getty Images Sport
Dwyane Wade and the Heat will have to pull themselves up after a lackluster effort in New Orleans.
NEW ORLEANS – Dwyane Wade knew it had the potential to be one of those games. He said as much hours before the Miami Heat faced the New Orleans Hornets on Friday.
Even with a Heat roster this lethal, this loaded, there would be occasional lapses and lethargic performances. On most nights, Miami's talent will take over and bail LeBron James out of a sluggish outing, relieve Wade from mistake-filled stretches and compensate for Chris Bosh's disappearing acts. But Friday night wasn't one of those nights.
Before the Heat's 93-96 loss to the still unbeaten Hornets, who moved to 5-0 for the first time in franchise history, Wade called it a "progress game." Yet Miami clearly took a step backward.
"I don't think people would have looked at the schedule early on and thought that," Wade said. "They beat some darn good teams. We look at the top teams we've played (and) this is one of them."
As dominant as the Heat have been in the previous four games they won by a combined 91 points, the NBA schedule will throw Miami an occasional curve ball. But this wasn't initially supposed to be one of those games. But Paul and the undefeated Hornets aren't exactly playing to expectations set by the court of conventional wisdom. These same Hornets that were supposed to be rebuilding -- supposed to be overly concerned about keeping Paul happy in the wake of that summer semi-trade request -- have a surprising sting to them right now.
And they had enough bite to snap Miami's four-game winning streak and send the Heat back to South Florida looking to regroup from their first loss since the season-opening setback against Boston. The NBA scheduling gods must have a sense of humor and forgiving spirit, because one game after the Heat were served a dish of humility in New Orleans, they'll get to feast on the New Jersey Nets at home on Saturday on the second night of this back-to-back set.
And if there's at least one thing James is convinced the Heat will take from Friday's loss and carry into Saturday's therapeutic session, it is a greater sense of self awareness.
"What we have to continue to learn is that no matter who we're going against, we can't just show up because we have this uniform on (and) we have who we have on the court," James said after one of his most complete games of the season -- 20 points, 10 assists, seven rebounds, three steals and a block -- wasn't good enough. "It's not about Xs and Os. It's about the energy level. In first quarter, we didn't have any energy. We know we can still make a comeback because of the talent we have. But a team is always going to be excited to play us. It doesn't matter, from the bottom to the top."
Heat Index colleague Brian Windhorst covered the specific points the Hornets followed to beat the Heat, but New Orleans actually began executing its game plan a night early, which underscores the point James made about the Heat's sudden lack of energy at the start of the game.
Way before Paul carved up the Heat's defense with 19 assists and 13 points, he softened up his good buddies James and Wade on Thursday night by picking up the dinner tab at NOLA restaurant, the critically-acclaimed upscale seafood spot created by celebrity chef Emeril Lagasse. That was unofficially Paul's first impact assist against the Heat -- a meal so hearty that it had Wade still raving about the feast at Miami's shootaround Friday morning.
"It was great to have friends who can pay for a great meal," Wade said before the game. "I appreciate Chris for paying for that meal for us. It was awesome. New Orleans is a great place to come and eat. I love it."
But then came the first quarter Friday night, a 12-minute stretch in which the Heat appeared bloated. Meanwhile, the Hornets were blazing their way to a 29-17 lead. All of a sudden, Wade and his crew didn't appreciate Paul's generosity so much anymore.
Hornets coach Monty Williams had the one thing he needed to withstand the Heat.
"That buffer," Williams said. "I saw how Boston got off to a good start and nullified (Miami's) great run. Not to say we anticipated a need for a buffer. We're tougher than people have advertised."
James and Spoelstra each pointed out afterward that the Heat eventually led 90-89 with a minute left in the game, and had their chances to win down the stretch. But too much energy was extended in the comeback effort, and there wasn't enough left to finish. Perhaps it was the gumbo. Or the Shrimp and Grits. Maybe even the Bourbon mashed sweet potatoes.
Whatever the case -- or the entree -- the Heat was a step slow.
"If we don't match that effort early, it's always an uphill battle the whole game," James said. "And that's what it was – an uphill battle."
The Heat won't find themselves in too many battles like that this season. There are enough Nets, 76ers, Raptors, Pacers and Wizards on the schedule between those big-time showdowns against the Lakers, Celtics, Magic, Mavericks and Spurs of the league.
Take Saturday for example, which starts a six-game homestand during which Wade, James and Bosh all said gives the Heat a chance to really get their act together and build some momentum.
"When you play the games, your energy is always going to be different," Bosh said. "When you're playing games you're expected to win, those are the more difficult games sometimes because you have to find a way to get going. Everybody else might not be as pumped as you are. So you kind of have to sometimes find your own fuel."
Perhaps the Heat simply underestimated the Hornets.
Or, maybe they overate the night before. Either way, they'll enter Saturday's game against the Nets having stomached an upset courtesy of Chris Paul and Emeril.