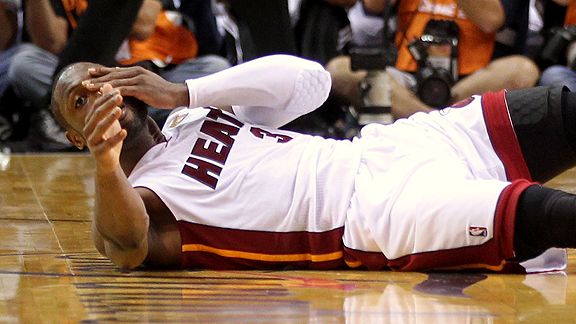 Mike Ehrmann/Getty Images
Dwyane Wade's 36 points were wasted when the Heat collapsed down the stretch in Game 2.
MIAMI -- The Miami Heat had thrown down their trump card.
Its reliability and value was akin to a royal flush, Swiss gold or a personal check from Warren Buffett. When Dwyane Wade goes off in the playoffs, especially in the Finals, the Heat win. Whether he's got the better team or not, on those nights, he's not losing. Book it and move on.
Thursday was one of those nights. Wade's legs looked October fresh. He was lining up highlights and dunking on everyone in sight. He was draining 3-pointers and posing, the years coming off his face, which was constantly lit with an adrenaline-fueled glow.
Eleven times in Wade's career, he had scored 35 or more points in a playoff game. Eleven times, the Heat had won. Wade crossed that threshold with a silky corner 3-pointer with seven minutes to go in Game 2 of these Finals, right in front of the Dallas Mavericks' bench. Wade had tallied 36 points on 13-of-17 shooting, 11 of the baskets coming inside 5 feet.
The Heat were up 15 points and looked to (nearly) all the world like they were headed to a 2-0 series lead, as Miami civic planners would quietly start the logistics for a title parade.
Insert needle-coming-off-record sound bite right … here.
In a turn of events that instantly qualified for historic preservation, the Mavs quashed Wade's infallibility. They finally were able to overcome Wade at the top of his game in a breathtaking 95-93 comeback victory.
Oh, it had to be sweet for the Mavs. After all, they were such a huge part of that record. As Wade made that 3-pointer triggering a desperation timeout, reporters scattered throughout AmericanAirlines Arena. They began noting that Thursday night was the fifth time in Wade's six career Finals games that he'd topped that significant 35-point barrier. All of these, of course, were against the Mavs.
The Heat didn't just lose momentum and home-court advantage behind a series of errors combined with Dallas' orchestration of defense and poise. They also wasted what might have been the one mega-performance Wade was going to deliver in this series. That's something that could haunt them in a week or so.
"Well, only time will tell," Wade said afterward when asked whether the Heat might regret how things played out. "We gave them and they gave themselves life."
Wade had grown frustrated recently with questions about his health and what he had left in the tank. At first he joked about it, saying he wouldn't admit it if he was hurt. But after a couple of low-energy games in the Eastern Conference finals, the queries were officially on Wade's nerves.
"I'm not hurt; get that one out of the way," Wade announced when he sat down in front of the media prior to Game 1 of the Finals, not even waiting for the question.
But equally, Wade said that when he went back and watched a game from his now legendary 2006 performance, he didn't recognize himself.
"I don't know who that guy is," Wade said. "Like another person. I didn't have a conscience."
He also had younger joints and muscles. On Thursday, Wade proved he's still extremely capable of dominating games at the highest level. But this postseason has proved just how precious those games are at this stage of his career.
He had a 38-point game against the Boston Celtics in the second round. Then he shot 41 percent over the next three games. He came back with a 34-point masterpiece in the clincher against Boston. Then he shot 32 percent over the next four games.
As has been said over and over this postseason, not having to rely on Wade as much is why the presence of LeBron James and Chris Bosh makes such a difference for the Heat. But in Game 2, they were the ones responsible for allowing Wade's performance to suddenly slip to a footnote.
Bosh was 4-of-16 shooting, missing three great looks in the game's first few minutes. He never recovered the offensive confidence he'd shown over the Heat's now-defunct five-game winning streak.
James, meanwhile, reverted to another era of his career. After showing such growth during this postseason with his ability to execute under pressure, he picked a bad time to have a hiccup. With Wade exacting so much damage by scoring in transition off miscues -- the Heat set a franchise playoff record with 31 points off turnovers -- James clearly became content to settle for jumpers.
He had made seven of his previous 11 3-pointers coming into the game, and after he nailed another one early, it was his conscience that disappeared. It didn't help that he kept making long shots he probably had no business making, including several off-balance jumpers at the end of the shot clock that were anything but sensible.
In the fourth quarter when the Heat were in dire trouble, James stopped orchestrating the offense on several possessions. He didn't run the plays he and Wade had honed for months and made them so difficult to guard under pressure. He didn't drive, as the Mavs had started to double-team him as he came off screens. James has attempted only six free throws in the two games. The fewest he'd previously had in any two-game stretch in the playoffs was 11.
The performance dangerously resembled some of James' poor finishes in Cleveland, when he stopped relying on teammates and tried to play a one-on-five game. It rarely worked then, and that old habit came back to bite him and the Heat.
Pile it together with what Dallas was doing offensively, making nine of its last 11 shots, and it helped undo everything Wade had accomplished to put the Heat in such a commanding position.
That's something the Heat frankly aren't used to.
"It hurts," James said. "It's a ballgame now."