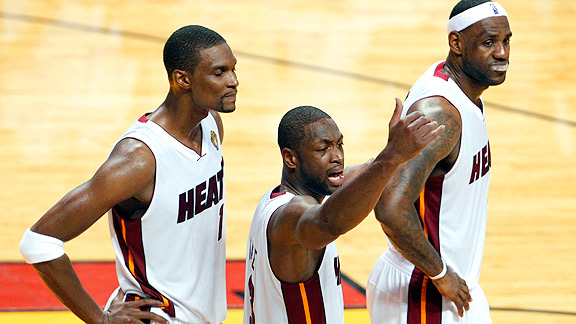 AP Photo/Lynne Sladky
Game 3 won't be the first time this season the Heat have had to pick themselves up off the mat.
MIAMI -- Is it possible to be responsible, fair and objective the morning after?
Or are we still attaching one team's motivation to another team's silly, in-the-moment celebratory method of a single play?
Now that the dust -- as well as the faux confetti and champagne -- has settled, does anyone truly believe the Heat's collapse was caused by Dwyane Wade's celebration after that 3-pointer he drained in front of the Dallas Mavericks' bench?
No, it wasn't the freeze-frame that followed Wade's shot midway through the fourth quarter of Game 2 to put the Miami Heat ahead by 15 points that was the Heat's undoing -- but that the Heat froze up afterward and now have three days to thaw on the raw emotions before Game 3 in Dallas on Sunday.
So much has been made of Wade's celebratory follow-through as the moment that triggered the Heat's demise in Thursday's 95-93 collapse that evened this best-of-seven Finals at 1-1 heading to Dallas for the next three games.
The problem is the Heat failed to follow through after Wade's follow-through.
And now Miami has fallen into a faintly familiar place -- right into the arms of adversity's embrace. Wade, LeBron James, Chris Bosh & Co. almost made us forget they were capable of these sorts of frustrating breakdowns and this level of national backlash for their antics and failures.
But those are the very things that developed their dominance during a playoff run that delivered Miami its first home loss of the postseason on Thursday night.
What Dirk Nowitzki and Dallas accomplished above anything else during one of the more stunning fourth-quarter comebacks in Finals history was knock the Heat back into the kind of anguish, pain and frustration under which they've found a way to thrive this season.
No, this series isn't over now that Miami has been smacked in the face amid a disgraceful finish that has placed the Mavericks in a powerful position of heading home for three straight games.
In many ways, the playoffs are just beginning for the Heat.
"We had breakdowns before throughout this year [and] we learned from it," Wade said. "That's why we're the team we are. That's why we're in the Finals. Obviously, this one hurts, and we get two days to think about our mistakes and blowing a 15-point lead. We're going to see what we're made of … but I wouldn't want to be in this position with any other team."
Wade is absolutely correct on several fronts.
First, the Heat have suffered these breakdowns before and learned from them.
That fourth-quarter collapse at home in a November overtime loss to Utah quickly comes to mind as well as that first setback in Dallas that prompted "BumpGate" and the players meeting amid the turbulent 9-8 start to the season.
How did the Heat respond? They won 21 of the next 22 games.
Then came another dose of doom and gloom right before the All-Star break. That's when we witnessed LeBron's Twitter-induced "KarmaGate" during that stretch of stinging losses to the Clippers, Nuggets, Bulls, Hawks and Knicks.
How did the Heat respond? They won 11 of their next 12 as Wade and James started to realize just how much potential and chemistry this team was displaying on a given night.
But the formation of what would become a formidable team wouldn't be complete this season until the final and most dramatic episodes of the season played out in March during "CryGate," "Bosh-Wants-The-Ball-MoreGate" and "Can't-CloseGate" in that stretch of demoralizing home losses to New York, Orlando, Chicago and Portland.
Yet the Heat stormed through all of those gates, realigned their path and claimed their territory as a team that would go on to throttle everyone in the East on the way to the Finals.
To know the Heat is to recognize they do their best work when responding to pressure and pain, to know that if it ain't rough, it ain't right, so to speak. They're not invincible. Far from it, actually.
But what happened in the final six minutes of Game 2 is they got happy and complacent. They got soft. They went -- to borrow a Joakim Noah's characterization of them -- "Hollywood as hell." And then the Mavericks stole the show in demonstrating exactly why they aren't the inexperienced 76ers, the bite-less barking Celtics or the offensively inept Bulls.
The Heat aren't playing a bunch of walk-ons the Mavs can simply walk through without playing their best basketball on a consistent basis. The Mavs are on scholarship, too. They got here the same way the Heat did. They've responded to national doubt with sheer determination.
If you recall, the Mavericks were the chic pick to be upset in the first round by Portland.
Then, just like the Heat, Dallas quickly dispatched its conference's catalyst with that second-round sweep of the defending champion Los Angeles Lakers.
And just as Miami was making those improbable comebacks in the fourth quarter to close out Chicago in the conference finals, Dallas was doing the same thing to overwhelm and overcome Oklahoma City.
So best believe the Heat and Mavs are as equal in the psyche department as they are in victories at this stage of the series. That's why James walked out of AmericanAirlines Arena acknowledging that his team was a little shaken by the Thursday's meltdown, but not emotionally stirred.
"We're a team that's confident," James said. "Every time we had a pitfall, we've figured out how to bounce back. Right now, we have another one. As a veteran ballclub that's been through a lot, we understand how important this next one is with Game 3 being in Dallas, and we look forward to the challenge."
It's probably best the Heat look forward, because there's no sense in looking back.
They've been there. Done that. Celebrated. Cried. And collected themselves again.
Some teams crumble under adversity. Simply run away from it. The Heat, meanwhile, approach adversity differently. They draw up pick-and-roll plays to create favorable matchups against it, to isolate it and to exploit it.
It's who they are. It's what they've done all season.
They have gotten away from who they are lately with all this winning, all this smiling, all this they'll-eventually-come-around-and-love-us logic while storming through the postseason.
Just when the critics and naysayers were almost forced to come to grips with having to embrace this team, the Heat tossed them a bone with Thursday's equal opportunity breakdown.
Detractors of Erik Spoelstra can count as many as four coaching blunders in the final seconds.
Why not foul Dirk in the final possession when there was a foul to give that would have forced the Mavs to regroup and would have allowed Miami to reset its defense?
Why was Bosh defending Dirk in the first place instead of Udonis Haslem or Joel Anthony?
Why didn't the double-team arrive when Dirk easily drove around Bosh for the game winner?
Why wasn't there a timeout left in such a crucial spot to inbound the ball from half court to give the Heat a better shot to tie or win the game in the final seconds?
If James is your intended target, there's a big enough bull's-eye there, too. LeBron basically got caught playing hero-ball while failing to acknowledge that Wade had the hot hand down the stretch.
Bosh has been nothing short of blasphemous in this series so far after being so brilliant against the Bulls to lead the Heat here.
Not even Wade can escape the fallout from the collapse unscathed. He had a great game. He attacked early and often. He carried the Heat in the second half. Then he disappeared. When he did resurface down the stretch, it was only to take unnecessary jumpers when he should have driven to the basket.
This isn't a Heat performance -- or lack thereof -- we hadn't seen before.
It's just been a while.
"We've been a very resilient group all season long," Spoelstra said of his team's ability to mold itself again through the madness. "We've been tested. We've had our moments where we feel uncomfortable and feel like our backs are against the wall. That's when we've responded and been our best. We have a lot of guys who have some character and toughness to be able to respond."
It's what the Heat have done all season long.
And it's what they'll have to do again when the series shifts to Dallas.
"By the time we get on that plane [Friday], we'll have our minds and body and spirit ready," Spoelstra insisted. "This is a long series, OK?"
It's just going to be a little longer and harder than the Heat might have thought with seven minutes remaining on Thursday night.
Wade's statuesque follow-through on that 3-point shot was the made-for-TV moment that rallied the Mavs, as misguided as that notion might be.
But it's how the Heat follows through on this latest chapter of adversity that will define their destiny this series as well as this season.
So how will they regroup?
It'll start with actions more so than words.
"There's nothing that needs to be said," guard Mario Chalmers said. "We all know, we all feel the pain and we all know what we need to do. Go to the drawing board, figure it out and get ready for Game 3."