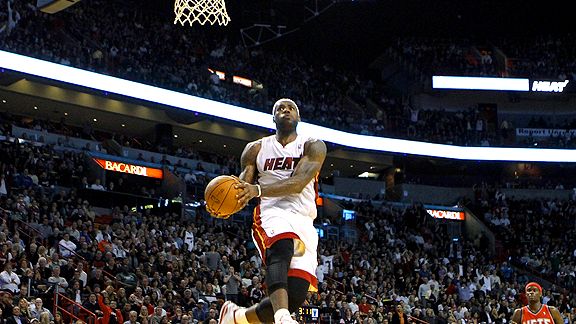 Marc Serota/NBAE/Getty Images Sport
LeBron James: One frame in a lengthy highlight reel on Saturday night.
MIAMI -- If it were a baseball game, Terrence Williams would have knocked LeBron James down with a high and tight fastball.
In basketball, the reaction to perceived excessive celebration is a hard foul and that is what the Nets guard gave James on Saturday night. Then Williams followed up with some mild trash talk in the locker room that just might add some spice to the next Heat-Nets meeting.
Late in the third quarter and a few minutes after James celebrated an alley-oop fast-break dunk off a lob from Dwyane Wade with a midair chest bump, Williams had seen enough.
After James plucked a steal and looked to be en route to the Heat's 10th dunk or layup in transition, Williams caught James from behind and hip-checked him into the seats. Williams was charged with a flagrant foul and James took a minute to be helped to his feet from a pile of chairs and debris about three rows deep.
As he strutted to the foul line, James shot Williams a look over his shoulder. Williams, bent over with his hands on his knees, stared in the other direction.
"You've got to put your foot down somehow in a basketball game," Williams said. "When people are going to the hole and throwing behind-the-back and dunking and stuff like that you've got to do something about it. It's nothing against LeBron. I'm a basketball player. I compete just like they do."
It is not the first time James has irked an opponent with celebration, but it was the first time it has happened with the Heat, a sign that he's finding some footing in Miami -- especially with Wade. The two combined for a transition-game highlight reel in the Heat's 101-89 win.
It is also not the first time James has taken an extra moment or two to get up after a foul.
"Falling into the stands was kind of a little much I think," Williams said. "It wasn't me trying to hurt anybody. I was trying to make a basketball play."
James agreed, saying he didn't think it was a dirty play. But when he was told of Williams' comments, he closed his eyes and smiled while tapping his fingers on the table in front of him, conjuring a response.
"Exaggerating a fall? Never," James said. "I'm not a flop guy, I've never been a flop guy. I love contact. I didn't exaggerate anything."
As for the message Williams was trying to send, it didn't reach James or Williams' teammates. James nailed a pair of 3-pointers to close out a 13-2 run and turn a close game into a rout. James scored the Heat's final seven points of the third quarter and finished his night with 23 points and nine assists.
"It didn't send much of a message because we went on an 8-0 run after it," James said. (Actually, it was 7-2.) "We play New Jersey again? Just once? That's awesome, I'll be ready for it."
So circle April 3 on your calendars for the game in Newark. Actually, don't. Williams and James' little run-in was really just an encapsulation of what happened in the Heat's bounce-back game from their Friday night loss in New Orleans.
James and Wade are two of the most devastating players in the league when they're out in transition. Other than a rare ballhandling mistake, a non-call or just bad luck, there is virtually no way either can be stopped effectively.
But it took until the team's seventh game for the Heat to fully realize that fact.
Wade changes direction like no player in the league, and like few others in history. His overall ability to create space at high speed is legendary.
James is one of the fastest players with the ball in the league and also one of the strongest finishers the game has ever seen. There is no strategy that will work on James in the open court other than to deny him the ball in such situations.
Put Wade and James together running the break and, well, it has the potential to be material for the time capsule. That is certainly what happened against the Nets.
There was a James behind-the-back pass to Wade for a layup.
There was a Wade no-look pass to James, who blitzed through back-pedaling defenders for an underhanded scoop that turned into a 3-point play.
Then the climax came on the lob from Wade to James that sent Williams over the edge.
"We try to make the game as easy on ourselves as possible because defenses do load up on us a lot," said Wade, who had 29 points and 10 rebounds, many of which ignited the break.
These moments have been fleeting early in the season. Wade and James haven't been able to get out in transition consistently -- particularly in the Heat's two losses. On Friday in New Orleans, the Heat had only three baskets in transition, the same total they had against the Celtics in the season opener.
Saturday's win didn't just feature the most of James and Wade using their individual talents -- but accomplishing this task as a tandem. When they work together, opening the floor and filling the wings at full speed, they make themselves impossible to defend.
"We saw some things that we hope we can continue to do," James said. "And that's get into the open floor."