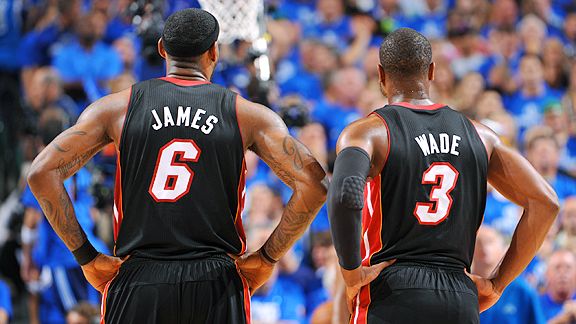 Jesse D. Garrabrant/NBAE/Getty Images
The Heat still have time to turn things around because, in the NBA, things can change quickly
DALLAS -- In the NBA, there's always time.
That was the way I started a story on March 10 when the Miami Heat were on a five-game losing streak. They were also a national joke at that moment because coach Erik Spoelstra had oddly announced some of his players were crying in the locker room after a tough home loss to the Chicago Bulls.
Now, with the Heat on the brink of being vanquished by the Dallas Mavericks in the NBA Finals following a couple of high-intensity nights in Texas, it is time to recall the proverb that refreshes itself over and over.
In the NBA, there's always time.
After a decade covering the league, I can tell you that is one of the honored truths. It's as essential a tenet to the game as stuff such as "one game at a time" and "defense wins championships."
Boring and tedious, yes, but relentlessly true.
No one is a bigger believer in the "there's always time" principle than the Mavs. After all, they've come from behind in the fourth quarter in all three of their Finals wins. They have three 15-point comebacks on the road in the playoffs over the last two months. That includes the masterpiece they assembled against the Heat in Game 2, which is truly the difference in this series.
There's no need to tell veterans Dirk Nowitzki and Jason Terry that individual games offer enough time for a team to settle in the coffin only to pull a Houdini. They've lived it over and over. The clock moves slow and momentum and whistles are fleeting. When the Heat got under their skin by celebrating up 15 points with seven minutes to go in Game 2, the Mavs' collective belief on the bench:
There's time.
As usual, there was.
With Dwyane Wade limping, LeBron James slumping and the Mavs surging, it would be quite easy to reach a conclusion that the Heat are barely hanging on. The Mavs were certainly impressive in their 112-103 Game 5 victory, and there weren't very many fans who left the American Airlines Center thinking they wouldn't be back for a parade sometime soon.
"We look at it the other way," Spoelstra said. "We're going home and we wouldn't have it any other way than the hard way. That's why you play a seven-game series. You've got to play it out."
It's not quite believable that the Heat want it the so-called "hard way," but otherwise Spoelstra's statement is true. His team has time left just as it did back in March when the world seemed as if it was caving in. It won a home game then went on a 29-7 run to take a 2-1 lead over the Mavs in the Finals before it lost two consecutive games.
No one needs this allotted time more right now than James, who is coming off the worst collection of three consecutive playoff games of his career. His time in Dallas saw him shoot just 39 percent and average just 14 points per game, the low point coming in an eight-point outing that will qualify as one of the most bizarre Finals efforts in this generation.
It obviously has been a mostly dreadful series for James. Not even the most radical and attention-seeking offshore sports books would've created this prop bet: James has more fouls (18) than free throws (16) in the first five games of the series.
At this point some have written James off in this series and branded him with a number of adjectives, the most popular being that he's "shrinking." His substandard fourth-quarter play, especially when compared to the recent monster finisher Nowitzki, has created a string of jokes across the Internet. After James scored only two points in the fourth in Game 5 after going scoreless in final frame of Game 4, every reasonable NBA fan's Twitter feed by noon had at least three versions of a joke about James being unable to make change for a dollar because he lacks a fourth quarter.
James has earned criticism for many different reasons dating back a year. Most recently, it was his less than acceptable triple-double in Game 5 that included just 17 points and nowhere near the clutch play presented by Nowitzki, Terry and Jason Kidd. Perhaps James will have to hear about these two weeks for the next few years.
But declaring it so now just may not be wise. Because -- you know where this is going -- there is always time. Time for James to save his reputation, time for the Heat to win the series, time for the Mavs to be put to the ultimate test.
"We've got two games left," James said. "We'll be better in Game 6 on Sunday."
Maybe and maybe not. Time will tell us, it always does.