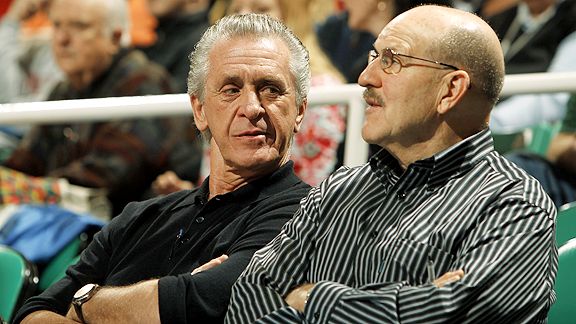 Bob Donnan/US Presswire
For Pat Riley and Chet Kammerer, the Heat's vice president for player personnel, the draft is not a make-or-break event.
MIAMI -- Chet Kammerer confirmed the moment he entered the media room at AmericanAirlines Arena on Wednesday, the eve of the NBA draft, that he holds one of the league's toughest jobs.
Kammerer, the Miami Heat's scouting czar and vice president for player personnel, had his annual pre-draft session with the media one day after team president Pat Riley met with reporters in the same room, albeit in front of a larger audience.
"I've got to talk to someone about the scheduling," Kammerer joked Wednesday as he nodded in the direction of the Heat's media relations staff. "You [normally] have the warm-up act, and then you follow with the main event. Yesterday, you guys had the main event. And now, you're following with the warm-up act. I'm just glad to have somebody here."
If Kammerer thought following in Riley's footsteps with the media was hard work, try convincing the Heat's top basketball decision-maker that there could be a second-round pick in one of the weakest drafts in recent years who could help boost a veteran roster that fell two wins short in the NBA Finals.
Rookies, especially those who aren't high lottery picks in the draft, generally have been a tough sell on Riley, who despises the process of building through the draft and prefers to supplement his teams with veterans through trades or free agency.
So Kammerer could have his hands full yet again Thursday night, when the Heat enter the draft with the No. 31 overall pick, which is the first selection of the second round. Miami's needs are clear: point guard and power forward/center.
Kammerer and Riley can agree on at least one thing entering the draft: The Heat certainly could use an infusion of youth and athleticism to fit around the nucleus of LeBron James, Dwyane Wade and Chris Bosh.
"To have an enthusiastic young talent would be good for us on our roster next year," Kammerer said. "Of course, our job is to find that right blend and the right person to fit that role. That's what I'm hoping to find. I think we can use a player like that."
Riley echoed that sentiment Tuesday in his postseason wrap-up of the Heat's 2010-11 campaign that ended in a 4-2 series loss to the Dallas Mavericks in the Finals.
"You do want to marry experience with athleticism," Riley said. "We will continually try to find one or two young players who will provide the energy and athleticism and talent necessary to help the key players who play a lot of minutes. We will look to upgrade in that area with younger players."
That's about as romantically as you'll hear Riley speak about building through the draft, particularly when Miami is picking late in the process.
Since Miami won its lone NBA championship in 2006, the team has had a total of 10 draft selections. Only two of the players the Heat have selected or acquired in draft-night trades were on the roster this season: third-year guard Mario Chalmers and rookie center Dexter Pittman, both second-round picks.
Major trades and free-agency acquisitions that transpired after the draft also have played a significant role in the Heat's decision to periodically cast off -- and sometimes throw away money -- on draft picks. That was the case in 2004, when Miami dealt 2002 lottery pick Caron Butler as part of a trade package to the Los Angeles Lakers to acquire Shaquille O'Neal.
Last summer, the Heat essentially gave away Michael Beasley, the No. 2 pick in 2008, to Minnesota for the No. 31 pick Miami will use -- or trade -- Thursday night. Beasley's departure created room under the salary cap for the Heat to add the supporting cast of Mike Miller and Udonis Haslem around James, Bosh and Wade.
Last July's free-agency coup also rendered the Heat's June draft-night work essentially moot. Of the Heat's four second-round picks last year, only Pittman survived the final roster cuts. Miami spent nearly $3 million in guaranteed salary on second-round projects Da'Sean Butler (2010) and Patrick Beverley (2009) only to release them.
Each decision along the way could be viewed as a no-brainer -- especially when Riley is the brains behind the operation. Whether he was attempting to build around Alonzo Mourning and Tim Hardaway in the 1990s, O'Neal and Wade in the mid-2000s or Wade, James and Bosh now, Riley's view hasn't changed all that much when it comes to his draft philosophy.
"I don't think you win championships with young athletic players that don't have experience," Riley said this week. "I think we learned over the years that building with young players is very frustrating. The only team that's really done that through the draft is Oklahoma [City]. They do a great job. They hit two home runs with [Kevin] Durant and with [Russell] Westbrook. That's a long process. I don't think anybody here wants to wait any longer."
The Heat's limited resources -- and Riley's insistence upon keeping his core group intact this offseason -- might force Miami's hand this time around with the draft. By holding the first pick of the second round, the Heat maintain the flexibility of landing a quality player without having to commit to a guaranteed contract.
With four or five potential roster spots expected to be available -- even with the uncertainty of the league's labor situation and free agency this summer -- the Heat potentially could add another player or two who are undrafted free agents. Haslem and center Joel Anthony were once undrafted projects who were developed by the Heat into productive contributors to the regular rotation.
"We've done pretty well with guys like that," Kammerer said. "What I look for in the draft is trying to add a piece to the nucleus we have that's different than what we presently have on our roster, a dimension of a player that brings us something we don't have presently. Hopefully that piece can fit in to make us a better team. You always struggle trying to look between production and potential."
Kammerer said the Heat have held seven workouts that have included more than 40 players. Among that group, 15 were either point guards or combo guards -- so that tells you where the Heat might be headed.
The process is to hope that a player the Heat have rated in the 20s somehow slips to them at No. 31. That's exactly how last year's draft worked, when Pittman -- then a project center out of Texas -- was rated as a late first-rounder by the Heat but fell to them early in the second round.
Perhaps Boston College's Reggie Jackson or Duke's Nolan Smith, who recently worked out for the Heat, will take a similar slide in what Kammerer believes "will be one of the more unusual and intriguing drafts" there's been in the past few years.
Riley has sat with Kammerer during several scouting trips to watch conference and NCAA tournaments the past three years since he left the bench to focus solely on his executive role. During the years Riley's duties were split between coaching and running the front office, he maintained a win-now priority that often fueled his preference for veteran roster help.
Now that Riley is exclusively in an "upstairs" capacity and is forced to see the bigger-picture perspective, there's an eye toward developing young talent to the future, blended, of course, with the urgency of winning championships sooner rather than later.
"If there's somebody that I am totally convinced that we need, I think he's open to that," Kammerer said of his sales pitches to Riley on draft prospects. "Things changed a couple of times. We've made big changes in our roster until the time when the draft happened to the time our season began. Then, all of a sudden, we're not looking to a developing player. We were looking for veterans because we had a nucleus we need to add to."
Now, the focus is to acquire both veteran experience and youthful energy.
"The best absolute player available at the position of greatest need," Riley said when asked what he hoped to get out the draft and free agency. "Everybody says we need a [center] and we need a [point guard]. And there's some truth to that. We'd like to get size, with great length. We have enough. But we're going to get more than enough."