By the end of the weekend, we'll be down to eight teams in the NCAA tournament. But with 32 directions to look at the moment, here are a few players and teams to watch:
Three second-round games to watch
Auburn vs. Maryland (Stillwater, Okla.): Along with Georgia's game against No. 2 Duke, this is one of two second-round meetings between the SEC, which lost half of its eight teams in the opening round, and the ACC, which remarkably saw all nine of its entries advance to the second round. Is this game on a neutral field a referendum on conference competitiveness? Of course not, but it's an intriguing contrast between an Auburn program that has long been among the SEC's best and a Maryland program on the rise in the nation's toughest conference in recent seasons. The Terrapins weren't as dominant in the first round as a 5-1 score against La Salle might suggest, benefiting from two penalty kicks in the first hour and piling up goals at the end against an overstretched opponent, but they were mighty good. Even when playing on an even footing, few teams have better quick-strike capability than Jasmyne Spencer and Haley Brock.
[+] Enlarge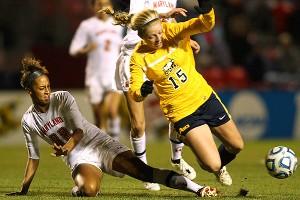 Tony Quinn/Icon SMI
Maryland faces Auburn in the second round in an ACC-SEC clash.
Baylor vs. North Carolina (Gainesville, Fla.): Even on a neutral field, the Tar Heels are heavy favorites against a program that won its first ever NCAA tournament game last week against Texas State, but Baylor provides a fascinating contrast in coaches. Nobody following the tournament needs a refresher on Anson Dorrance, but Baylor's Marci Jobson has worked wonders in Waco since hanging up the cleats following a playing career that included a spot on the U.S. roster for the 2007 World Cup. Consider that in 1994, Dorrance led the Tar Heels to their 12th NCAA championship. That same year, Jobson (then Marci Miller) earned all-freshman accolades at Wisconsin. Now she and a team that can put up goals, led by juniors Dana Larsen (11 goals) and Lisa Sliwinski (nine goals), get an opportunity to win a game that would announce their arrival to the entire college soccer world.
Boston University at Wake Forest (Winston-Salem, N.C.): The top-seeded Demon Deacons did what they needed to do in the first round; their output in a 2-0 win against Oakland wasn't representative of their domination. But even if the other No. 1 seeds face second-round games against bigger schools (No. 1 Duke against Georgia; No. 1 Stanford against South Carolina) or higher-profile programs (No. 1 Florida State versus Portland), Wake Forest may be the one with the trickiest path to the Sweet 16. The Terriers have missed just two NCAA tournaments since 2000 and none since 2004, so they know the surroundings. They beat Portland and Washington in Seattle earlier this season and tied Boston College on the Golden Eagles' home field. And if there's an underdog that has a chance to keep its cool against gifted, relentless strikers such as Katie Stengel and Rachel Nuzzolese, it's the Terriers, who in addition to allowing just 11 goals in 22 games have yet to pick up a single yellow card. As noted by BU sports information guru Scott Ellis, no other team remaining in the bracket has fewer than three yellow cards.
Three second-round players to watch
Natalie Kulla, GK, Marquette: A high-powered offense in front of her means she's had less to do this season than in campaigns past, but the Marquette senior is an athletic, commanding presence in the box. After blanking Toledo in the first round a week ago, she's one shutout away from matching Erin Guthrie's NCAA career record as she faces Penn State.
Christabel Oduro, F, Memphis: She was the offensive star of the first round, piling up four goals and an assist in a 7-0 rout of Tennessee-Martin, including a hat trick in just 34 minutes. The competition gets considerably tougher this week, and a spot in the Sweet 16 could hinge on which sophomore from Ontario shows the finishing touch: Oduro or Louisville's Christine Exeter, the Big East Offensive Player of the Year.
Women's College Cup

Follow ESPN.com's coverage of the NCAA women's College Cup.
Annika Niemeier, MF, Oklahoma State: It's best not to make too much of a 9-1 win against an overmatched Arkansas-Pine Bluff team in the first round, but Neimeier's two goals and an assist on 12 shots are notable nonetheless. The German midfielder missed most of last season with a knee injury and 10 more games this season. When she's at full strength, she gives the Cowgirls a playmaking mind in midfield unlike anyone else on the roster.
Three questions for the Sweet 16
Will the upset bracket continue to gloriously unravel?
As long as you aren't one of the favorites exiting, it's fun to see a part of the bracket crumble under the weight of upsets. And with the winners of Miami-Long Beach State and Milwaukee-Ohio State guaranteed spots in the Sweet 16 in the same quadrant, it's clear where the chaos is this year. But will any of them derail a UCLA-Duke quarterfinal? Or might a team like San Diego, which faces the Bruins in the second round, beat them to it?
Will any teams win on the road?
A year ago, Notre Dame, Ohio State, Washington and Georgetown won Sweet 16 games on the road. The difference between then and now, as we've discussed at length, is all had a full week to prepare for those games. With the exception of Florida State, which faced homecoming-related complications in Tallahassee, the top eight seeds in the tournament will play at home in the second round Friday and again in the Sweet 16 on Sunday, should they advance. Replacing Florida State with Memphis, the eight host schools are 80-6-5 at home this season. Wake Forest and Florida account for five of the six losses.
What's the best potential game?
There are plenty of worthy options, including a potential rematch of last year's semifinal between Stanford and Boston College and Florida State potentially playing Memphis on the latter team's field. But it's difficult to come up with anything better than Texas A&M and Virginia. The Aggies, who face Virginia Tech in the second round, bring the nation's most prolific offense to Charlottesville, Va. The Cavaliers, who face Washington State in the second round, rank in the top 30 in goals-against average and have more home wins (13) than any team hosting this weekend. Throw in contenders for national freshman of the year, A&M's Kelley Monogue and Virginia's Morgan Brian, and it only gets better.
Graham Hays covers women's college soccer and softball for ESPN.com. Email him at Graham.Hays@espn.com. Follow him on Twitter: @grahamhays.
Follow ESPN.com's college sports coverage on Twitter @ESPN_College and on Facebook.