YOUNGSTOWN, Ohio -- Mike Divilbiss is not one to hide his emotions on the sideline. During a rare sluggish performance by No. 20 Green Bay in a recent conference game at Youngstown State, the Phoenix's uneven play had the team's associate coach alternately jumping to his feet in frustration and leaning back in bafflement in his seat at one end of the team bench.
[+] Enlarge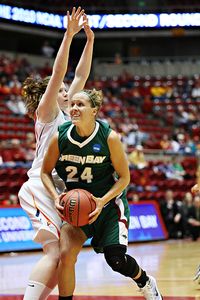 Green Bay Athletic Communications
A severe right knee injury has forced Green Bay's Heather Golden to quit playing. "I think the hardest part for me," the senior guard said, "is my head and heart just don't agree with my body."
It was one of those nights, of the sort that prematurely ages even those coaches blessed with otherwise low-maintenance, high-performance collections of college kids.
At one point, perhaps too perplexed to contain himself in one place any longer, he walked without apparent purpose to the other end of the bench and dropped into a seat next to senior Heather Golden, in street clothes after injuries ended her career last month. After Divilbiss said something to her, Golden reached over and playfully messed up his hair, eliciting the kind of response one might expect from someone smiling against his best efforts to remain generally peeved at what was unfolding in front of him.
If it wasn't the kind of effort the coaching staff wanted to see out of its nationally ranked team in January, it certainly wasn't the vantage point Golden wanted to have for her final season.
But when it would be easy to be bitter about so many lost minutes, Golden instead cherishes the three she found earlier this season -- minutes that proved no less meaningful as a farewell than as the beginning of a comeback. And as her hair-tussling on an otherwise forgettable night seemed to suggest, there are worse places to be, even in the most frustrating of moments, than around Dr. James Naismith's creation.
Golden is the quintessential Green Bay player. She won a state title in Wisconsin as a high school star, coming up big with 19 points in the championship game. But lacking whatever it was that bigger programs were looking for in the recruiting process, she stayed a stone's throw (at least by Aaron Rodgers standards) from home at the school 20 minutes up the road.
She emerged over her first three seasons on the court as an important cog in a program built on the sum of its parts outpacing their individual values. She started 27 games last season on a team that reached the second round of the NCAA tournament, and she led the Phoenix in 3-pointers. She wasn't the star, to be sure, but in a system that asks each player to "fight your tail off," as Golden put it, she was proof of why that has worked so well for decades.
But in May, she suffered a dislocated right kneecap and extensive damage to the cartilage in the knee. Two surgeries followed, leaving her status for this season in some doubt, uncertainty that increased when her knee was slow to respond to rehab. She had already used a redshirt season as a true freshman, so Bollant kept her on the active roster, if only because she had the strongest arm on the team and could come in to throw a long inbounds pass if needed.
"

To just have to give up something I've loved for the last 15 years ... I think the hardest part for me is my head and heart just don't agree with my body. I still feel like I have so much to give, but I can't.

"

-- Green Bay's Heather Golden
Putting in long hours with trainer Dusty Lang, Golden nevertheless reached a point in November when the knee felt good enough to participate in practice drills, instead of watching from the seat of a courtside stationary bike. That went well enough to decide it was worth testing the knee in a game situation. And with 2:58 remaining in a blowout victory against Southeast Missouri State on Dec. 10, Golden checked into the game to a standing ovation from the home crowd. She didn't get off a shot, but she did record an assist, making her statistical mark in the season's historical record, a notation that she was here.
There was some soreness in the knee immediately after the game, as had been expected, but it didn't go away, not the next day at practice or the day after that in the shootaround before a game at Marquette in which she didn't play. Faced with the reality that the knee wasn't responding to even three minutes on the court at game speed, she decided it was time to listen to what her body was telling her.
"I've told people, it's probably the hardest thing I've had to do," Golden said. "To just have to give up something I've loved for the last 15 years, that I've done every day for the last 15 years -- I just have to take on a whole different role, being so close but yet so far away from the court. I think the hardest part for me is my head and heart just don't agree with my body.
"I still feel like I have so much to give, but I can't."
There is a lot more to college than the classroom and there is a lot more to college basketball than games. The experience is surely as much about a thousand meaningless moments like the one in a practice earlier this season when teammate Katie Bushman took an errant ball off the head left Golden and Hannah Quilling savoring the sheer schadenfreude that we all get out of a friend's comedic indignity. Or the dozens of afternoons camped out in front of the television watching Packers games or "Will and Grace" DVDs with teammates. Goofy, random moments of camaraderie that will, in all likelihood, linger in the mind at least as long as NCAA tournament victories.
None of that ended when Golden stood in front of her teammates after making her decision and told them she was done. She remains part of the team, traveling to road games, watching from the sideline in practice and offering whatever insights she can to teammates. After the game at Youngstown, a win that nonetheless left the team searching for answers after losing on effort and intensity, if not the scoreboard, in the second half, it was Golden, as reported by the team's blog, who told her teammates to make the most of their opportunities. In all of those senses, she is as much a part of the Phoenix in messing up a coach's hair as she was when she rained in 3-pointers on the court.
What she isn't any longer, at least in the sense by which she defined it for most of her first two-plus decades of life, is a basketball player. Which is all the more reason one seemingly unremarkable line in a box score is worth remembering.
"It honestly felt like the best three minutes ever," Golden said. "All of a sudden, that rush of the excitement of the game came back to me. Just the feeling of joy being out there that I had missed for so long -- all of a sudden, that three minutes brought it all back to me.
"It's a different feel when you're on the court, and to have the fans there cheering for me, it just reminded me why I love the game so much."