MEMPHIS, Tenn. -- The tone for the evening was set before No. 2 seed Duke and No. 4 seed Baylor tipped off in Monday's regional final at the FedEx Forum, when the Blue Devils' pep band had to take a mulligan on the first few notes of the national anthem.
[+] Enlarge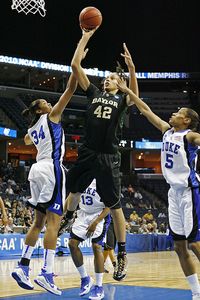 AP Photo/Lance Murphey
Brittney Griner had 15 points, 11 rebounds and nine blocks as Baylor overcame a nine-point deficit to reach the Final Four.
This wasn't a night to worry about aesthetics. The winning team wasn't going to need any style points to earn a trip to the Final Four in San Antonio. For that matter, the winning team wasn't going to need all that many real points to book its passage to Texas.
In short, it was everything Duke could have wanted in a game against 6-foot-8 Brittney Griner. But when Griner put home not one of the dunks that drew appreciative noises from the crowd in pregame warm-ups, but a leaning shot with 45 seconds to play, the Lady Bears were up by one for their first lead of the second half and had all the points they needed.
And with the eventual 51-48 win, they had perhaps the first of many Final Fours with Griner.
"I don't know how we won this game other than I got a group that fights with me, competes with me and all they do is play hard," said Baylor coach Kim Mulkey, whose Lady Bears scored 10 unanswered points over the final 3 minutes, 28 seconds.
With just more than 15 minutes to play, Baylor trailed 32-23, what felt like an insurmountable deficit considering it had taken the Lady Bears 25 minutes to get 23 points.
With six minutes left, the Bears still trailed by eight points, having mounted one rally that cut the deficit to two points only to see the Blue Devils answer back -- a run launched when Bridgette Mitchell shook Griner at the top of the lane and hit a jumper in front of her. At that point, it looked like Duke had found an answer for the most difficult individual question in the sport at the moment, and was going to overcome missing its first 10 shots and looking out of rhythm in the early going.
Griner got three touches in the game's first two minutes, all on entry passes from Melissa Jones, resulting in a field goal, a missed shot and a pair of free throws for the freshman. Contrast that with the first nine minutes of the second half, when Griner didn't attempt a single field goal (she sat for one trip up and down the court during that span).
Baylor is still a team learning to play with Griner and learning to play with each other with so many freshmen playing key roles (three rookies on the court for the game's closing minutes). But with key plays like Kimetria Hayden's Bird-to-DJ steal late, it's also a team of players whose potential is transforming into polish day by day.
And with Duke's Krystal Thomas out of the game after fouling out late, Baylor had Griner for the shot it needed.