POUGHKEEPSIE, N.Y. -- Score 30 points in a game one time and you had a night to remember. Do it twice within the span of a month and you're someone everyone else should remember.
Still miles away from the name recognition afforded prolific scorers such as Oklahoma State's Andrea Riley, Kansas' Danielle McCray, James Madison's Dawn Evans or Middle Tennessee's Alysha Clark, Marist sophomore Corielle Yarde has been quietly piling up points all the same. It started with a career-high 28 points in a 71-69 loss against Oklahoma State in the Bahamas over Thanksgiving, eclipsing her previous high of 15 points last season.
[+] Enlarge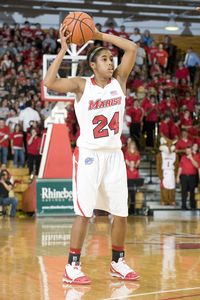 Courtesy Stockton Photo, Inc.
Sophomore Corielle Yarde averages 15.5 points and 5.9 rebounds for Marist.
Then came 32 points on the road against Boston University on Dec. 12 and 30 more points at Rider on Jan. 11.
To put it in some perspective, that's one fewer 30-point performances in the span of 30 days as teammate Rachele Fitz has in three and a half seasons with the Red Foxes. And Fitz is already Marist's all-time leading scorer and one of the better players to pass through the mid-major ranks nationwide in recent seasons.
So what was the biggest factor in Yarde's breakthrough run?
"Probably not worrying about me," Marist coach Brian Giorgis offered.
Call it truth wrapped in a quip.
Precision is a philosophy in Poughkeepsie. There's a reason that Marist annually ranks among national leaders in field goal defense (No. 22 this season) and assist-to-turnover ratio (No. 3 this season). And it's not because Giorgis' recruits are light years beyond their MAAC and mid-major peers when it comes to physical ability. A special athlete like Fitz or a special mind like current assistant coach and former point guard Alisa Kresge might blend in from the outset. Just about everyone else is as prepared to play major minutes as a freshman as a first-year med student is to perform surgery.
For her part, Yarde averaged 4.3 points in 10.7 minutes per game last season and had the worst assist-to-turnover ratio on the team (23 assists, 45 turnovers). The 5-foot-8 guard showed the quickness, leaping ability and shooting touch (including 14 of 39 from the 3-point line and better than nine rebounds per 40 minutes) to suggest more was ahead, but also the inconsistency to keep the coach on her case.
He's still not quite willing to hand her a stethoscope or a scalpel, but she's getting there.
"The biggest thing is she's been much more assertive this year and her ball handling's improved," Giorgis said. "She had glimpses of this last year -- I know at Manhattan, she scored [nine points in 11 minutes] in one game last year. But by the end of the year, she had just lost all confidence. But now you can see, when people pressure her and stuff, she gets through pressure pretty well. She had one turnover today in 37 minutes, she had none and seven assists the game before. … She's got a lot of skill. And now she's putting it all together and she's playing with confidence."
That's good news for Marist and the post-Fitz world it will encounter next season. It's not good news for opponents this season who thought they had finally found a way to deal with Fitz. She led Marist in scoring seven times in its first eight games (sharing the distinction on one of those occasions). In the last 11 games, she has led the team in scoring twice. She's double- and often triple-teamed when she's even able to get the ball on the block. There's no roll when she picks, only the wall provided by a defender literally and figuratively unmoved by the gambit. Defensive scouting reports are dedicated to her.
Never mind that between them, Yarde and junior Erica Allenspach average 29.6 point per game, significantly more than any Nos. 2 and 3 scorers have ever averaged alongside Fitz.
"They're not going to sit there and focus on [Yarde and Allenspach] and let her go," Giorgis said of Fitz. "It's just not the way it works -- not in this conference. She's hurt them too many times."
They might be saying the same of Yarde a couple of seasons from now.