HANOVER, N.H. -- Casey Nance is following in her father's footsteps on the basketball court, but it's a journey she undertakes only after finding her own way to the trail.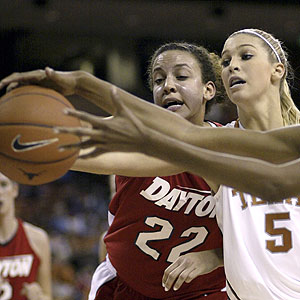 AP Photo/Harry Cabluck
Casey Nance, a 6-foot-4 sophomore, leads the Atlantic 10 in blocked shots with 2.3 per game.
Larry Nance's daughter leads the Atlantic 10 in blocked shots as a sophomore -- no easy chore in a conference that includes Xavier's Amber Harris and Ta'Shia Phillips. As was true of her dad collegiately at Clemson and then for more than a decade with the NBA's Phoenix Suns and Cleveland Cavaliers, she's an agile, athletic presence capable of changing a game with her defense and rebounding. And at 6 feet, 4 inches, Casey Nance is one very big reason why Dayton is 11-3 entering its final nonconference game against Navy and entered the Top 25 for the first time in program history earlier this season.
"She's got this desire to please and to learn," Dayton coach Jim Jabir said. "And she's this big sponge. Casey gets better every day -- you can visually see the improvement from day to day. And with her, it's just a lot of confidence; she has to believe she's that good."
Not bad for someone who didn't start playing basketball seriously until high school. Early on, it wasn't her father that she most wanted to emulate when it came to sports.
"I started playing [soccer] because when you're younger, that's what all my friends were doing," Nance said. "I'm just a really social person, and I just wanted to do what my best friends were doing. That got me started, and I just loved it. So I played that up until my eighth grade year, and I loved every minute of it. But then I figured it was time for me to move on into something I might be better suited for physically."
In hindsight, even that gained a few months shy of finishing her second decade, she concedes there might also have an unconscious desire to break from the expectations that come with being tall and the daughter of a three-time All-Star and dunk-contest legend. She now embraces the family connection and her dad's accomplishments -- all the more renowned in her native Ohio -- but there was a time when all the questions annoyed her. And yet for all the people outside her home asking about her basketball-playing dad, he never asked about any of her apparent disinterest in the family trade.
"All throughout my youth, when I wasn't playing basketball, I think he did an amazing job of never pressuring me to because he just knew that I wasn't at that stage of my life where I want to do that," Nance said. "He never pressured me or asked me about it, but as soon as I made that choice to get into basketball, he wanted me to be the best that I could at it."
To that end, she's more than willing to admit she's still a work in progress, especially on the offensive end. She's averaging just 5.5 points per game this season, roughly the same as she averaged as a freshman (although it's worth noting that in Dayton's balanced offense, no player currently averages more than 12.6 points). But between jump hooks and putbacks, she's making that progress game by game.
And she has a pretty good tutor to call on when Jabir's lessons are finished.
Jabir recalled walking reverently through Nance's house when the team visited, taking in every memento, every reminder of names like George McGinnis, Dave Cowens and more. But for his players, members of a decidedly different generation, the tall guy really is more Casey's dad than she his daughter. One of the oldest players on the team, senior Kendel Ross still was barely walking on her own when Nance played his last game in the NBA. She didn't really know much about who her teammate's dad was until friends started asking her to get them autographs.
"I definitely know now," Ross said. "And after being to her house, especially, and seeing that trophy room and stuff like that, yeah, he's a big deal. But [he's] like the nicest guy ever. You would never -- besides when he walks in the gym and he towers over everyone, he's not what you would expect. He's an extremely caring person, and from what I know, an incredible father. That's kind of how I know him, I guess."
It's the same view Casey knew him growing up, as a father, even if there are occasional reminders at home of why everyone else makes such a big deal about him.
"Every once and a while he'll pull a tape out and we'll watch it," Nance said. "I think my brothers and I, we try to act like we're not interested, but deep down, I think we really enjoy watching our old man out there dunking and blocking shots and stuff. So it's awesome to see."
And as it tuns out, she really is a chip off the old blocked shot.