COLLEGE STATION, Texas -- Wrapping up careers during which eight of them played in a national championship game as freshmen, North Carolina's seniors won their third title, and did it on the same field where they lost their very first game as Tar Heels. That loss, a 1-0 double-overtime defeat against Texas A&M on Aug. 25, 2006, made history as the program's first season-opening loss in 23 seasons.
[+] Enlarge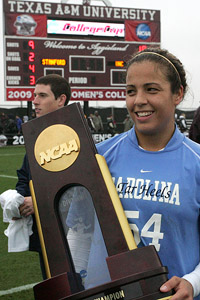 Andy Mead/Icon SMI
Casey Nogueira and the UNC seniors won their third national championship Sunday.
On Sunday, the seniors ensured it will forever be only a footnote.
"All of us knew we had come to Carolina to win," defender Whitney Engen said of that long-ago day. "And here we had lost our first game of the season. And I think to come full circle, and to win our last game here, it meant a lot to a lot of us. And I think the legacy that we want to leave on this program is that, you know, we pride ourselves in being a family. We pride ourselves in caring so much about one another."
Struggling this season after losing one of those seniors, Nikki Washington, to a season-ending injury (in an unfortunate twist, North Carolina's long postseason run still left the Tar Heels one game shy of what would be required for Washington to qualify for a redshirt, based on the percentage of games in which she appeared), the Tar Heels didn't look like champions after back-to-back October losses against Florida State and Miami.
But as after the Texas A&M loss, which was followed by 27 consecutive wins, adversity helped this collection of players find their footing.
"These girls come in, they know the standards of the program and all of a sudden, their first game, they've lost," coach Anson Dorrance said of the Texas A&M defeat. "They all feel this pressure. It's not like we're talking about it, but they all know the legacy.
"So what we basically talked about on the bus [after the Florida State and Miami losses this season] is, 'You know what? Don't play with that burden. Don't play with the burden of this enormous amount of pressure.' And all of a sudden, what happened in practice that week is I could sense the girls starting to come back a bit."
Fittingly, it was left to Casey Nogueira -- the heroine of so many postseason moments in her four seasons, but also a carefree personality so difficult to fit into the mold of driven, intense North Carolina legends -- to provide the final word.
"I just wanted to thank Anson personally and publicly for the way he handles any loss or any setback we've had in our four years," Nogueira said. "Because he has such a sophistication and such a kind of calmness. And when we lose, he doesn't freak out and make us do tons of fitness. He actually encourages us and calms us down and tells us we're going to be fine."
One of the greatest senior classes in the history of a program with plenty of competition for that title came a long way in four years. All the way to where it started.