COLLEGE STATION, Texas -- Reaching the College Cup has become almost as much a staple of the season for UCLA as turkey and holiday sales. The disappointment that comes with falling short of a championship has also become an annual rite for the Bruins.
But as much as coach Jillian Ellis publicly contends each season is a unique journey free of contamination from the past, she offers a more compelling argument for the same every time she hands in a lineup.
[+] Enlarge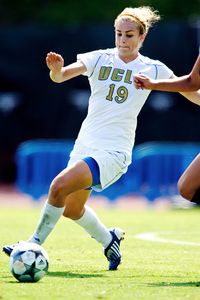 Courtesy of UCLA Athletics
Jenna Belcher is starting for UCLA after dealing with illness for two and a half years.
Now a redshirt junior and an anchor on a Bruins back line that has allowed just 13 goals in the 23 games since a season-opening 7-2 loss at North Carolina, Jenna Belcher is proof positive of the present's potential. It's why she keeps a simple message from her mother on her desk:
"It came to pass. It didn't come to stay."
Hardship isn't losing in the College Cup six straight seasons. Hardship is waking up every morning for more than two years unsure why you not only don't have the energy or stamina to play the sport you love, but why you lack the energy to simply get through the day.
So it was for Belcher, a heralded recruit coming out of high school in 2006 who played just 10 college games in the next three seasons, the first at Santa Clara and the next two at UCLA.
"I first met Jenna when she was 13, believe it or not, and I was speaking at a school and this little curly haired kid came up to me and introduced herself," Ellis said. "I think, compassionately, I know Jenna's had struggles physically. And it is -- it's truly special for me to see her on the field but also how she's playing."
As Belcher explains it, her doctors now believe a bout with mononucleosis that she tried to play through as a freshman morphed into a larger viral infection. For more than two years her viral levels remained high but doctors were unable to pinpoint an exact diagnosis -- chronic fatigue syndrome and fibromyalgia were both suspected. There were brief good spells that would give her some hope of returning to the soccer field, but the fatigue, sleeplessness, hot flashes, dizziness and myriad other symptoms would eventually return and knock her out of action.
Finally, an internist at UCLA -- who Belcher jokingly agrees is her story's version of Hugh Laurie's "House" character -- offered the counsel that the virus would likely run its course after two and a half years. Sure enough, at about that juncture this spring, she began to feel better. By summer she felt closer to 100 percent than she had in three years.
And at long last, she was able to take the field and show why she was a prep All-American and a member of the Under-16 and Under-17 national teams. She also got to show a hard-earned maturity to complement the skills.
"Now every opportunity to step on the field is something that could be my last opportunity to do it," Belcher said. "And I think before, I took for granted all the opportunities I was given in soccer. I had been able to be involved with youth national teams, and a little part of me -- and this might sound wrong -- but was like, 'Yeah. I've earned that. I've earned my spot here. I've earned the right to be on the field.'
"And I think now I just feel blessed every single time I get to step out there."
There are still days where she feels less than 100 percent, but she takes an array of vitamins and trusts the medical opinions that tell her there likely won't be lasting symptoms. And even the running and conditioning she once loathed (and still isn't exactly a fan of) doesn't seem like quite as much of a chore as it once did.
"A year ago, I was in bed," Belcher said. "So the fact that I'm out here and able to complete this fitness session, what a great accomplishment."
Whatever happens to UCLA, Belcher is proof the past doesn't always come to stay.