KNOXVILLE, Tenn. -- As if to remind the two teams atop the softball RPI rankings that nothing is inevitable on the road to Oklahoma City, the remnants of a weather system moving through Tennessee delayed the start of Saturday's SEC championship game between Florida and Alabama.
And as if to suggest it won't mind waiting out anything anyone wants to throw at it during the next three weeks, Florida seized control when Megan Bush lined the 15th pitch of her first-inning at-bat over the fence in left field for a grand slam and a 5-2 lead.
[+] Enlarge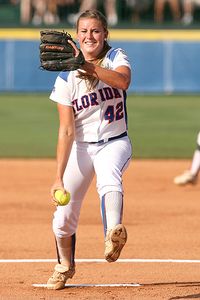 University of Florida Athletics
Stacey Nelson struck out eight against Alabama.
Even Mother Nature has some work to do when it comes to slowing the Gators.
Bush's blast wasn't quite enough to provide the winning margin, but it set the day's theme early in forcing the Crimson Tide to play from behind. And when a late rally proved to be too little, too late for Alabama, Florida had an 8-5 win and its second consecutive sweep of the conference regular-season and tournament titles.
"I think Florida is by far the best team in the country," Tennessee coach Ralph Weekly said of the team that earlier eliminated the host Lady Vols by an 11-3 margin in the semifinals. "There's no question about it. It's kind of like playing the New York Yankees."
The championship game itself was anything but a classic, unless you enjoy watching an umpire handle the strike zone like a circus carny setting up the bottles on the ring toss -- no matter how wide the plate looked from the circle, it wasn't big enough to accommodate a softball. The first inning and a half took an hour to play, littered with four walks and three hit batters, as both pitchers tried to work the inside corner -- the only place anyone stood a remote chance of getting a pitch called a strike.
"I don't think I would have wanted to be a pitcher today," Alabama catcher Ashley Holcombe said. "Because sometimes you just feel like you don't know what you have to do to get a strike called. But we had the same situation the first inning -- we had bases loaded with one out. And they hit the grand slam and we didn't."
But if circumstances prevented an aesthetically pleasing show Sunday, the Gators spent their three days on the field in Knoxville shaking off any signs of competitive rust after clinching the regular-season conference title on April 18 (or such competitive rust as existed after winning their final seven regular-season games by a 60-1 margin).
Against Auburn in a quarterfinal, the Gators struck out seven times and walked just once in pulling out a 3-0 win. A day later in an 11-3 semifinal run-rule rout against host Tennessee, they walked five times and struck out once. And it's no coincidence that the one walk they drew against Auburn came to lead off the bottom of the first inning in what became a two-run frame against a quality pitcher in Anna Thompson.
It's not that the Gators necessarily rely on walks (although they did lead the SEC in free passes per game), but when they're drawing them, it's an indication they aren't getting themselves out at the plate. And so far this season, they've had more success getting themselves out than all but a handful of pitchers have fared with the same challenge.
"I thought [in the quarterfinal against Auburn,] we were taking too many good pitches and then we'd go up there and maybe swing at a couple of bad pitches," Florida coach Tim Walton said. "[Against Tennessee,] I thought we did a good job laying off the tough pitches and swinging at the good pitches. You could tell by the walks and the number of hits we had, we did a good job; when they threw strikes over the plate, we were looking for them."
And when the walks were there for the taking early against Alabama, Florida took them and made them count when Bush's shot -- the only hit of the inning -- cleared the fence.
"The hand-eye coordination, that obviously you're born [with]," Walton said. "But I think more than anything, the approach is taught. And that's the approach of our team; we're looking for pitches. You very rarely see us swing at pitches out of the zone in good counts."
The flip side of the equation is the Gators can afford to be patient more than any other team. Among major-conference teams, Arizona and Arizona State average more runs per game than the Gators, but there may not be a more balanced lineup from top to bottom.
With the exception of No. 9 hitter Michelle Moultrie, the eight other hitters in Walton's lineup entered Saturday's game with on-base percentages between .380 and .493 (and seven of them were between .419 and .493). Six starters entered with slugging percentages of .548 or better and six starters entered hitting between .329 and .387.
On and on go the numbers, but in the land of Tennessee whiskey, the truth is easily distilled.
"We've got probably 11 of the toughest outs in the country," Walton said.
Now we can only wait and hope this was only the middle act of a three-act play between these two teams, regardless of what day and what scenario might await a rematch in Oklahoma City at the Women's College World Series. Because even as Florida showed off its offense, Alabama's production hinted that its midseason funk is gone for good.
"I thought it was the best offensively we've done against [Nelson] in two years," Alabama coach Pat Murphy said. "So they should take away a lot of positives from this game."
But like the SEC regular season before it, and likely the overall No. 1 seed in the NCAA tournament ahead of it, those positives don't include the tournament title.
With Florida in the picture, the Crimson Tide will have to wait their turn for those.