---
Everything is bigger in Texas, even the statements made by the little guy.
With a month left in the regular season, we already have an unofficial state champion in the Lone Star State. It's not Texas A&M, which played in the final series of the Women's College World Series last season, or Houston, which played in a super regional a year ago.
[+] Enlarge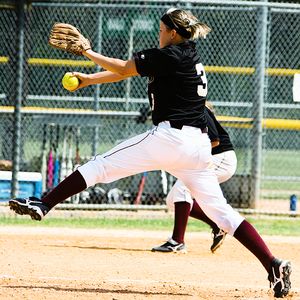 William Newton
Chandler Hall's impressive freshman season is running under the radar.
It's not Texas, which held down second place in the Big 12 last week, or Baylor, which replaced the Longhorns this week as the team in closest pursuit of Missouri.
With a 4-1 record against those teams, it's Texas State. The Bobcats also split a Monday doubleheader against Texas Tech, winning the first game 5-1 and losing the nightcap 3-2 in nine innings, so they aren't perfect against in-state rivals (they lost a game to the Longhorns and one to UTEP, in addition to their Texas-based conference foes).
But beating the four highest-profile programs in the state is a feat.
Then again, it's not as if Texas State is new to success. Everyone (in this case constituting Bobcats fans and those, like me, who complain about these things incessantly) remembers it as perhaps the most onerous omission from last season's NCAA tournament field after dominating the Southland regular season before losing in the conference tournament.
But one reason that slight seemed especially unfair from afar was the difficulty the team was surely going to have replacing senior ace Ragan Blake (not to mention senior battery mate Ashton Peters). Returning pitcher Katie Garnett was a proven No. 2 behind Blake last season, but she pitches to contact (102 strikeouts in 218.2 career innings). Garnett is doing her job again this season, with 11 wins and a 1.90 ERA, but there aren't a lot of teams in the NCAA tournament whose staff leaders have strikeout rates along those lines.
Enter Chandler Hall.
The younger sister of current senior Taylor Hall, Chandler is quietly putting together one of the more impressive freshman seasons below the big-conference radar. She took the tough-luck loss against the Red Raiders on Monday, striking out 12 without allowing an earned run while going all nine innings, but she's been in the middle of a lot of the big wins. In fact, in the wins against Texas A&M, Houston and Baylor, she worked 17 innings and allowed just two earned runs and three walks against 12 strikeouts.
With 159 strikeouts in 157.2 innings, she misses bats and takes pressure off a defense that is in the bottom half of the Southland Conference in fielding percentage.
The Bobcats still have work to do to put Nicholls State and McNeese State away in conference, and have a pitching showdown looming between Chandler and Stephen F. Austin's Monika Covington the weekend after next. But they're once again in the mix.
Looking to the great space to the west of Texas …
Look which team is back in familiar territory atop the Pac-10. Granted, Arizona's standing has something to do with the fact that it's played the fewest games -- in the demolition derby that is league play this season, that's the best recipe for success. But there the Wildcats are, in first place, in large measure because of the scariest offense in the country (even if it's the scariest offense in the state by only a small margin), but also because their pitchers are giving those bats a chance to outscore the opposition.
Arizona is going to have to make its run at Oklahoma City without the kind of ace it's used to having. But working within that new paradigm, the fact that the Wildcats are first in the Pac-10 in walk rate may be more important than the fact that they're seventh in team ERA.
Florida ace Stacey Nelson made an interesting point this weekend when I inarticulately butchered a question about her improved walk rate this season (yeah, that walk rate last season really slowed her up en route to All-American honors). Showing the same kind of poise she uses to get out of jams on the field, she noted that despite her improved rate, walks aren't the worst thing in the world for her because they still mean the offense isn't hitting the ball.
In Nelson's case, that's true. Not only does she have an elite defense behind her, she can get herself out of trouble with a strikeout rate near the top of the national charts.
That's not the case for Arizona's pitchers. The lower the strikeout rate, the more balls that are in play and the greater the likelihood that the runners who take first via walks will come around to score. So when Sarah Akamine has just two walks in 19 innings in conference play -- and 19 in 106.1 innings overall -- it's a big deal.
As long as Arizona is giving up one-run doubles and two-run home runs instead of two-run doubles and three-run home runs, its offense is going to come up with a lot of wins. All of which will be put to the test as Mike Candrea's team continues a 13-game stretch in which it plays only Arizona State, Cal, Stanford, UCLA and Washington.