Rolling on in the preseason top 20 to No. 7, which, in addition to being the number of innings in a softball game, is the number of players per side on a Quidditch team.
Geeks of the world unite.
No. 7 Oklahoma
Last season: 47-14 (Lost to Arizona in the Tucson Super Regional)
Preseason talking point: Record crowds in recent years at the Women's College World Series prove the event doesn't need the local team on hand in order to be a successful spectacle. But it would still be fun to see just how many people could squeeze into Hall of Fame Stadium if the Oklahoma Sooners made it back for the first time since 2004.
[+] Enlarge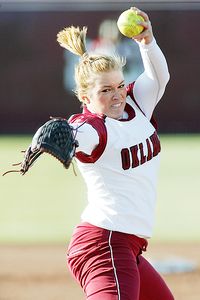 OU Athletics Media
D.J. Mathis has the intangibles to get Oklahoma back to the WCWS.
Is D.J. Mathis the pitcher to get them there?
Despite the arrival of three freshman pitchers, Mathis has staked her claim to the present in Norman. After a promising freshman season and an injury-plagued sophomore season, she blossomed as a junior, becoming the ace the Sooners needed when Lauren Eckermann couldn't repeat her prior success. Mathis was 31-7 with a 1.18 ERA last season and led the team to a Super Regional in Tucson, Ariz., and to within a game of the World Series. (Numbers that aren't easy to glean, given that Oklahoma is, curiously, the only elite program that doesn't post its statistics on the team Web site.)
She also struck out 7.8 batters per seven innings, third in the Big 12 behind Texas A&M's Megan Gibson and Texas' Megan Denny. And it's that number that's particularly interesting because while Monica Abbott, Cat Osterman and Angela Tincher all walked away from Oklahoma City without championships, recent history suggests it's difficult to go all the way without a strikeout pitcher. (For reference, 22 pitchers averaged at least nine strikeouts per seven innings last season, and six made it to the WCWS).
Here are the aces for the champions since Oklahoma won in 2000. (Arizona divided its innings almost equally among three pitchers in 2001.)
2008: Katie Burkhart, Arizona State (11.4 strikeouts per seven innings)
2007: Taryne Mowatt, Arizona (9.9)
2006: Alicia Hollowell, Arizona (11.7)
2005: Jennie Ritter, Michigan (10.1)
2004: Keira Goerl, UCLA (7.2)
2003: Keira Goerl, UCLA (7.7)
2002: Jocelyn Forest, Cal (9.4)
2001: Jennie Finch, Arizona (10.0)
2001: Becky Lemke, Arizona (10.8)
2001: Jenny Gladding, Arizona (10.3)
Jennifer Stewart averaged just 4.9 strikeouts per seven innings in 2000, when she wowed the home crowd at the World Series and pitched the Sooners to their title. But with the advent of a best-of-three final series and the overall depth of offensive talent across the country and the postseason field, it's difficult to envision any pitcher duplicating that success without an ability to create her own outs.
Led by Samantha Ricketts and Amber Flores, Oklahoma has a potentially dominant offense that is heavy on slugging and patience. So is Mathis the pitcher to get it done alongside those bats? She certainly has the intangibles -- like Nevada's Katie Holverson, watching Mathis pitch is to marvel at the fury that can be unleashed from diminutive origins. As for the tangibles, it seems it could go either way.