We close the week by entering the Top 10 of our softball preseason countdown, giving me an opportunity to zoom in a little on one particularly cool story.
10. Louisiana-Lafayette
Last season: 52-15 (Lost to Alabama in the Women's College World Series round of eight)
Preseason talking point: Louisiana-Lafayette was one of the best-kept secrets in softball last season, at least up to the point where the unseeded Ragin' Cajuns bused all the way to Oklahoma City and stunned top-seeded Florida in the opening game of the Women's College World Series.
[+] Enlarge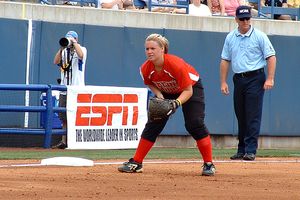 UL Sports Information
After tearing her ACL last March, Melissa Verde chose rehab over surgery and returned to play.
Sneaking up on the competition won't be an option this season. I thought No. 10 was a pretty strong reflection of confidence in the reigning Sun Belt champions, but the NFCA's preseason top 25 poll did that a few spots better, slotting them in at No. 6.
Despite all the justifiable praise directed their way, not to mention the corresponding abundance of returning talent in Lafayette, there are questions that need to be answered. For one, can the team replace the offensive production it lost due to the departures of Holly Tankersley and Vanessa Soto? Getting Courtney Trahan back in the lineup regularly after an injury-plagued season should help. And while Ashley Brignac has been throwing in the preseason, it's not clear exactly what last season's freshman sensation can be expected to produce this spring, having shut her pitching down last summer when a shoulder injury was diagnosed.
But if you want evidence of this team's ability to deal with just about anything a softball season can throw at it, just take a look at the player crouching near the hot corner.
Melissa Verde tore her ACL last March in an exhibition game against the United States Olympic team. Instead of submitting to surgery and losing the remainder of the season, she consulted with doctors and determined the knee would be stable enough after a few weeks of rehab for her to finish out the season with the assistance of a knee brace.
"There was, like, no other option," Verde said of her thought process once the orthopedic surgeon explained the possibilities. "I was going to play no matter what."
After missing just 13 games, she returned and provided one of the team's most consistent bats, slugging .524 with an impressive .463 on-base percentage (46 walks, 16 strikeouts) overall. Included in those numbers was a grand slam against LSU in the Baton Rouge Regional that broke a scoreless tie and sent the Ragin' Cajuns on their way to the first of five wins in the NCAA tournament against seeded teams -- three more wins than they had during the entire regular season against the teams that eventually earned NCAA seeds.
Anyone who has torn an ACL knows the awkward lack of lateral mobility that can turn a seemingly harmless false step or pivot into an excruciating jolt of pain. Avoiding those reminders of what's disconnected in your knee while standing about 30 feet away from hitters lining balls to your right and left is rather remarkable. But in talking about dealing with the injury, Verde shrugged off the pain factor and was instead quick to credit trainer Stefanie Rodgers, who wrapped the knee before every practice and game.
In fact, if you listen to Verde, the biggest obstacle may have come last summer, when she finally did have surgery and set about the slow grind of rehab.
"It was weird because I don't like to sit around," Verde joked. "I like to be out there doing stuff. And it was kind of boring. I don't recommend getting it to anybody.
"But it does help you with the love of the game; it helps you realize that you really do care about it. And it makes you appreciate it that much more when you do something like that."
As for the secret about this group of Ragin' Cajuns getting out of the bag, they seem to think they still have some cards to play. When I tried to coax a scouting report on Donna Bourgeois and Brittany Cuevas, two pitchers capable of carrying a team to Oklahoma City with or without Brignac at full strength, Verde offered a Bill Belichick-ian response.
"Well, I'm not going to give away their secrets," she said. "But they're both amazing athletes and they're great pitchers."
I'm sorry to say the team's secret may be out. But, as Verde's perseverance suggests, that's a good thing for college softball fans looking for a good story.