Moving on in our softball preseason top 20 to No. 13, the number of original states and thus a fitting place to alight on the day when executive power is peacefully transferred in the nation's capital.
13. Cal
Last season: 43-27 (Lost to Florida in the Gainesville Super Regional)
Preseason talking point: California has been to a World Series more recently than the New York Yankees, so it's not as if the 2002 national champion and one-time Oklahoma City regular is in a sad state of affairs. But after stumbling off the pace in the Pac-10 recently, the Bears may be back in top form in 2009.
[+] Enlarge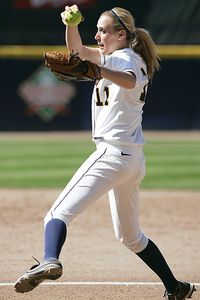 Kelley Cox for ESPN.com
Marissa Drewrey should improve this season on already impressive pitching stats.
Speaking of top form, if Marissa Drewrey wasn't the most improved pitcher in the country last season, she was at least in the discussion. Consider the upward trends in her numbers in Pac-10 play from her freshman to sophomore seasons:
2007: 4.97 ERA, 1.28 FIP, 38 IP, 31 BB, 24 K
2008: 2.81 ERA, 0.24 FIP, 99.2 IP, 55 BB, 80 K
Suppose Drewrey plateaus at that sophomore level or even suffers a slight regression -- and there's no reason to think either scenario is a more likely outlook than continued improvement -- that's still a pitching line that could accompany a good offensive team's trek to double-digit Pac-10 wins and a possible trip to the World Series. And despite finishing next-to-last in the Pac-10 in batting average last season, this lineup has the potential to be that good.
Cal's subpar batting average aside (.200 in league games), the team actually ranked a more respectable fifth in runs per game in Pac-10 play. A young Bears lineup did a lot of things at the plate that suggest there's more to come, including tying for third in the conference in home runs and drawing more walks than Washington, Oregon State and Oregon.
Along those lines, there are 18 returning players in the Pac-10 who slugged at least .400 in conference play last season. League heavyweights Arizona, Arizona State, Stanford and UCLA horde 14 of those sluggers, but Cal has two of its own in Gina Leomiti and Bernice Masaniai. And even if standout then-freshman Valerie Arioto took a few lumps once conference play began, hitting .224 in conference and .368 out of conference, she still accumulated more total bases (24) against Pac-10 pitching than all but two of the 15 players immediately ahead of her in batting average.
All of which makes it easier to tout the additions of Texas transfer Shannon Thomas and a star-studded freshman class of twins Jamia and Elia Reid and Frani Echavarria. Cal needs those newcomers to only complement its current core, not save it.