The week of our softball preseason top 20 comes to a close with No. 15, which is also the jersey number worn by the University of Florida's Tim Tebow, a reminder guaranteed to annoy the heck out of fans of …
15. Tennessee
Last season: 50-16 (Lost to Virginia Tech in the Knoxville regional)
Preseason talking point: Every pitcher who heads to Knoxville for pretty much the rest of this century is likely to spend an undue amount of time in Monica Abbott's shadow. But the Lady Vols look to have a couple of pitchers capable of sticking up for themselves in sophomore Ashton Ward and freshman Cat Hosfield, so let's spread the wealth and unfairly compare some position players to past Tennessee legends.
[+] Enlarge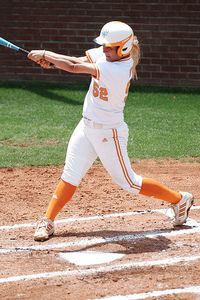 Elizabeth Olivier/UT Athletic Photography
Can Tiffany Huff give the Lady Vols power at the plate in 2009?
Forget finding the next Abbott; have the Lady Vols found the next Tonya Callahan and Lindsay Schutzler?
Despite a significant amount of turnover in the past three seasons -- Tiffany Huff, Erin Webb and Nicole Kajitani are the only players remaining who averaged even one at-bat per game as recently as the 2007 season -- the Lady Vols have been remarkably consistent at the plate. Consider the team's on-base percentage and slugging percentage since 2006.
2008: .409/.447
2007: .400/.440
2006: .409/.464
Even on the bases, the results have been similar, as co-head coaches Ralph and Karen Weekly push an aggressive agenda. In 2006, the Lady Vols stole 119 bases in 145 attempts. In 2008, despite still having just 23 of those stolen bases on the roster, they stole 128 bases in 145 attempts. The names change on the lineup card, but the game remains the same.
So as the headliners of their class, are freshmen Jessica Spigner and Ashley Andrews next in a line of succession in which Sarah Fekete and Kristi Durant begat Schutzler and Callahan? The Lady Vols have a couple of statistically productive bats returning with Tiffany Huff and Erin Webb, but both struggled to maintain that production during conference play. In fact, take out departed seniors Callahan and Kenora Posey and the Lady Vols hit .233 in SEC games, slightly worse than their opponents fared at .235.
If Huff and Webb build on last season's nonconference success and Spigner and Andrews are as good as advertised, the Lady Vols might be able to live up to the legacy of Callahan, Schutzler and others. And Abbott's legacy aside, that's good enough for now.