Believe it or not, softball season is right around the corner. While teams from Orono, Maine, to Brookings, S.D,. may not even see the grass on their fields -- let alone play a game on them -- for at least a few more snow-filled months, flights are booked and hotel reservations have been made for tournaments in warmer climes.
[+] Enlarge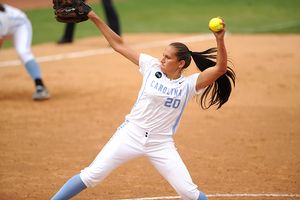 Jeff Camarti/UNC Athletic Communications
Danielle Spaulding leads a strong UNC pitching unit.
But while waiting for defending champion Arizona State and a handful of other teams to officially get things started Feb. 5 (and for our season preview), I'm going to run through a preseason top 20, with a random thought or two for each team. I'll be posting one team every weekday -- from No. 20 all the way to No. 1 -- now through Feb. 5, so stay tuned.
Are preseason rankings meaningless? I think so. Do we really know anything about a new class of freshmen or even where returning players' games are relative to the end of the last season? Probably not.
But it is an excuse to talk softball in January. And that's not a bad thing.
20. North Carolina
Last season: 50-12-1 (lost to BYU, Campbell in Chapel Hill regional)
Preseason talking point: North Carolina's pitching depth looks to be its greatest asset, even after Faith Sutton's transfer to East Carolina, but junior Danielle Spaulding may be the John Lennon of a group of talented arms. FIP, otherwise known as fielding independent pitching, was developed by baseball sabermetric analyst Tom Tango. It's a measure of a pitcher's performance in the areas directly under his or her control -- home runs, walks, strikeouts.
The equation for it is: (13HR + 3BB 2K) / IP.
Spaulding's FIP worked out to -1.48 last season, a number significantly better than not only teammate Lisa Norris (an also stellar -0.71) but any other ACC pitcher not named Angela Tincher.
Beyond a general ambiguity about the accuracy of baseball sabermetric measures in softball, there are numerous caveats to include with Spaulding's numbers. There's no park effect taken into consideration, nor is schedule strength considered. And, of course, Spaulding benefited from having Norris around to split the load, although Spaulding turned in some of her best numbers against Virginia Tech, Hawaii, Florida State and Iowa.
It's difficult to envision Spaulding, or any pitcher, allowing just nine extra-base hits in 129.1 innings for a second season in a row. To that end, her batting average on balls in play (.200) did register on the border of what might be considered fortunate. But all that said, Spaulding looks like a young pitcher with, at the most basic level, a pronounced ability to do things that help and avoid things that hurt.