DURHAM, N.C. -- If college basketball is like a puzzle -- and this season seems to be a 1,000-piece monstrosity depicting golf balls caught in an avalanche obscured by a blizzard -- then certain players are corner pieces. When they're on their game, the picture, at least as it appears on any given night, comes together easily. Without them, it's tough to figure out whether you're working with a mountain range or a basket of kittens.
[+] Enlarge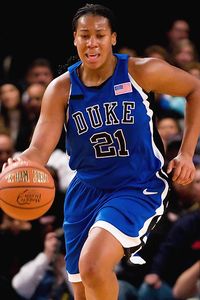 John Dunn/Icon SMI
Joy Cheek is averaging 9.8 ppg and 3.7 rpg in six games for Duke.
Having grown up a Pacers fan, I'll nominate Detlef Schrempf for the corner piece Hall of Fame. In those days, the Pacers belonged to Reggie Miller, and to a lesser extent, Chuck Person. But on the nights when Schrempf was on top of his game -- shooting midrange jumpers, passing out of the high post and running the floor -- the Pacers looked like more than a .500 team. Schrempf wasn't inconsistent, but the difference between good and great days made all the difference.
Which is all a roundabout way of getting to the idea that Joy Cheek is the ultimate corner piece for Duke. (And if that's not the first bit of text ever written connecting Cheek to Schrempf, I'd like to hear who got there first.)
This season's Blue Devils are Chante Black's and Abby Waner's team. Perhaps not quite to the extent the team two seasons ago belonged to Lindsey Harding and Alison Bales, but not in a completely different zip code, either.
But when Cheek is rolling as option No. 3 (or option No. 1 or 2 on a given night) on a team that seems to be embracing coach Joanne P. McCallie's aggressive defensive schemes, it's possible to picture Duke in St. Louis at the Final Four.
On Thursday night against Iowa, Cheek was just about the only offensive highlight in a dismal first half in which the Blue Devils went scoreless for nearly five minutes and headed to halftime with just 28 points (the counterpoint being a defensive performance by the Blue Devils so stifling that it turned their paltry offensive performance into a 14-point lead at the break). Cheek hit jumpers from the wing, posted up and bulled her way to the basket, and even brought the ball up on a couple of occasions, in what must qualify as the most liquid stage of what McCallie called a "fluid" situation at point guard without Jasmine Thomas and Chelsea Hopkins. Duke went on to win 71-47.
I drew a blank trying to think of who Cheek reminded me of (other than a crew-cut German who must be close to 50 years old by now), so I gave up and asked her which players she modeled her game after growing up.
"Tamika Catchings -- I never really had her hustle," Cheek laughed. "I always admire her hustle, but my favorite player is Tina Thompson."
And taken in proper scale, it's not a bad comparison. The 6-foot-1 Cheek gives up an inch to Thompson, but she has the same casual grace and soft release on the perimeter that gradually transforms to pent-up fury with each step closer to the basket she gets.
• The other thing that stood out about Cheek and her teammates Thursday was how much fun they seemed to be having. At times last season, it seemed like 'Dour' might have been a more appropriate four-letter sobriquet across the front of the team's jerseys, but even on a night that started with some offensive ugliness, the smiles were back and the chest bumps looked a little less grim than they did last season.
"I think we had expectations, and I don't think we met them as a team," Cheek said of last season. "It was a letdown for us. I think the transition was a lot more difficult than we thought it was going to be, as far as getting to know Coach P, what she expected, what her offense was, what her defense was. And it was frustrating for us, and I think we did a bad job of showing it. I think that's the worst thing you want to do, is when things get hard, you don't want to let people know. … I wouldn't say we were not enjoying playing; I just think we were frustrated at times. And I just think this year, we have a flow."
• The Blue Devils hope to have Thomas back in time for their game against Stanford on Dec. 16, with Hopkins looking at a potential return after the team's trip to Southern California a week before Christmas. Fill-in Keturah Jackson more than held her own at the point against the Hawkeyes, using her bigger frame to torment Kristi Smith on defense and losing at least a couple of assists on blown finishes, while Duke's Waner and Shay Selby also handled the ball well. But playing without options 1A and 1B at point, especially given that both are expected back by the turn of the calendar, has its instructive value.
"I think it makes us all think," Cheek said. "We don't just rely on our point guard to get us together. I think everyone has to kind of step up and say, 'Look, we need to be here; you were supposed to be there on the wing.' I think you can't just rely on that one person. And when we have a [healthy] point guard, I think we all need to do that. But with Jas or with Chelsea, we kind of look to them to be that leader, but without them, I think everyone has to be that leader."