There are many nuggets of wisdom and philosophy that come from Oklahoma coach Sherri Coale that stick with you. One of them is her theory that there are several players who can win a lot of games … but not as many who can win the most important games.
It's a valuable personality trait among athletes to have the capacity to be both in the moment and simultaneously see the big picture. And play effectively while doing both.
Coale is a deep thinker who also knows very well how to simplify. If there is a defining characteristic to her teams, it's that they understand the magnitude of moments without being overwhelmed by them.
[+] Enlarge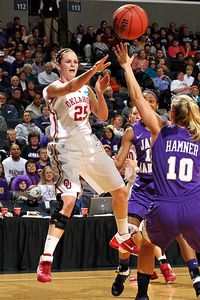 AP Photo/Andrew Shurtleff
Oklahoma's Whitney Hand matched her career high with 24 points Sunday, hitting 8 of 14 attempts.
So it's no wonder Whitney Hand, who led sixth-seeded Oklahoma to an 86-72 first-round victory over No. 11 seed James Madison on Sunday, is such a perfect fit playing for Coale. The daughter of a former major league baseball player, the 6-foot-1 redshirt sophomore Hand grew up with an understanding of the less glamorous things that go into athletic success. She knew and appreciated the daily maintenance of achievement.
As a freshman, Hand was an important contributor to Oklahoma's 2009 Final Four team. Last season, she was expected to be even more important in the Sooners' attack … but she suffered an ACL tear in the fifth game of the season on Nov. 27, 2009.
A lot of people go through serious knee injuries, especially in women's basketball. And whether they truly have the personality to learn through painful adversity when they start the rehab process, most do gain something from it.
For someone like Hand, though, it was automatically understood that she'd make the most of any bad situation. After her initial disappointment and sadness about getting hurt, there was an immediate rearrangement of goals and objectives. She couldn't help the Sooners on court last season, but she could be an aid in so many other ways.
She could offer not just encouragement, but real instruction as she served as a conduit in the relationship between the players and staff. Much was made, for good reason, of the Sooners' ability to make a second consecutive Final Four trip after losing the Paris twins to graduation and Hand to injury. But the truth is, Oklahoma didn't actually "lose" Hand last season. Every practice and game, she was still there.
Sunday, it wasn't surprising that Hand matched her career high with 24 points in a game in which the Sooners needed both an inspirational and calming presence. As JMU tried to forge a comeback to the delight of its fans who'd made the trip to Charlottesville, Va., the Sooners had to remind themselves of their own intestinal fortitude.
Hand wasn't able to come back this season until Jan. 2 at TCU, a homecoming game for the Fort Worth, Texas, native. She had 24 points that game, too, but it was a loss.
The Sooners have had their ups and downs all season, partly because of a young and inexperienced interior game that put so much pressure on the guards, led by senior Danielle Robinson.
And in this case, it has almost literally been an up-and-down season since Jan. 23. In that 16-game stretch, the Sooners have alternated wins and losses with the exception of two defeats in a row Feb. 23-27 against Colorado and Baylor.
In order to keep their season going, the Sooners will have to break that trend Tuesday and put together back-to-back wins.
They'll need to do it against a Miami squad that is also guard-oriented and very speedy on the perimeter. Hand most definitely will face some challenges on the defensive end.
But she will also present a challenge to the Hurricanes, because she has that ability to rise to the occasion.
And often with Hand, the bigger the occasion, the better she is.