About this time two years ago, Tennessee's players were in disbelief. But right away, they started the process of "never-gonna-happen-again."
After their loss as a No. 5 seed to 12th-seeded Ball State in the first round of the 2009 NCAA tournament, the Lady Vols went right back to practice. Coach Pat Summitt did not want it to feel "punitive" for a season that was so uncharacteristic for Tennessee that it seemed surreal. Instead, she wanted it to be instructive.
With most of those players who experienced that low point now juniors and seniors, Tennessee is at the opposite end of the spectrum. The No. 1 seed in the Dayton Regional could have named the score in its first-round matchup with No. 16 Stetson. That is how it usually is with the Lady Vols as the NCAA tournament gets under way.
[+] Enlarge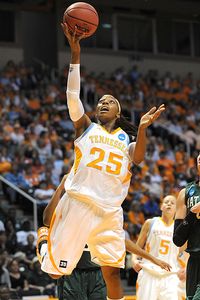 Don McPeak/US Presswire
Glory Johnson had 14 points and 10 rebounds. All 13 Lady Vols scored in the win.
But clearly this group isn't so far past the Ball State loss that Saturday's 99-34 victory was unappreciated by the Lady Vols. Summitt isn't going to let them do that. When Tennessee had a couple of disappointing days in practice leading up to the tournament, Summitt reminded the players what was at stake and how quickly any team's chances could evaporate.
"Once we got their attention and discussed all of the possibilities of what we were trying to embrace and having that leadership," Summitt said on the eve of the tournament, "I think that gave a quick turnaround in the attitude and the direction they wanted to go in. It works a whole lot better when they have leadership and make other people accountable. We've been pretty good at that all year, we just had a couple of lapses."
Tennessee didn't have any of those against Stetson. The Hatters earned the Atlantic Sun automatic bid by winning their league tournament, which included hitting a 55-foot buzzer-beating shot in a semifinal victory.
Stetson would have needed to swish several 55-footers to have a chance against Tennessee. As it was, hitting a 5-footer was a chore for the Hatters, who shot 18.2 percent (12-of-66) from the field against Tennessee.
The Lady Vols spread out minutes and points, with every player scoring, led by Shekinna Stricklen's 15 points. Tennessee shot 55.7 percent from the field and dominated rebounding 56-27.
"I think the real key to it is the maturity," Summitt said of the team she has now, and how it has aged well. "We couldn't fast-forward that process."