BOSTON -- When Major League Baseball announced last week that Sunday's Game 3 between the Red Sox and Angels would begin at 12:07 p.m., it was as if the sports gods were smiling down upon Boston yet again.
The early start, coupled with a 4:15 p.m. kickoff for Patriots vs. Broncos, gave all of New England, home to six world championships this decade, a heavenly sports doubleheader.
Sprinkle in a Celtics preseason game in the early afternoon -- perfect for flipping to between innings of the Sox game -- and it was as about as perfect a sports day as you can get this time of year, right?
Wrong.
At 3:33 p.m., Jonathan Papelbon recorded the second out of the ninth inning. Thirteen minutes later, after the Angels were down to their final strike three times, Vladimir Guerrero stroked a two-run single to lift Los Angeles to an improbable 7-6 triumph.
Papelbon, who hadn't given up a postseason run in 26 innings, a stretch during which the Red Sox won a World Series in 2007, stood on the hill as the Angels scored five runs (two charged to Billy Wagner) in the final two innings and completed a stunning three-game sweep at Fenway Park.
"It's one of those things where, 0-2, two outs, you're kinda planning on playing tomorrow," said Red Sox outfielder Jason Bay. "All of a sudden, one thing leads to another and you look back and you're like, 'Whoa, what just happened?'"
The sting from the end of baseball in Boston seemed eased by the Patriots' offense, which built an early 10-point advantage against the Josh McDaniels-coached Broncos.
But approximately four hours after Papelbon's meltdown, things went from bad to worse for Boston sports fans as Matt Prater booted a 41-yard field goal on the first possession of overtime to lift the Broncos to a 20-17 triumph.
"Obviously that was a tough loss for us today," said Patriots coach Bill Belichick. "Like a lot of games in this league, it came down to a few plays and they made more plays than we did. We have to give them credit. That's a good football team. Josh has done a really good job with them, and they made a few more plays than we did. Really, that's all you can say."
Boston sports fans could say little. The Celtics' 100-93 triumph over the Nets in preseason action offered little solace on this day.
As a friend texted me Sunday night, "Basically, this continues Boston's slide to mediocrity ever since that stupid helmet catch."
That's not entirely true. While Super Bowl XLII remains one of the worst days in Boston sports history, the Celtics raised banner No. 17 after topping the Lakers in June 2008. But, save for the Celtics' championship, it has certainly been an underwhelming 20 months since David Tyree's infamous grab helped derail New England's quest for perfection. A sampling:
Patriots: Tom Brady tore his ACL, missed nearly the entire 2008 season, and the Matt Cassel-led Patriots somehow missed the playoffs despite an 11-5 record.
Bruins: The B's put together a 53-19-10 season and finished atop the Eastern Conference only to lose in the second round of the playoffs to the Carolina Hurricanes.
Celtics: The Celtics' title defense was derailed when Kevin Garnett injured his knee in the second half of the season and the Green ultimately fell to the Orlando Magic in seven games in the Eastern Conference semifinals.
Red Sox: In back-to-back playoff berths, Boston lost to the Tampa Bay Rays in the 2008 ALCS and Los Angeles Angels in the 2009 ALDS. In both cases, Sox bats fell silent at key times.
Maybe it's time to concede the title of best sports state to Pennsylvania. Between the Steelers, Penguins and Phillies, they deserve it more right now.
But as you lament Sunday's awful eight-hour stretch, here's one thing to keep in mind: It wasn't even the worst Boston sports day of the year. No, that honor goes to May 14.
That day, the Bruins lost Game 7 to the visiting Hurricanes, with series villain Scott Walker potting the winner in overtime. Down in Orlando, the Celtics gave away a double-digit, third-quarter lead as the Magic rallied to win Game 6 and forced a deciding Game 7 (which Orlando won two days later in Boston).
What's more, the Red Sox lost to -- guess who? -- the Angels, 5-4, in extra innings when Jeff Mathis singled home Reggie Willits in the 12th. If Jason Taylor had waited another day to pick signing with the Dolphins over the Patriots, it would have completed the cycle of Boston sports failure.
Sunday was only half bad.
Five most disturbing images of the day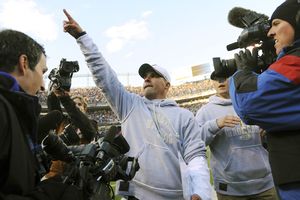 AP Photo/Chris Schneider
5. McDaniels bests Belichick
You have to feel good for former Patriots coordinator Josh McDaniels, who certainly showed Bill Belichick loads of respect this week. But still, we'd like to have seen Bill wipe that smile off his face.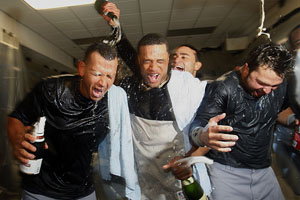 AP Photo/Kathy Willens
4. Yankees pop the bubbly
Nothing to see here. Please move along.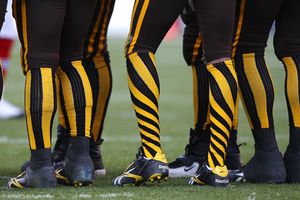 Jed Jacobsohn/Getty Images
3. Broncos or Padres?
Seriously? The PTI guys put it best with this tweet -- Now batting for the Broncos: 1983 Tony Gwynn.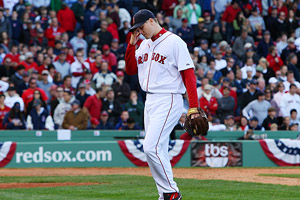 Jim Rogash/Getty Images
2. Boo birds at the ballyard
It was hard to watch Papelbon get hit as hard as he did, but even more difficult to stomach was the reaction he got when he walked to the dugout after surrendering the lead in the ninth.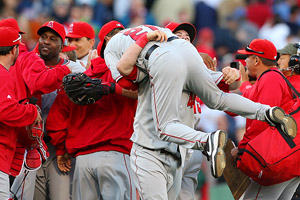 Jim Rogash/Getty Images
1. Angels break our hearts
How did this happen? This wasn't how it was supposed to end, the Angels celebrating on our sacred ground. Good luck against the Yankees next week, fellas.
Chris Forsberg is a reporter for ESPNBoston.com. Follow him on Twitter.